please click on the icon for the stream of your choice
Portuguese all-female gothic metal band
BLACK WIDOWS
have released single/video
'Schizo'
Composed by Black Widows
Lyrics by Rute Fevereiro
Single cover by Mónica Rodrigues
pic by João Dourado
Portuguese all-female metal band Black Widows
released their third single and music video 'Schizo' from their upcoming second studio album 'Among the Brave Ones' which is set to be released on October 21st 2022 via Finnish Inverse Records.
Vocalist/guitarist Rute Fevereiro comments:
"Schizo was chosen to be our third single. It's a more complex song that honestly represents well the darkest side of our album. This song is all about hypocrisy, the need of showing positive thinking and smiles regardless of what you're going through, to the extend of worsening our mental health. This song is specially focused on someone I used to know who is described in these lyrics. The music is the perfect marriage with the words professed. There are lots of clowns in the real world, showing smily faces and yet they feel miserable. I'm sure you all know someone like this."
Portugese gothic metal band
BLACK WIDOWS
has released single/video
'Among the Brave Ones'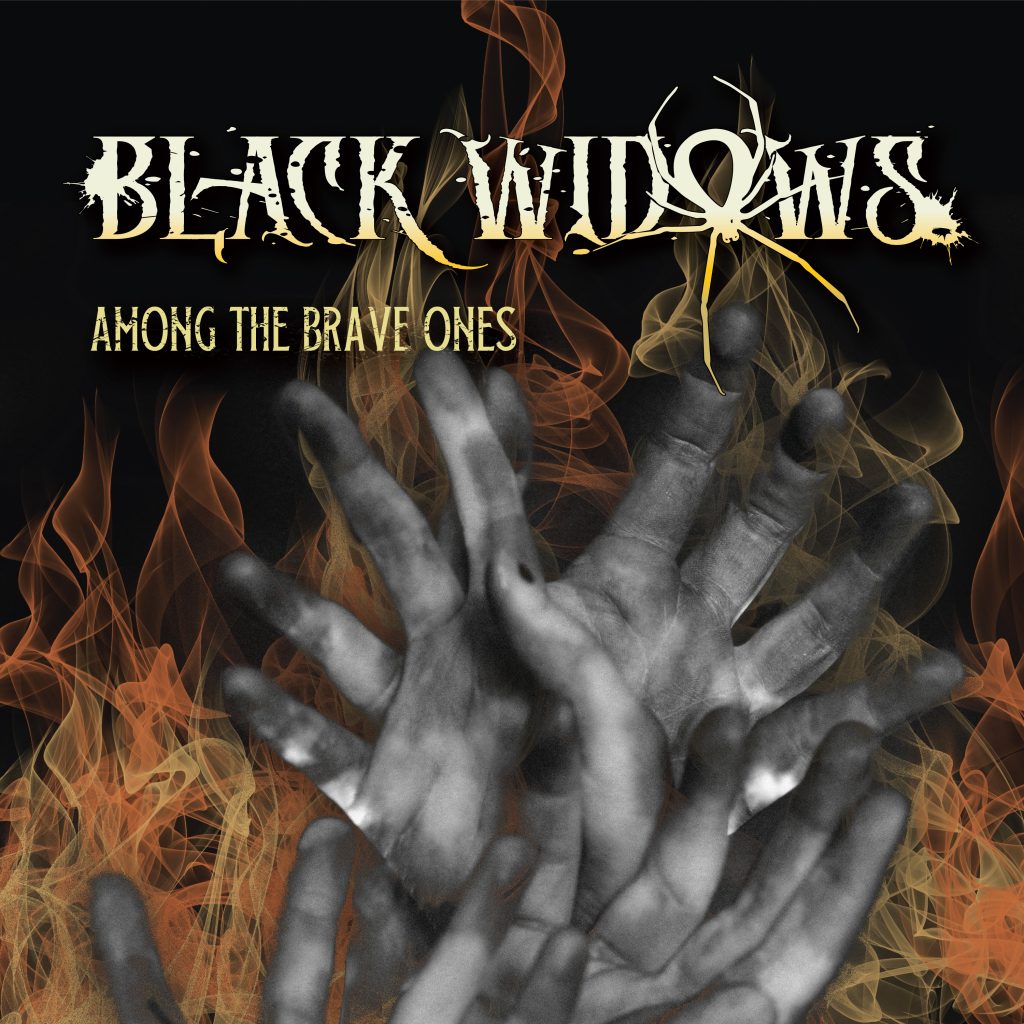 pic by João Dourado
Portuguese first all-female metal band Black Widows released a new single and music video 'Among the Brave Ones' from their upcoming second studio album 'Among the Brave Ones'
which is set to be released on October 21st 2022
via Finnish Inverse Records.
Vocalist/guitarist Rute Fevereiro comments:
"More than ten years ago, during a break with Black Widows and when I decided to think about my musical life, I made several songs. Among the Brave Ones theme comes from that period of creativity. At the time, it didn't have that name but it awakened in me a sense of resilience and freedom. When I proposed this theme for us to work on as a band, Black Widows liked it and improved it substantially, giving their input as musicians. Among the Brave Ones was the name given to this theme and the album. This song is about our band returning stronger and more powerful than ever . It honours the brave artists and has many musicians guests promoving our video, as you will see. Are you ready for what's to come?"
Portuguese all-female gothic metal band
BLACK WIDOWS
released a new single
'Black Orchid'
Composed by Black Widows
Lyrics by Rute Fevereiro
Single cover by Carolina Duarte
track-list:
Black Orchid
Schizo
Among The Brave Ones
Philosophy Of Fools
Electrify Me
I'm A Monster
Drowning
Dead Heaven's Vibe
Forgive To Forget
Eden Denied
Album cover by Carolina Duarte
Line-up:
Rute Fevereiro – Vocals and Guitar
Solange Campos – bass
Íris Prado – Guitar
Mónica Rodrigues – Keyboards
Marta Brissos – Drums
Portuguese first all-female metal band Black Widows release a new single 'Black Orchid' after 20 years.
New album out in October.
"Black Orchid" marks the return of the band Black Widows, which made history in Portugal as the first all-female metal band in their country.
While the Widows' impact was already notable when it hit in the late '90s, this single shows an outstanding comeback with unshakable strength.
Feeling like part of the resilients who fight for Music and Art, the Black Widows entitled their new album "Among the Brave Ones", and will release it on October 21st 2022.
Inverse Records has embraced this great return of Black Widows, marked by a sound worthy only of the brave ones.
Vocalist Rute Fevereiro comments:
"I'm so thrilled about "Black Orchid" single. We overcame the storms of the past years, and this song tells it all. The verse "for nobody learns from scaping fears" sums it up. My experience of the past years, returning with this band with new amazing musicians is the given prove of that resilience. I believe that this is the best comeback I could have with Black Widows and am so excited to present you all with this powerful song."
Black Widows is a Portuguese band composed exclusively by women who play heavy and melodic metal.
It all started in September 1995 when Rute (lead singer and guitar), Xana (guitar), Chris (drums), Vanessa (bass) and Marta P. (keyboards) got together to rehearse.
The first demo tape was recorded in December 1996 and had excellent reviews, also causing some controversy because it was the first record in Portugal of an all-female metal band and because of the fame the band had for practicing a metal influenced by a Christian message.
In the Summer of 1997 there were line-up changes when Carla Marques (keyboards) and Eliana Correia (guitar) joined the band.
A few months later the band was recording their second demo tape, "Miracles of Sadness", with four tracks (including a Napalm Death cover).
In August 1999, on the way home from a concert, Carla Marques suddenly died.
This was a big shock for the Widows and the Portuguese metal community.
Vanessa and Eliana decided to leave but Rute and Chris kept the Widows alive.
They started looking for new instrumentalists and found Marta Machado (keyboard) and Cláudia Moura (bass).
The band's first appearance after Carla Marques' death was at the Christmas Metal Fest (December 1999) and in a TV show.
In 2000, Black Widows signed a record deal with Recital Records and recorded their debut EP:
"Dark Side of an Angel" in December of that year at Luis Barros' Rec'n'Roll studios.
In April 2001, they were the support band of King Diamond in Portugal.
Black Widows set off on a tour to present the new album in Portugal.
It was on this tour that they played with Sinergy.
In February 2004, there was a radical change in the band:
Marta, Chris and Cláudia left, and Rute decided to continue with new elements and also prepare some new songs.
Rehearsals with Ana Costa (drums), Sara Cardoso (bass) and Mónica Rodrigues (keyboards) started in 2005.
The band then concentrated on preparing new songs and starting to give full power concerts again.
The year 2007 was a turning point with several dates of Black Widows Arising Tour.
2008 was marked by the entrance of Lea Cardoso as keyboards player.
In 2009, the band went on a long break, having returned in 2018 with Rute, and with Mónica Rodrigues back in the band.
The line-up was thus complete with Solange Campos on bass, Lee AN on guitar and Aíla Português on drums.
Feira do Metal , in 2019, was the big return to the stages.
January 2020 was marked by the entry of Marta Brissos as drummer of the band.
Black Widows are since then in preparation for the long-awaited album "Among The Brave Ones" to be released in 2022.
With the band complete, the songs were recorded at The Pentagon Audio Manufacturer Studios by the hands of the experienced producer Fernando Matias.
Íris Prado joined Black Widows in June 2022 as a guitarist to reinforce the weight of the album guitars after the studio recording.
Among The Brave Ones, the album that makes history as the Black Widows' long-awaited return after 20 years, will be released in October by Finnish Inverse Records.