please click on the icon for the stream of your choice
German metalcore band
SAMURAI PIZZA CATS
released album
'You're Hellcome'
track-list:
The Wolf In Me
Outcast
Last Player
Pizza Homicide (feat. Nico Sallach)
Kill It
Have a G.O.O.D. Day! (feat. Emmy Mack)
Burn
Fake
Falling Down
Alpha (feat. Mrs. Nina Chatier)
Freakshow (feat. Maria Lessing)
Welcome To the Fightclub (feat. Fabio Schäfer)
You're Hellcome (feat. Alma Alizadeh)
Samurai Pizza Cats released their first album 'You're Hellcome' on September 22, 2023, via Easthaven Records.
After several single releases, the upcoming output represents the first full-fledged longplayer of the quartet, which is active since 2021 and signed to Easthaven Records in 2022.
The sound of the four-piece band from Castrop-Rauxel can be found somewhere between metalcore, deathcore, and electronica.
Both musically and lyrically, the band, which was founded by Electric Callboy guitarist Daniel Haniß, among others, combines the most diverse styles with each other, which makes the first album 'You're Hellcome' what it is.
The 13 tracks are as different as they could be, but also represent the typical sound of Samurai Pizza Cats.
Singer Sebastian Fischer explains the meaning behind the album:
"The record is exactly what we as people are: Different, but in the end, everything goes in one direction."
What might not seem to fit at first glance comes together in the overall picture of the tracks.
The result?
A brute sound with great singalongs.
"We don't want to follow a pattern, we just want to do what we're into. And sound good by doing it,"
says the frontman.
For some tracks, the band from the Ruhr area was able to win well-known features, including members of bands like Future Palace or For I Am King, as well as Nico Sallach from Electric Callboy.
German metalcore act
SAMURAI PIZZA CATS
has released single/video
'The Wolf In Me'
Samurai Pizza Cats are:
Sebastian Fischer – vocals
Daniel Haniß – guitar
Stefan Reufer – bass
Stefan Buchwald – drums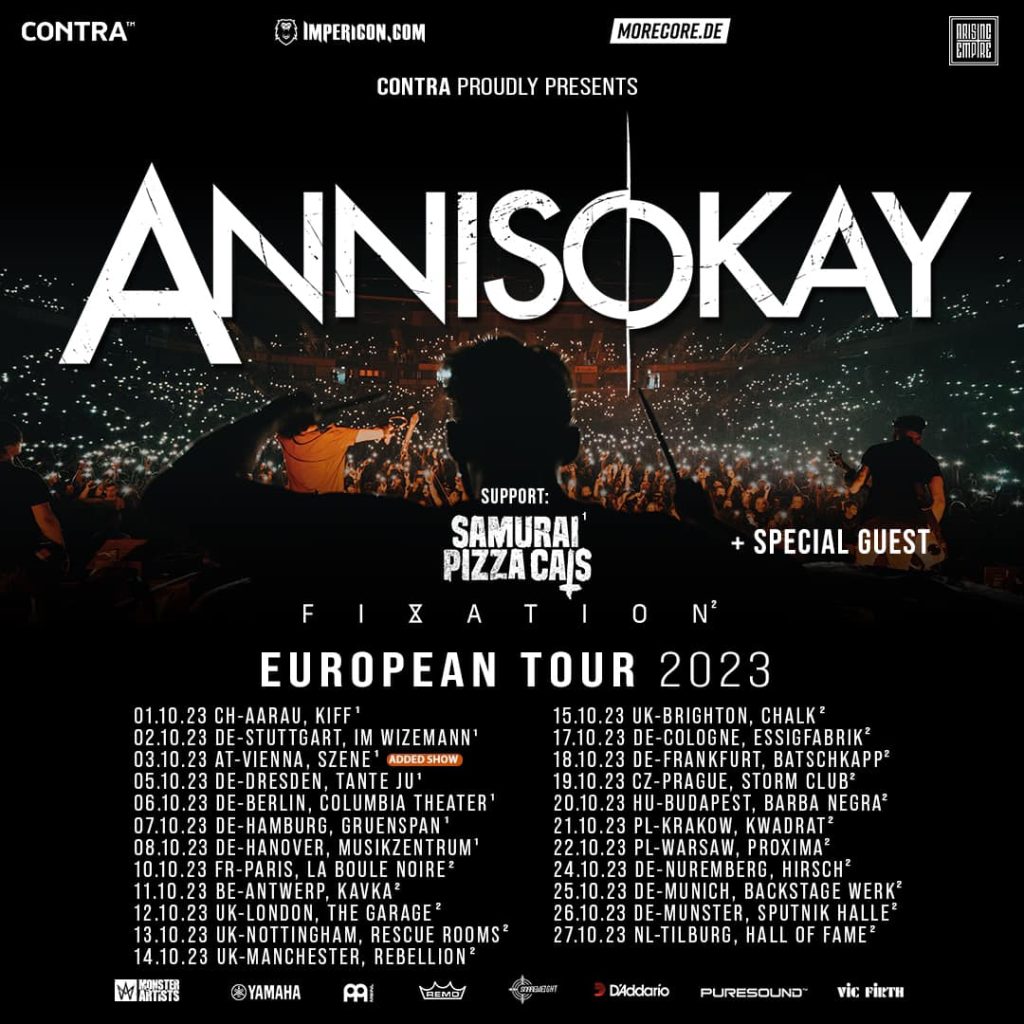 When the cats become wolves:
Samurai Pizza Cats are back with their new song 'The Wolf In Me' and tell a story about a werewolf who messes with vampires.
And it's still a better love story than 'Twilight'.
The new single is released via Easthaven Records, just like the previous tracks 'Outcast' and 'Pizza Homicide' (feat. Nico Sallach from Electric Callboy), and comes along as brute as usual.
Dynamic tempo changes, shouts, and clean vocals make 'The Wolf In Me' a perfect hit for mosh pits at live shows.
This can be proved at the upcoming tour with Annisokay, which is scheduled for October this year.
Samurai Pizza Cats will support the first part of the tour.
The debut album 'You're Hellcome' has just been announced by the band to be released on September 22 via Easthaven Records.
Samurai Pizza Cats are named after a Japanese anime series from the early nineties.
Why?
Silly question!
Of course, because they are fearless warriors on their instruments, love to eat pizza, and like cats.