please click on the icon for the stream of your choice
SIVA SIX
an interview by Maria Stella Tsatsi
Siva Six are:
George-Z – vocals
U-Ri – keyboard
Siva Six-George Z:
"There is a descent scene in Greece we always had a good feedback and felt loved by the local scene."
They are eccentric, unique in their kind and that's what makes them so special.
They have performed in 18 countries, 60 bands have remixed their unique gems and have shared the stage with bands like Front 242, Gothminister, Type O Negative, Clan of Xymox, Cubanate, Soman, Grendel, DieKrupps, Theatre Of Tragedy, Apoptygma Berzerk, Hocico, S. i. t. d, Rotersand, Pansonik, Arcturus. I suppose it΄s the dark and electro element of their character that gives to this recipe a spicy and hot filling.
Their extraordinary album, 'Dawn of Days', was released in 2016, followed by the remix album 'NYX' in February 2018, which includes songs from their latest release, with a huge impact, as it entered the top ten of the German charts.
The famous band, released in April 2021 the Digital Single 'Ghost Dance', with this song Siva Six annouced the release of 'DeathCult', which had released on November 19th 2021 by Alfa Matrix Records worldwide.
Their last show in Athens, Greece was in January and we are looking forward to see them again!
George Z the co-star of the band, opened his heart in a revealing interview to Radio Highway Pirates and talked to us about the band, their collaborations, the industrial dark/electro music, the impact to Greek and foreign audience and their plans.
What is the history of Siva Six and what make them stand out?
"Our first album came out 18 years ago, since then we have released several albums, EP's and singles, we always walked in our shoes and that's one of the reasons we are still here."
When did you feel the first stings of electro music?
"That should be at early 90's, bands like Front 242, Einstuerzende Neubauten, NIN and so many more triggered us to delve into Electro/Industrial genre."
Comment on the following lyrics:
"Along my way the pit of slaying, my ticket pay, of Ghost Dance"
"No comments…lol, that is a very personal song which describes the death of an intimate relationship of mine and the aftermath."
Tell us a few words about the successful & Deathcult and your collaboration with Alpha Matrix.
"We have been working with Alfa Matrix for 12 years, though our contract is by now fulfilled. DeathCult album was perceived by fans and media as one of our best so far personally I really love this one, it has climbed at the top 10 of GEWC for 8 weeks in a row (German Charts)."
Which is the source of inspiration and creation of your eccentric and powerful image of your video clips and stage presence?
"Inspiration may vary since my influences from music, films and life itself is repetitive and compulsive, after all that's us and a part of our souls either music or video wise."
Which album, it΄s your favourite one and what messages do you want to give?
"That's a hard one….but I could say DeathCult, Black Will and The Twin Moons are my favs, some of them are concept albums, the message is to express our feelings and point of view and to share our experiences upon various topics such as Death, Apocalypse, The Occult and the Spiritual paths, Love & Hate."
How does the Greek music industry differ from the foreign one?
"I guess it does not although it's a small market with its own special traits and definitely not friendly for the underground, we were lucky I guess and mindful choosing to sing a deal with a foreign label since day 1."
What is the response of the Greek public to industrial-dark music in relation to foreign fans?
"There is a descent scene in Greece, we always had a good feedback and felt loved by the local scene thus the many shows given, the scene in central Europe and mostly Germany is big, our fans are mostly from USA ,Germany, Mexico nad many other countries aswell number wise."
What was your best live show, so far, in terms of crowd and collaboration?
"Definitely our headline show in WGT 2018 (DE) a full packed venue with an amazing crowed, Osaka Japan was a night that can not be forgotten, our latest show in Barcelona was a total blast…"
Tell us about your collaboration with the great Christos Antoniou?
"We know each other since we were underaged….lol there is a mutual respect , Christos is a great musician and we were privileged to cooperate with him in various of our albums, he composed the orchestral/symphonic parts."
Is there any goal you haven't achieved yet?
"Sure…to gig around south & north America and a few more I wish to keep private."
Do you believe that music has labels and borders?
"Borders specially nowdays no.. labels yes like it or not, my personal mindset about labelling music is..good one and bad one no matter where is it coming from ,who creates it and how its created."
Do you think that music is a weapon to purify all this social decay we live in?
"It should be a means for purification against decay and the decadence of moral ethics we live in, music is a weapon ,music is one of the highest forms of expression, talent and therefore art, music is and should be the voice of us all, music is and should be a revolt and not a 'fast food' product to consume."
Tell us your new musical steps.
"I have been ghosted by my home studio since last summer, stirring a few poisonous ideas…Thank you for the interview dear."
Maria Stella Tsatsi
'Greek' Industrial/Dark Electro act
SIVA SIX
has released EP
'Fight The Machine'
track-list :
Fight The Machine
Fight The Machine (ΦΩΝόΠΤΙΚOΝ remix)
Fight The Machine (Euphrosyne remix)
Fight The Machine (Infected Sound System remix)
Fight The Machine (Xentrifuge remix)
Fight The Machine (Hell:Sector remix)
Fight The Machine (To Avoid remix)
Fight The Machine (Asylum Promises remix)
'Fight the Machine' Produced/Mixed/Mastered by Psychon
All remixes Mastered by Sebastian Komor
'Fight The Machine' is a cyber-industrial dance floor killer taken from SIVA SIX's latest 5th studio album "DeathCult".
It stands for the band's war cry against the Metaworld, corruption, injustice, inequality, profit over human life and the decadence of moral values we live in…
"In a world of chaos, be a whore or join the Metawar…"!
Z (vocals) and U-Ri (keyboard) get surrounded on this EP by 7 bands ( ΦΩΝόΠΤΙΚOΝ, Euphrosyne, Infected Sound System, Xentrifuge, Hell:Sector, Asylum Promises and To Avoid ) playing different music styles who deliver remixes that differ from the norm and give quite eclectic renditions of this harsh and powerful track.
Join & enjoy.
'Greek'
Industrial/Dark Electro act
SIVA SIX
will release new ep
SIVA SIX are currently on the making of a new EP.
Hopefully out late spring or summer of 2023.
'Greek' Industrial/Dark Electro
act SIVA SIX
rereleased album
'Black Will'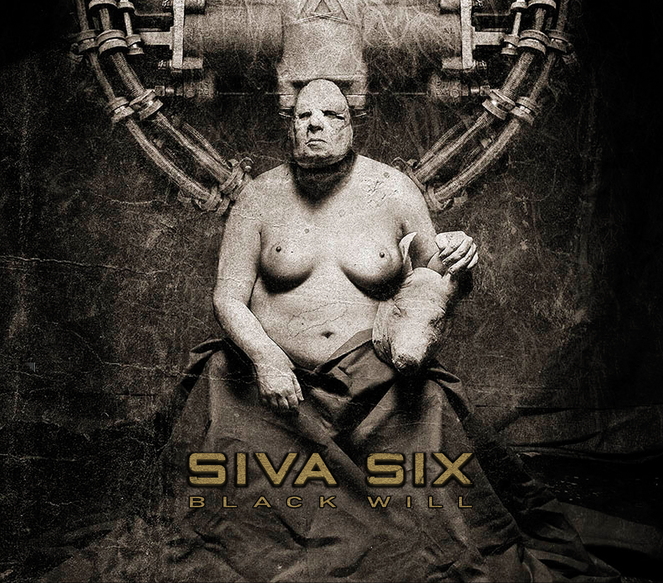 track-list:
See The Six
Heart Of The Master
Now Its Dark
Opponent
The Seal
Mister
Dark Night Of The Soul
Her Eyes Black
Line In.. Line Down
Pig
Erevos
Deep Black Will
Dawn Revelation
Now Its Dark (Cyborgdrive remix)
See The Six (Teknovore remix)
'Black Will' is one of the best – if not the best- Siva Six albums, definitely the one that made their name spin around the worldwide Industrial/Dark Electro scene.
Considered their Black Opus.
'Black Will' is the band's second album, originally released in November 2006 by Decadance records and sold out just a year later.
Despite the demand and the fan's request for a second pressing, this never happened until today.
'Black Will' received excellent and epic reviews world wide, and climbed to the No1 position of IAC (Italian Alternative Charts).
This was followed by a 10 week stay in the GAC charts and 6 weeks in the GEWC Charts.
'Black Will' Tracks such as 'Her Eyes Black', 'Now it's Dark', 'See the Six', 'The Seal' stood out and entered the playlists of many Goth/Industrial Clubs around the globe, appeared in various CD compilations, and saw the band play 20 shows in 7 countries.
After 16 years of the original release date 'Black Will' is finally reprinted in a 4 panel / 8 pages booklet limited edition Digipak of 400 copies.
Remastered by Psychon (SEPTICFLESH) at SoundAbuseProductions Studios including 2 bonus tracks.
Produced by Dimitris Douvras
Artwork by Seth Siro Anton, Artwork retouch by Sakis Axiotis
Mastered by John Rivers, Orchestral arrangements by Christos Antoniou
Siva Six will take part on the 31st of october (halloween) at the Nocturna Festival in barcelona, spainand on the 4th of november at the Hellsinki Industrial Festival 2022 in helsinki, finland.
SIVA SIX New album 'DeathCult'
at GEWC Charts – Germany
(5 weeks in a row) !!!
new Video 'December' out Now
track-list :
Ghost Dance
The Cult
Jack The Black
Fight The Machine
Club Macabre
Psychopath
Lily Dale
Omega
Alpha
Hatred
15th of …
…December
line-up:
Z – vocals
U-Ri – keyboard
Fraters & Sorors… For Fifth week in a row.
The New Album 'DeathCult' at GEWC Charts-Germany (Top 15 Albums) Position No 11 – KW3
Its the first time that one of their albums stays for so long at the GEWC charts.
Siva Six thanks all so much.
Web sites/web zines/DJ's from Germany that has voted for their new album and all the DJ's from all around the world for the support and for including tracks from their new album in their podcasts.
Unique, obscure, grotesque:
'DeathCult', the long-awaited 5th album of Siva Six is imminent.
12 songs about the great mystery and the awful tragedy that Death is:
the glory, the pain, the madness…
Death enslaved Siva Six for more than 2 years under its wings for the creation of 'DeathCult'.
With sonic commander Psychon (mix/mastering/production) by their side, they stared straight into the Beast's eyes with humility and respect.
They walked its path and learned its ways.
They were marked with his seal and ultimately entered into communion with it.
The infamous entity of Siva Six spit their much anticipated 5th full length studio album into your face!
From alfa, 'Ghost Dance', …to omega, '…December', 'DeathCult' is a true master-piece.
Z (vocals) and U-Ri (keyboard) invite you to the ultimate danse macabre and deliver their most dramatic, darkish and poignant opus ever.
From ghostly choirs and possessed harsh screams to hellish hammering rhythms, Siva Six serve us a lethal elixir distilling the artists various influences ranging from dark electro, industrial to EBM, through classical avantgarde and goth.
See them…feel them…and 'Ghost Dance' with ' em…
Siva Six
'Ghost Dance'
new Digital Single & Video
Greek cult dark elektro/industrial duo SIVA SIX break the silence and invite you to the ultimate 'Ghost Dance' and reveal the first song from their much anticipated new studio album.
Constructed on the foundations of the 19th century 'Gnossienne No1' masterpiece by French avant-garde pianist and composer Erik Satie, this new song expands the haunting atmosphere of the original piece and takes it to a darker and macabre dimension once reflected through the obscure sonic kaleidoscope of SIVA SIX.
The tortured dark vocals, the echoing icy piano lines, the oppressive atmosphere and the upbeat electro sequences all contribute to the particular, disturbing and almost deviant setting of this noir song.
This single comes with 3 radically different reinterpretations by MACH FOX, CONJECTURE and MYSTICAL PROLETARIAN.
See them…feel them…and 'Ghost Dance' with 'em…