Print
SIDEWALK MAFIA
have released their
new single 'Cruel Sacrifices'
Metal / Doom band Sidewalk Mafia released on friday ythe 19th of November 2021 a new single "Cruel Sacrifices"
The single will open a promotion for the album to be released in late spring 2022.
The single comes out through the German record company Blood rite Records.
The band operates as a duo, but in a gig situation, the band is a trio with a guest bassist.
The band's sound is ultra-heavy but also melodic with low-tuned guitars.
The band says: "We released our first single "This frozen paradise" in early 2021. It was really well received around the world and actually defined our style. "Cruel Sacrifices" cotinue with it and represents everything we want to be. It is extremely heavy, melodic and oppressive, but at the same time atmospheric. This is a good song to start promoting our upcoming album"
766841
IMMINENCE
will release on Friday
the 26th of November 2021
their new album 'Heaven In Hiding'
Founded in 2010 by Eddie and Harald when they were just teenagers, the band grew organically with a constantly expanding fan-base all
over the world while touring actively in Europe since the release of the band's breakthrough single 'The Sickness' (2015).
IMMINENCE has released three studio albums, »I« (2014), »This Is Goodbye« (2017) and »Turn The Light On« (2019)
After the remarkably successful announcement of the band's exclusive
acoustic tour "Live In Concert Halls", granting the Swedish quintet a placing in Eventim's Official Charts as one of the
fastest selling tours in Germany, IMMINENCE recently announced a new European headline tour taking place in 19 cities
during February & March 2022. All venue sizes has increased largely in capacity and these will be the bands biggest
headline shows to date.
Contra Promotion presents: »IMMINENCE: Live in concert – Europe 2022«
15.02.22 DE-Leipzig, Täubchenthal
16.02.22 DE-Hamburg, Gruenspan
17.02.22 DE-Schweinfurt, Stattbahnhof
19.02.22 PL-Krakow, Kwadrat
20.02.22 CZ-Prague, MeetFactory
22.02.22 HU-Budapest, Barba Negra
24.02.22 DE-Munich, Backstage
25.02.22 DE-Stuttgart, Im Wizemann
26.02.22 IT-Milan, Legend Club
27.02.22 CH-Zurich, Exil
01.03.22 BE-Antwerp, Kavka
02.03.22 DE-Cologne, Kantine
03.03.22 UK-London, The Garage
04.03.22 FR-Paris, La Boule Noire
05.03.22 NL-Utrecht, De Helling
07.03.22 DE-Frankfurt, Batschkapp
08.03.22 DE-Berlin, Festsaal Kreuzberg
09.03.22 DE, Muenster, Sputnikhalle
10.03.22 DE-Hanover, Musikzentrum
766841
IMMINENCE
will release on Friday
the 26th of November 2021
their new album 'Heaven In Hiding'
Fronted by vocalist and violinist Eddie Berg, guitarists Harald Barrett & Alex Arnoldsson, drummer Peter Hanström and bass player Christian Höijer; IMMINENCE takes us on an epic, cinematic journey
IMMINENCE once again displays their unrestrained diversity and dynamic approach with a new release.
With 'Heaven In Hiding', the group presents all their strengths and unique features as a band.
"Temptation was the undoubtedly biggest production we ever worked on. We want to show that we're able to deliver the same quality and creativity, yet do something completely different. Heaven In Hiding is now yours" – Harald Barrett (guitar)
Since the release of »Turn The Light On: Deluxe Edition«, an album era that has acted as a significant milestone, where IMMINENCE took the step from being a promising up & comer to an established headline act,
'Heaven in Hiding' is the secondnew, heavy track the band is releasing in almost two years.
With a placing in the Top 100 Official German Album charts, a sold-out run of album release shows and a 100% increase in ticket sales, and doubled venue capacities during the last EU headline tour, IMMINENCE has proven to be one of the mostgrowing and exciting bands
in the metal scene today.
IMMINENCE was formed in the south most part of Sweden and have over the years become one of the country's most promising acts with a diverse sound and universe, embracing everything from metalcore to acoustic music.
to continue, please go to the next side...
IMMINENCE are:
Eddie Berg | Vocals/Violin
Harald Barrett | Guitar
Alex Arnoldsson | Guitar
Christian Höijer | Bass
Peter Hanström | Drums
Mahalium-Hall-bara-kaft-Radio-Artwork
MÄHÄLIUM will release on
Sunday the 28th of November 2021
their Single 'Håll bara käft'
Mähälium started up as a trio by Rka, Tholle, and Daniel in the autumn of 1998 and dropped dead in the spring of 2001.
During these hectic years, the band managed to recruit a guitarist Simon who later dropped out and was replaced by Arvid, playing at a damn lot of more or less suspicious arrangements, and also managed to release 3 demo cassettes, 1 ep, 1 CDs and participate in a number of collections.
After this, it was pretty quiet about the band for quite exactly 15 years.
But with a new recruited drummer Bobban, the band was suddenly on stage again, a gig that gave a promise of more to come and in May 2017, the band's first full-length album "När verkligheten golvar dig"
was released digitally.
And now it's time again.
A few years have passed and the old men in Mähälium have become even more old and grumpy, the hard chords have become a little harder and the sing-along melodies have become sing-along able.
On C33 tapes, the 1st advent 2021 the cassette "Avd C4" is released, which is also released digitally.
874668
RESOLVE will release on Friday
the 26th of November 2021 their album
'Between Me And The Machine'
The best things in life come to those who work.
Dipping your toes before jumping in at the deep end is something that will reward you in more ways than you realise.
Those extra hours spent wondering, "what if?" will all be worth it when you figure out the best way to make it a reality rather than pushing too soon and being left to wonder, "what if we had done this differently?"
RESOLVE are a band that have been savouring every second of their journey so far and biding their time – observing, learning, building – and making sure that every single aspect of how they've wanted the band to function was fully realised before delivering it to the world.
But now is their time to show you what they have been working on, and it is quite the spectacle.
Starting their journey back in 2016 after their previous projects parted ways and their intentions set on this being their forever band, vocalist Anthony Diliberto, bassist Robin Mariat and drummer Nathan Mariat have spent the last half a decade tinkering with the formula that feels the most suited to them.
Making their first mark in 2017 with debut EP »Reverie« before following with standalone single 'Carmela' in 2018, it wasn't until 2019 that they felt truly at home in their sound.
That was in the form of 'Pendulum', a collection of three songs that not only represented the beautifully bludgeoning and densely expansive sound that was resting in the back of their heads but that also found them appearing on Spotify's New Core, New Metal Tracks and Kickass Metal playlists.
...to contiune, please go to the next side...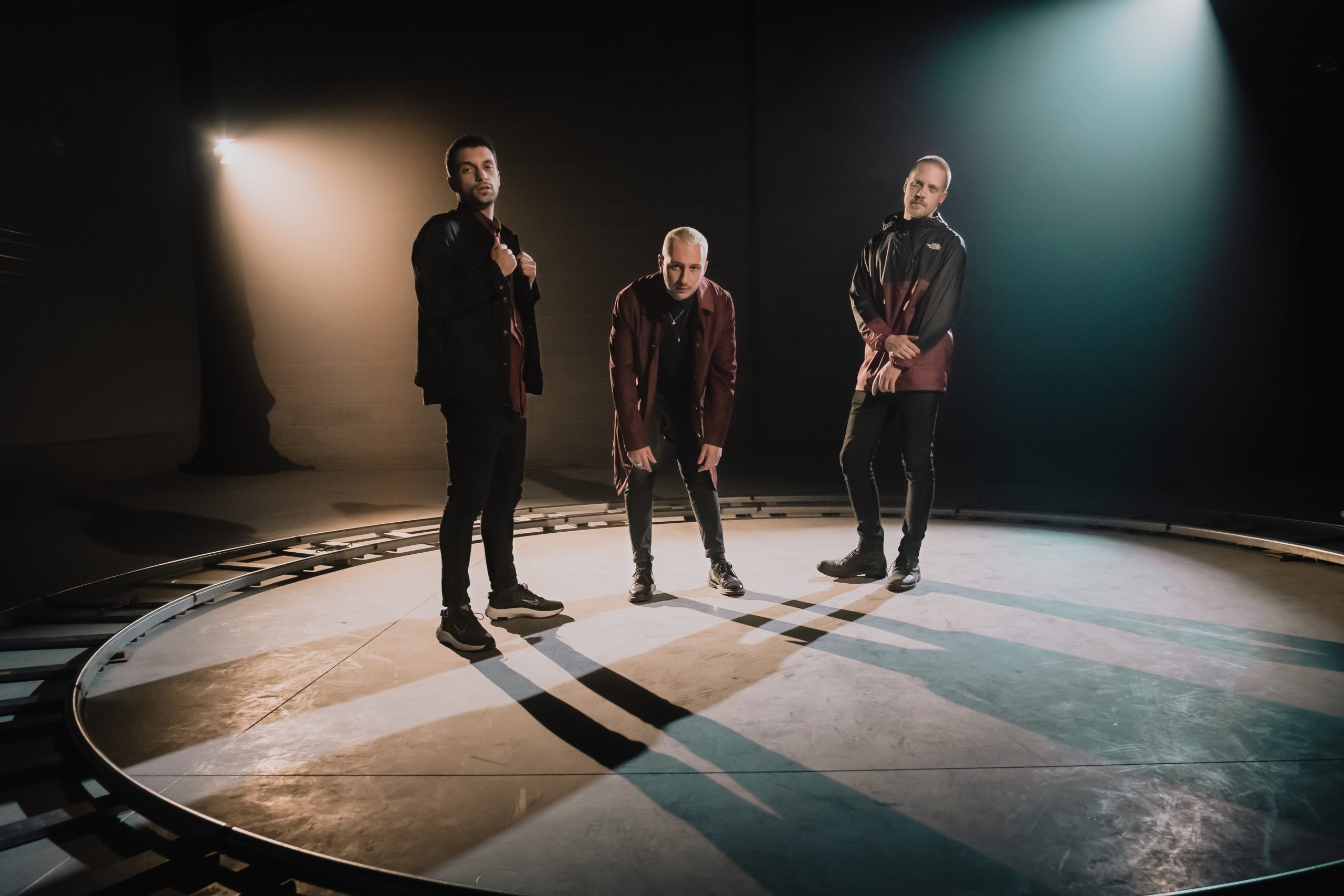 RESOLVE are:
Anthony Diliberto | Vocals
Robin Mariat| Bass
Nathan Mariat | Drums
874668
RESOLVE will release on Friday
the 26th of November 2021 their album
'Between Me And The Machine'
"It was with those three tracks that we really started to find what our sound was and how it was resonating with people," Nathan explains. "We had been working so hard on everything already, but it was us simply figuring everything out. It just felt more natural than making a big jump."
"At that time, it was about getting a community together," Anthony nods. "And because of our music suddenly getting to more people than had before, it all became much more serious."
Though as the pressure to succeed increased, the band stayed cool and calm.
The hard work had already been done, and the tools were in place to create something that truly represented who they were.
Made in the surroundings of Resolve HQ, a studio, rehearsal space and sanctuary built from the ground by the Mariat brothers, and crafted through the uncertainty and radical societal changes that came with the COVID-19 pandemic, the trio set about forging »Between Me and The Machine«, a record that perfectly encapsulates the chaos and callousness of the world we're living in through Resolve's ambitious lens.
Recorded and mixed by Robin, the record is a richly textured and gutturally poignant collection of tracks that bat between white-hot riffs and shimmering ambience with the flick of the wrist.
From the gorgeously pummelling storytelling of 'Emerald Skies' and the melodic genius of 'Seasick Sailor' all the way through to the textured grit of 'Cycles' and haunting atmospheres of 'Sing Me To Sleep', it is as varied as it is visceral, showing off the bands attention to detail as much as their ear for an addictive chorus.
Though dig a little deeper, you'll find that the band delve even deeper into the emotional side of the times we live in.
It's an adventure, told through the eyes of a space explorer searching for a new world to inhabit after being overwhelmed by the level of technological advancement on his own planet and internal struggles he experiences along the way, into the deepest corners of the heart and soul, a search for tranquillity in a world controlled via buttons and wires.
...to continue, please go to the next side...
874668
RESOLVE will release on Friday
the 26th of November 2021 their album
'Between Me And The Machine'
It's about the balance between the self-doubt that we're losing who we are as a society and the fear of what we would be without the means to live our lives as they are right now.
More than anything, it's about humanity, connection and community, three things that have inspired the band from the very beginning.
"It's about finding your own place within a world that is becoming more and more dominated by machines," Robin states. "We are part of the last generation that grew up without the Internet. Even though it feels natural to us, it's also easy to still feel a little bit lost."
When looking out for each other and soul searching feels more crucial than ever before, RESOLVE have put together a record that transcends borders altogether.
They've created a universe littered with as much darkness as light and as much hardship as hope.
»Between Me and The Machine« feels like just the beginning of a truly spectacular voyage to the stratosphere, but right now, it is the sound of a band making the most brutally honest and
beautifully human music they can.
771336
HERBST have released
their new Single
'Besser Ohne Dich'
Rock band HERBST release new single / video " Besser ohne dich" feat. Matthias Engst and announce their first tour for the coming year!
"The song tackles freedom of expression," explains Olli from Herbst. "Out of fear of isolation, many are anxious not to offend anyone or to express their personal opinion. There is always an admonisher for each and everything and pointing fingers."
By merging opinions and topics, everyone has similar experiences in social media today.
In the music video, this emotion is exaggerated because
"sometimes it just feels like we want to punch such hate speech people in the face for this unsolicited advising," comments the band.
"Maybe there's something like being healed through pain?"
laughs frontman Olli, who plays that role in the corresponding video clip for "Besser ohne dich."
HERBST will support the band ENGST as support on their Germany tour.
The ENGST "Brave New World Tour 2022" begins on February 18, 2022 in Munich.
The tour will be for HERBST first time through ten clubs nationwide.
Olli von Herbst said on Instagram: "We are overjoyed that ENGST are taking us on the road! This is a great opportunity for autumn, the people of our EP and first tracks from the upcoming album to play. Come by, tear down the clubs with us and Engst - we're really looking forward to a beer with you to drink together! "
At Herbst the name says it all, because the sound of the four Berlin musicians is hard, rough and dark.
Herbst already made it clear with their current single "Das Haus" that we are never alone.
It needs in every situation in life a support that takes us by the hand and gives us strength.
...to continue, please go to the next side...
HERBST are:
Olli Weckert - vocals
Mark Rötz - Bass & vocals
Rilo Messer - Guitar
Steffen Böhm – drums
771336
HERBST have released
their new Single
'Besser Ohne Dich'
The German texts from Herbst tell unadorned from the life of the musician and feel so authentic that you can feel yourself in it.
Herbst will be their first EP on the new label Träumer & Helden in February 2022.
ENGST
»Schöne neue Welt Tour 2022«
Support: HERBST
18.02.22 München
19.02.22 Stuttgart
20.02.22 CH-Zürich
24.02.22 Berlin
25.02.22 Leipzig
26.02.22 Hamburg
27.02.22 Hannover
03.03.22 Bochum
04.03.22 Frankfurt
05.03.22 Köln
Brute-Force-Trauma-World-is-Burning-radio-Artwork
BRUTE FORCE TRAUMA
will releaze on the
17th of December 2021
their debut EP 'World Is Burning'
What to do in the fallout of the corona pandemic if you're bored?
Start a band, of course!
Brute Force Trauma saw the light of day in November 2020, when a bunch of punks (ex-members from Wolfbrigade, Boot Bois, and Filthy Bastard) felt the urge to make some new music.
Sincemthen they have been crusting away, and in august of 2021 live concerts were back
so watch
out on the road when the Brute Force Trauma tank comes rolling 2022…
Line up:
(Ex-members from Wolfpack, Wolfbrigade, Filthy Bastard, and Boot Bois)
Jokke – vocals
Sören – vocals
Tommy – guitars
Markus – bass
Christian – drums
gomorran_excerpts

GOMORRAN have
released their debut record
'Excerpts From The Dark Age'
Finnish Helsinki-based blackened death metal band Gomorran released their debut record 'Excerpts From the Dark Age' on December 3rd 2021.
To celebrate the release, band also released their third music video Esaiah.
Guitarist Joonatan Wiitasalo & drummer Olli Lappalainen comments: "It is an incredible feeling to behold the final product. When we first started this project in 2019 with Joonatan and thought about all the things we could do, the making and publishing of our own record was barely a dream. We talked about "what would be cool to do". In the end that alone motivated a lot and it sparked a deep will to create something real. In a way it was evident, that nothing happens by itself and no one is gonna make anything come to fruition for you. Then we formed a band and now after two years of hard work we have a complete record and big hopes and medium sized plans for the future. We have poured countless hours of time and energy into this record, but lo and behold this chapter came to an end. This record is our magnum opus at least so far, a project that let's us show the work we have done during this quarantine year. This record encapsulates four musicians' lifelong love of metal music – the song ideas that have finally come into reality."
Gomorran was formed in Helsinki in the Fall of 2019 when Olli Lappalainen's hiatus from playing drums came to an end.
There was a burning desire to form a new band and get back to producing metal music.
Guitarist Joonatan Wiitasalo ended his own hiatus and joined to release his heavy music creativity.
In the following months many new song ideas came to light.
...to continue, please go to the next side...
Line-up:
Perttu Laamanen – vocals & guitar
Joonatan Wiitasalo – guitar
Panu Nykänen – bass
Olli Lappalainen – drums
gomorran_excerpts

GOMORRAN have
released their debut record
'Excerpts From The Dark Age'
Even though the composing was proceeding strong, the band desperately lacked members.
By the end of summer 2020 the band was joined
by an ambassador of evil soundwaves, singer guitarist Perttu Laamanen.
Perttu gave a huge boost to the composing of new material.
Song structures and ideas formed into complete songs and Gomorran started to plan on producing its
debut record.
In the beginning of 2021, right before the recordings of 'Excerpts from the Dark Age', bassist Panu Nykänen joined to amplify the lower frequencies.
When Olli and Joonatan wanted to compose merciless ass-kicking music, inspired by Ajattara and Cannibal Corpse, Gomorran's first song Black Plague was born in the spring of 2020.
The song was held as a beacon to the direction the band should musically strive forward to.
Gomorran perceives their music as death metal that draws influence from the murkiness of black metal.
The impact of other music genres cannot be downplayed, since the members of the band own a wide range
of musical influences.
Lyrics on the Excerpts from the Dark Age record include harrowing stories about the Roman empire, Middle Ages and from pagan literature.
The band ended up recording their debut record 'Excerpts from the Dark Age' independently in the band's rehearsal room in Vallila, Helsinki.
Mixing and recording was done by Gomorran's drummer Olli Lappalainen. Choir, keyboard and strings were arranged and produced by Markus Lappalainen.
The recording and mixing of the album was finished in July of 2021, following mastering done by Sound Spiral Studios' Juho Räihä.
'Excerpts from the Dark Age' was published in the fall of 2021 by Inverse Records, a record label and a release agency.
promo pic by Janne Pappila
tr-schriftzug-s-2
TORRENTIAL RAIN will release
their 4th single for 2021
'Differentiate' on 16th of december 2021
Germanys metal highflyers TORRENTIAL RAIN catch you where everyday life lets you down.
Romance, Break-ups or reflecting on one's own life are just a few of the themes to let their fanbase located in over 99 countries know:
You are not alone!
Coupled with the guiding principle of "Power meets precision" they fuse the
unfusable:
the brutal energy of bands like August Burns Red and Polaris combined with progressive-virtuoso writing á la Periphery.
The four guys hailing from Germany create a perfect balance of both worlds in which brute force and delicate thoughtfulness coexist and present these American novelty trends to Europe's stages.
Scene greats like Kvelertak, Equilibrium, Illumenium or Time, The Valuator have already recognized the impressive musical potential of TORRENTIAL RAIN and brought them on stage as support, where they were able to carry away fans of all possible genres on 70 shows with the current line-up.
Since early 2020, the band has released one single after another, quarter after quarter.
In addition to one million streams (over all), TORRENTIAL RAIN established themselves in several editorial playlists.
After 'TIME WILL TELL', 'WHY DO I CARE' and 'OBSTACLES', the promised fourth single will be released on 16.12.2021.
Songwriter Christopher Danner gives an insight:
"In all the time we've been doing singles, we've been able to bring in a variety of styles to see what we like and what works. I think it's best to end the year with a banger. Get ready for a beautiful crusher that contains all that distinguishes us as a band. One or two surprises can be expected 😉."