kansikuva_liemus_if_(no_one_can_see)-new
Finnish RIOGHAN is set to release her debut album - first single & music video 'Breath' is now out
Finnish Rioghan is set to release her debut album
'Different Kinds Of Losses' later in 2022 via Inverse Records.
The album has been made in collaboration with Jonas Renkse (Katatonia), Einar Solberg (Leprous),
Teemu Liekkala (ex-Manufacturer's Pride, Red Eleven)
and Teemu Koskela (ex-Celesty).
Rioghan comments single:
"This song really speaks to me in a personal level, as I have wrote the original poem in a pretty dark place, and somehow me and Teemu captured the essence of it musically too, a lot of polarity, ups and downs and finally some gruesome beauty in acceptance. We chose this as the first single as I think it represents the former Rioghan a bit more than the rest of the album, so it is also kind of a transition to new things ahead."
Rioghan is a music project performed by me, singer Rioghan Darcy.
Rioghan was founded in 2019 and is based on Lapua, Finland.
Rooted deeply in both gothic and progressive metal scenes, I sure should bring something interesting on the table.
I started off in 2010 as a poetry and lyric writer, but in 2019 I finally wanted to add some more to the mix
and decided to fleshen up some of my words with music.
Songwriting wasn't my strong suit, so I teamed up with a few skilled writers and together we came up with a 4 song EP "Blackened Sky",
which was released in March 2021.
EP got some positive attention in alternative scenes,
a few interviews and radioplays internationally.
As things started rolling I decided I want to make a full length album and wanted to gather a new songwriting crew for that.
Between the album demo making, we made a few cover songs with Teemu Liekkala and 2 songs from the EP "Covers II" got to Spotify editorial playlists, and have gained about 100k streams at this point.
Line-up on Breath single:
Vocals - Jenni Perämäki
Cello - Marko Hautamäki
Guitars, bass & keys - Teemu Liekkala
Drums, percussions - Valtteri Revonkorpi
Promo pic by Victor Ekholm
Composed by Jenni Perämäki & Teemu Koskela.
Lyrics by Jenni Perämäki
-Mastered by Svante Forsbäck / Chartmakers Oy.
-Vocal recordings: Ville Hautaluoma
-Produced, recorded & mixed by Teemu Liekkala
Single cover by
Sakari Tuokkola
Promo picture: Aarni Visuals / Mikko Parkkonen.
Hair & makeup by
Studio Viivi K / Viivi Kiilunen
kansikuva_liemus_if_(no_one_can_see)-new
Finnish melodic death/black metal band SE, JOSTA EI PUHUTA released a third single from their upcoming third studio album
Finnish melodic death/black metal band Se, Josta Ei Puhuta released a third and last single 'Kuolleena Syntynyt' (Stillborn) from their upcoming third studio album Gehenna which is released
on April 22nd 2022 via Inverse Records.
Singer Samu Männikkö comments:
"The deeds go undone, the sword stayed undrawn.
Rope greased, alone. The path overgrown.
Words go unspoken, songs go unsung.
If your life has been in vain, so shall be your death."
Promo pic by Tuija Matero
kansikuva_liemus_if_(no_one_can_see)-new
Italian melodic Hard Rockers SAINTS TRADE
will release on the 25th of march
their album 'Golden Cage'
TRACKLIST
01. Neverland
02. Break The Chain
03. Casino Royale
04. That's What I Know
05. Stay With Me
06. Lockdown Blues
07. Mirror Of Myself
08. Once And For All
09. Together We Stand
10. Double Trouble
11. Born To Do (What I Want)
LINE UP
Santi Libra: Vocals
Claus: Guitars
Andrea Sangermano: Bass
Special Guests:
Paolo Caridi: Drums
Pier Mazzini: Piano, keyboards and backing vocals
Roberto Priori: Guitar solo on
"Once And For All"
Art Of Melody Music & Burning Minds Music Group are glad to announce all the details of "The Golden Cage", the new official studio album
by Italian melodic hard rockers Saints Trade.
The album features 11 songs composed in the spring of 2020,
during the Italian lockdown.
The title is a reminder of those months when, due to the pandemic, people were forced indoor in a sort of 'prison',
despite all the comforts and the safety in everyone's home.
At the same time, "The Golden Cage" is also a play on words recalling the expression "The Golden Age", to highlight once again the gap between these years of big troubles and fears due to Covid-19
and the happier times in the past (also for music).
So, with this title, the band wants to imply the hope
for a general rebirth after the pandemic, especially for the rock scene.
"The Golden Cage" is scheduled for release on March 25, 2022
via Art Of Melody Music/Burning Minds Music Group.
The album was produced, mixed and mastered by Roberto Priori
at Pri Studio and sees the participation of Paolo Caridi
(Arthemis, Hollow Haze, Sweet Oblivion, Killing Touch) on the drums.
CD graphics were designed by
Aeglos Art (Wheels Of Fire, Raintimes, Platens, Alchemy, Firmo).
kansikuva_liemus_if_(no_one_can_see)-new
from Finnish melodic death metal
group CEREBRAL MIST will be
released on the 31st of march
the album 'Age Of Mist'
TRACKLIST
1. New Age
2. Broken Winged Statue
3. Through the Storm
4. Skeleton Grin
5. The Cubicle
6. The Alchemist
Sinni Jensen - Cover art
LINE UP
Antti Argillander: Vocals
Antti Parviainen: Guitars
Erno Venäläinen: Bass
Erno Sallinen: Drums, synthesizers, programming
Anni Kokkonen: Backing vocals
IN MEMORIAM OF A DEAR FRIEND
Cerebral Mist was a 2000s melodic death metal band from Joensuu, Finland - or barely had time to be.
Its founder Antti Parviainen died abruptly in February of 2018,
leaving behind him six demos,
which were to serve as the backbone of an upcoming album.
Parviainen was 32 years old.
The band's vocalist and other composer Antti Argillander,
bassist Erno Venäläinen and current music producer Erno Sallinen
- all of whom had played together as teenagers -
met at the funeral and swore that one day they would finish
what Parviainen had started.
In the summer of 2021 Sallinen finally took the bull by the horns
and started the production of the EP later to be named 'Age of Mist'.
Apart from the vocal recordings plagued with calendar problems,
remote work and even a corona case,
the production was finished in a couple of months.
"The project was interesting due to the fact that everything needed to be arranged around Parviainen's demo guitars", Sallinen recollects.
"No guitar tracks were re-recorded, unless absolutely necessary."
The final product is not without changes, but - thanks to studio magic - 95% of the guitar tracks are still played by Parviainen.
Finally the project ballooned in to a full-blown work party,
when others wanted to support a good cause as well.
...to continue, please go to the next side...
kansikuva_liemus_if_(no_one_can_see)-new
from Finnish melodic death metal
group CEREBRAL MIST will be
released on the 31st of march
the album 'Age Of Mist'
Argillander's vocals were recorded by Elmo Kröger
(also currently in Kings of Guilt) and the backing vocals were sung
by Nevicate's Anni Kokkonen.
The record was mixed and mastered by Joona Muistola of HAW Studios, and the cover art was drawn by Sinni Jensen.
The EP is released by Inverse Records, and it's available on all
major streaming platforms on the 31st of March 2022.
For those interested to dive deeper, the original untouched demos
of the songs are available at Cerebral Mist's Bandcamp site.
"Parviainen was a wonderful person and a great friend. Making music with him was a privilege. I believe he would have been proud of this release", Argillander states.
CREW
Erno Sallinen - Production, arrangement, recording, editing
Joona Muistola - Reamping, mixing, mastering
Elmo Kröger - Vocal recording
kansikuva_liemus_if_(no_one_can_see)-new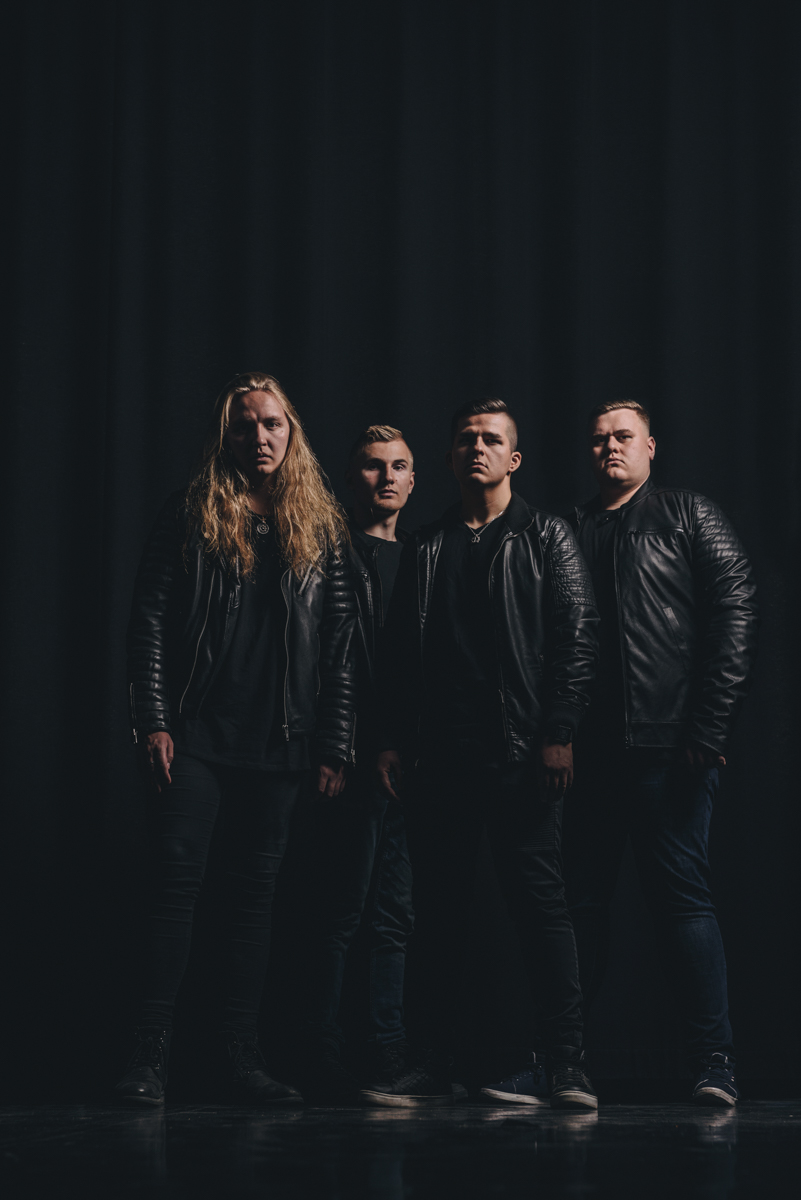 Finnish melodic metal band
JUSTICE THEORY
released aggressive new single
'The Abandoned'
Photographer:
Jaakko Manninen
Finnish melodic metal band Justice Theory has released new fast-paced single, entitled 'THE ABANDONED' from their upcoming EP.
It's the second single out off 'Beaten Will Rise' EP,
that will be out by the end of this Spring.
The track raises the speed and aggressiveness to higher level
and shows a new style of vocals
that haven't been heard before from Justice Theory.
Crank your speakers loud and let it make you bang your head!
Justice Theory is a four-piece formed by four guys
from Jyväskylä Central Finland.
The band was founded in 2012 and has been active live band since 2014. They have toured around Finland and maybe the most important show so far has been at legendary Jalometalli Festival in 2016.
kansikuva_liemus_if_(no_one_can_see)-new
finnish WITHOUT WARNING
take a darker turn with their
new single & music video
'Insanity'
Composer: Without Warning
Lyrics: Michaela Tuomenoksa
Producer: Aleksi Rintala
Single cover by
Michaela Tuomenoksa
Line-up:
Vocals
Michaela Tuomenoksa
Guitar
Juuso Javanainen
Bass
Joakim Keuru
Drums
Lauri Tuomenoksa
pic by Michaela Tuomenoksa
Without Warning keeps evolving as they release their second single "Insanity" via Inverse Records.
The band is slowly forming their identity as a new band in the scene and they've decided to take a darker turn with their new single.
"Insanity" is definitely taking things up a notch as it is an quite unexpected piece after the lighter first single "Delusion"
with accompanied blue neon lights.
As we hear darker and heavier elements with the instruments, we're also surprised to hear the vocalist Micha let out some unheard grunts
beside her lighter tunes.
"Our second single "Insanity" is definitely going to paint our identity clearer and this is the route we've decided to continue on as we grow with the band. I've always been a fan of darker sounds and horror aspects, so I'm obviously super excited to have that incorporated." says Micha.
The single has a clear storyline and gets more intense the further you go, without forgetting the heavy electronic elements.
A strong second single which is definitely worth listening to.
kansikuva_liemus_if_(no_one_can_see)-new
Finnish heavy rock band
RYLOS
has released new
organic sounding single
Composers:
Mikko Heino, Misca Muhli, Riina Suikkanen
& Sami Turunen
Lyricists:
Mikko Heino & Arto Porvari
Producer: Anssi Kippo
Photographer:
Antti Loiske
Finnish heavy rock band Rylos has released a new single "Road"
today on March 17, 2022.
The song was recorded at Astia-Studio and was produced by Anssi Kippo.
Road tells about the path of change that the whole world is following.
For Rylos Road is also the highway for bigger stages.
Anssi Kippo Commens on the single:
"The Road is not only the coolest but also the most catchiest Rylos song so far. Both the text and chorus are spot on. Once again drums are not replaced by artificial samples, and Mikko's vocals are not ruined by editing and pitch correction."
Rylos was formed in 2013 and the band has released
four full-length albums and a few singles!