cover SILVERLANE - Inside Internal Infinity
german power and hard rock act
SILVERLANE
has released their new album
'Inside Internal Infinity'
Once upon a time in beautiful Franconia, a few young people got together to make music.
That, or something like that, is how the story of SILVERLANE could begin.
The roots of the band go back to 1995, when the siblings Chris, Dodo and Simon founded something like a family band in their parents' garage.
After releasing two albums on Drakkar Entertainment between
2008 (My Inner Demon) and 2010 (Above the Others) and
touring in support of Lordi and Doro Pesch,
it became quiet around the band.
Children were born, houses were built,
marriages were made and divorced again.
but now SILVERLANE are back!
More mature and better than ever before, they shine in metallic-modern splendour without forgetting their roots.
The new frontman Tom Klossek has a big share in this.
"Actually, I had already given up on finding a suitable band and didn't have the energy to start all over again. I'd had to do that too many times in my life, but when I listened to the songs for a stand-in gig at Rock im Harz, I immediately noticed the love of detail and the vibes that were created. After the gig I immediately asked the band if we didn't want to start again TOGETHER. SILVERLANE 2.0 so to speak ... "
says the Frankfurt native.
So HEAR THEY ARE!
decades in the limelight and a life as a professional musician, in which he gave far more than 1500 concerts, he has now arrived at SILVERLANE. "Tom is the best singer I have ever recorded" emphasises Simon Michael. And that means something, because he is not only the mastermind of Silverlane, but meanwhile also a busy producer in the metal field and on
top of that drummer of Subway To Sally for almost 15 years.
...to continue, please go to the next side...
Tracklisting
01 - Twinkle Twinkle Little Star
02 - I Universe
03 - Blessed
04 - Hero Inn Sunset Club
05 - Leviathan Rising
06 - Medusa
07 - Soul Of Tears
08 - Scorched Earth
09 - Für Immer Und Ewig Feat. Patty Gurdy
10 - Life To Die For
cover SILVERLANE - Inside Internal Infinity
german power and hard rock act
SILVERLANE
has released their new album
'Inside Internal Infinity'
Chris Alexander (Git), Uli Holzermer (Leadgit), Daniel Saffer (Bass) and their new drummer Basti Kirchdörfer together with Tom Klossek (Voc) form a new, strong sound symbiosis rarely seen in Metal.
Tom comments: "Personally, I think it's a shame that bands nowadays don't dare to do anything or don't polish their songs enough. They just want to sound like what the market demands at the moment and that's enough for them. With SILVERLANE we all let off steam musically, experiment and simply have a lot of fun. The songs and especially the very harmonious and meticulous work with Simon as producer made it very easy for us to get the best out of ourselves!"
"Here are SILVERLANE and they do what they do best and what they are into - and that is powerful metal with symphonic elements" adds Simon. They've always been good at that and with Tom they're even better!
You can convince yourself of that now.
SILVERLANE take off live again, and the new, highly innovative and
power-packed album 'INSIDE INTERNAL INFINITY'
is waiting for its listeners.
the album was produced by simon michael
Studio: Great Hall Music Ebermannstadt
Cover Artwork and pics: Pedro Stöhr
line-up:
Tom Klossek (Vocals)
Uli Holzermer (Lead Guitar)
Chris Alexander ( Guitar)
Daniel Saffer (Bass)
Basti Kirchdörfer (Drums,
Percussion)
cover SILVERLANE - Inside Internal Infinity
Finnish rock band LILLI has released their second single 'Manflake'
Finnish rock band LILLI has released their second single 'Manflake' from their upcoming second album.
The previous single 'Limits of Life' gave some tasters of the bands refreshed musical direction and this new single creates a continuum towards the second album's more energetic and heavier punch.
"'Manflake' leans towards the more traditional hard rock recipe added with a hefty handful of rage from punk. As a fusion of these two the new single is at the same time fiercely stand taking and fist raising rumble", tells the band's bassist and chief studio officer Sami Halinen.
"With 'Manflake', we have pushed to increase the quality of our sound without forgetting the rough edge coming from punk. All this is served to the listener as an efficient 3 and a half-minute package.", Halinen continues.
The band Vocalist Lily Black opens the background of the lyrics: "'Manflake' is pointed at people who are offended about other people not tolerating their unsolicited opinions and bad behavior. It encourages you to be brave and live your life the way you are without minding the opinions of people who live in the past and think that everything was better then."
line-up:
Lily Black (Vocals)
Teemu Harjunen (Guitar)
Sami Halinen (bass)
Akseli Kaasalainen (keyboards)
Petteri Rosenbom (Drums)
Photographer:
Markus Koskinen
cover SILVERLANE - Inside Internal Infinity
Zac and the New Men release acoustic video for 'Deeper'
"If Royal Blood and ACDC had a child and fed it on a diet of Cleopatrick and Jimi Hendrix you'd end up with Zac and The New Men."
Formed during the Covid lockdowns by bored teenagers,
Zac and The New Men have taken the Swansea music scene by storm since their first gig in July 2021.
Released on 4th February 'Deeper' is the 4th single from the band and is already receiving critical acclaim.
With blues-laidened riffs and a vocal performance reminiscent of the greats that have come before them this track showcases talent
beyond their years and is sure to be a hit with festival audiences.
"'Deeper' was written as a commentary on society today, about being judged by outward appearances and expressing anger at feeling held back by others perceptions of who you are. The song empowers and encourages you to get on, keep moving forwards to achieve your goals. Don't be put off by others, do it for yourself, aim high and you will succeed."
Written, recorded and produced by 17-year-olds there's a rawness and energy that's relevant to young people today.
The whole song was recorded "off the floor" giving it a great dynamic feel with changes of tempo adding punch and huge guitar riffs providing the energy to push you onwards.
Zac and The New Men's story began just over a year ago when a young man by the name of Zac got bored during the lockdowns and decided to
write a song.
He then thought he'd record the song and realised he'd need to learn to sing, produce and mix.
Life's amazing when you're 16 years old with no demands on your time,
isn't it?
...to continue, please go to the next side...
cover SILVERLANE - Inside Internal Infinity
Zac and the New Men release acoustic video for 'Deeper'
The amazing thing about Zac is he was already an accomplished guitar player who was beginning
to get recognised internationally through his Instagram
Once his first song was written Zac began a collaboration with a drummer and good friend of his Will Newman.
Will and Zac had been jamming together in school for over a year and
already had a great understanding of each others groove.
Together they wrote, recorded and released their second song
"Lead Me On" at which point they decided they were going
to need a full band, if they were going to be able to gig
when the Covid restrictions ended.
It just happened that another good friend of theirs Oli was a keyboard player and guitarist and wanted a career in music!
All they needed now was a bass player and wouldn't you know James a bass player is doing the same BTEC music course as Will and Oli.
So you've got Zac, Will, James and Oli writing songs rehearsing together but nowhere to gig!
They decided they should enter a couple of online talent contests and they did well - Last 25 from over 10,000 entries in the Radio 1 live lounge competition and Final 16 in the Bandzai battle of the bands,
losing out to the eventual winner.
They've had radio play on BBC Radio Wales with support from Adam Walton who's first words on hearing their music were "WOW, is the only
response I can muster" and when they finally got to do their first gig the venue had to turn away over 100 people due to Covid restrictions.
Since that first gig they've played over 30 pub gigs, 3 festivals (voted favourite band at one!)
4 support gigs and one sold-out headline show in Swansea.
...to continue, please go to the next side...
cover SILVERLANE - Inside Internal Infinity
Zac and the New Men release acoustic video for 'Deeper'
At 17 they are all committed to a life in music, they live and breathe it.
(let's be honest what the hell else can you do if you study BTEC Music?)
They've already recorded their next five releases in which you'll hear their journey through the genres as their influences and passion for their art become clearer.
They're about to release their fourth single "deeper" which is already receiving critical acclaim and
a firm fan favourite.
'Deeper' is scheduled for release on February 4th with a launch event in conjunction with
Independent Venue Week on Feb 5th and will be followed by a fully produced music video.
These lads love nothing more than putting on a show, with their great musicianship, throwback 70s vibe outfits and high energy crowd involvement they always go down a storm.
You'll hear all their great original material which gets the crowds jumping and heads banging and
you may even get to hear a cheeky cover of Jimi Hendrix's Voodoo Chiled, SRV's Scuttle Buttin or even Olivia Rodrigo's Drivers Licence.
Whatever they play, they play it well and with passion.
Zac and The New Men have been compared to Royal Blood, Queens of the Stone Age, Red Hot Chilli's and Cleopatrick.
Their influences come from a wide variety of genres and artists including Royal blood, Black Keys, AC/DC, Jimi Hendrix, Stevie Ray Vaughn,
Hosier, Kaleo, Marcus King and Chris Stapleton.
cover SILVERLANE - Inside Internal Infinity
Italian melodic rockers SAINTS TRADE have released new single 'Casino Royale'
Art Of Melody Music & Burning Minds Music Group are excited to announce the digital release of "Casino Royale", first single taken from "The Golden Cage", new studio album by Italian melodic rockers
Saints Trade.
"The Golden Cage" is scheduled for release on March 25, 2022 via Art Of Melody Music/Burning Minds Music Group.
The album was produced, mixed and mastered by Roberto Priori at Pri Studio and sees the participation of Paolo Caridi
(Arthemis, Hollow Haze, Sweet Oblivion, Killing Touch) on the drums.
CD graphics were designed by Aeglos Art
(Wheels Of Fire, Raintimes, Platens, Alchemy, Firmo).
line-up:
Santi Libra (Vocals)
Claus (Guitar)
Andrea Sangermano (bass)
Special Guests:
Paolo Caridi (Drums)
Pier Mazzini (Piano, keyboards and backing vocals)
cover SILVERLANE - Inside Internal Infinity
Danish alternative metal quintet NORÐ released the single 'Seasons Erased'
Danish alternative metal quintet NORÐ released a second single 'Seasons Erased' from their upcoming debut album 'Machine Blood'.
The album is released on March 2022 via Finnish record label Inverse Records.
The album is mixed and mastered by the magnificent Jacob Hansen at Hansen Studios, Denmark
(Volbeat, Amaranthe, Primal Fear, Arch Enemy, etc)
The band comments:
"The song is based on an uptempo thrashy riff combined with a halftime melodic chorus. The vocals are very versatile ranging from cleans to deep growl emphasizing the guitar riffs perfectly. The lyrics discuss the experience of the natural seasons becoming less distinctive as the winters become warmer and the weather more unpredictable and extreme because of human consumption."
Single cover:
Hollowed Graphix
Tracklist:
01. Prologue
02. Left Behind
03. Fear Reigns
04. Depleted Soil
05. The Swordsman
06. The Run
07. Endless Stream
08. Seasons Erased
09. Law of Jante
10. Machine Blood
11. Epilogue
Album cover by
All Things Rotten
Line-up:
Vocals: Bjarne Matthiesen
Guitar: Niels Thybæk-Hansen
Guitar: Thomas Bøgh Jensen
Bass: Peter Littau
Drums: Rune Kolsbjerg Hansen
pic by ​colorrain.dk
cover SILVERLANE - Inside Internal Infinity
hungarian experimental progressive rock/metal band GHOST TOAST will release on the 3rd of march 2022 their new album 'Shade Without Color'
'Shade Without Color' is the follow-up for our 2020 album
'Shape Without Form'.
The majority of the songs were written at the same time, and we intented it to be a sort of a "double-album",
in which the two would come out at different times.
Both titles come from T.S. Eliot's poem The Hollow Men and both albums mostly deal with the subject of emptiness, the process of becoming empty – only to an extent which suits an instrumental material, of course.
The basis of thought behind the album is not the actual state of emptiness, it's rather the things leading up to it – like personal fate, tragedy and weakness; the subject of authority; technology becoming impersonal; politics, alienated people; the feeling of being threatened.
This emptiness uniformizes, dissolves the individual, leaves humankind disenchanted and hopeless.
We look at both records as an illustration of this theme, this is mostly why we use (again) quotes from movies, interviews, speeches or poems.
Our own thoughts and feelings are encapsulated within these and of course, within the music surrounding it.
We also attempted though to resolve this mostly dark subject, as we do not believe that mankind's fate generally would be hopeless and that there would be no way out.
Darker parts lead to moments filled with more hope, while in the melodies and themes intented to be more beautiful and soft have a recurring dissonance, indicating this constant battle.
It because of this fact that we would omit writing in too much detail about every song, we believe a matching or an actually used quote should be enough to set the mood and give some ground
to the concept behind the song.
...to continue, please go to the next side...
Track list:
1. Get Rid Of
2. Leaders
3. Chasing Time
4. Let Me Be No Nearer
5. Acceptance
6. Deliberate Disguises
7. Reaper Man
8. Whimper
9. Rejtekből
Line-up:
János Stefán (bass, sound fx, programming, acoustic guitar, keyboards)
Bence Rózsavölgyi (guitars)
Zoltán Cserős (drums, drum programming)
János Pusker (cello, keyboards)
cover SILVERLANE - Inside Internal Infinity
hungarian experimental progressive rock/metal band GHOST TOAST will release on the 3rd of march 2022 their new album 'Shade Without Color'
Get Rid Of
"People become attached to their burdens sometimes more than the burdens are attached to them."
- George Bernard Shaw
Leaders
"The mistakes (of leaders) are amplified by the numbers who follow them without question. Charismatic leaders tend to build up followings, power structures and these power structures tend to be taken over by people who are corruptible. I don't think that the old saw about 'power corrupts and absolute power corrupts absolutely' is accurate: I think power attracts the corruptible."
- Frank Herbert
Chasing Time
"Scars have the strange power to remind us that our past is real." - Cormac McCarthy, All the Pretty Horses
Let Me Be No Nearer
"Let me be no nearer In death's dream kingdom" - T.S. Eliot, The Hollow Men
Acceptance
"Your need for acceptance can make you invisible in this world. Don't let anything stand in the way of the light that shines through this form. Risk being seen in all of your glory." - Jim Carrey
Deliberate Disguises
"- What is the Nothing?
- It's the emptiness that's left. It's like a despair, destroying this world. And I have been trying to help it.
- But why?
- Because people who have no hopes are easy to control. And whoever has control has the power."
- The Neverending Story - /Film (1984)/
Reaper Man
"All things that are, are ours. But we must care. For if we do not care, we do not exist. If we do not exist, then there is nothing but blind oblivion. And even oblivion must end someday." - Terry Pratchett, Reaper Man
Whimper
"Between the idea And the reality Between the motion And the act Falls the Shadow"
- T.S. Eliot, The Hollow Men
...to continue, please go to the next side...
cover SILVERLANE - Inside Internal Infinity
hungarian experimental progressive rock/metal band GHOST TOAST will release on the 3rd of march 2022 their new album 'Shade Without Color'
Rejtekből
"Ez a ricsaj majd dallá simul át,
Addig halottan avagy éberen,
Pihenjen a szent láz s az értelem,
Míg eltünnek a mai figurák.
Magyar leszek majd hogyha akarom,
Ha nem sutáké lesz itt a világ,
S fölcsap minden szent és igazi láng
Rejtekből avagy ravatalon."
- Ady Endre: A perc-emberkék után
No English translation available for this poem unfortunately.
Endre Ady (Hungarian: Ady András Endre, archaic English: Andrew Ady, 22 November 1877 – 27 January 1919) was a turn-of-the-century Hungarian poet and journalist. Regarded by many as the greatest Hungarian poet of the 20th century, he was noted for his steadfast belief in social progress and development and for his poetry's exploration of fundamental questions of the modern European experience:
love, temporality, faith, individuality...
cover SILVERLANE - Inside Internal Infinity
HERBST - EP "Zwanzigtausend Meilen" is out now
The name Herbst is simply part of the agenda, as the sound
of the four Berlin musicians is heavy, raw, and deep.
Herbst already made it clear with their latest single "Dieses Haus"
that we are never alone.
In any situation in life, it requires a pillar that takes us by the hand and gives us strength.
The German lyrics of Herbst tell unadorned from the life of the musicians and feel so authentic that we can recognize ourselves in it.
With the fourth single "Noch nicht zu spät" the guys from Herbst show their emotional and vulnerable side without losing
the pressure in their sound.
The catchy song is packed into an honest story based
on the personal experiences of singer Oliver Weckert.
"The song picks up on the separation phase between two partners or friends," Olli from HERBST states. "You can lose yourself in life, but still reach out to each other again after some time,
despite disappointment and pain."
About the video shooting Olli comments "The shooting started last year in the middle of the pandemic. It was emotional and beautiful to still have something hopeful connected into the story."
Manager and videographer Matthias Engst, who also shot the video, commented on the shoot and song as follows: "I have rarely experienced such emotionality and honesty in the performance of an artist as I have seen in this shoot with Oliver. Since we've been friends for years and I know the background of writing this song, it touched me personally as well and I'm proud to be a part of this project."
Herbst will be supporting the band ENGST on their German tour. The " Schöne neue Sommer" 2022 tour will kick off on June 8.
The tour takes Herbst to nationwide venues for the first time.
for the tour dates, plaese go to the next side...
Line-up:
Vocals: Olli Weckert
Guitar: Rilo Messer
Bass/Vocals: Mark Rötz
Drums: Steffen Böhm
pic by ​Yuri Cernovolov
cover SILVERLANE - Inside Internal Infinity
HERBST - EP "Zwanzigtausend Meilen" is out now
ENGST
"SCHÖNE NEUE SOMMER" TOUR 2022
SUPPORT: HERBST
08.06.22 CH-Zürich, Exil
09.06.22 DE-München, Backstage (neue Venue!)
12.06.22 DE-Frankfurt, Das Bett
16.06.22 DE-Bochum, Zeche
17.06.22 DE-Stuttgart, Im Wizemann
18.06.22 DE-Köln, Essigfabrik (neue Venue!)
19.06.22 DE-Münster, Sputnikhalle (zusätzliche Show!)
23.06.22 DE-Hannover, Faust
24.06.22 DE-Rostock, M.A.U. Club (zusätzliche Show!)
26.06.22 DE-Nürnberg, Z-Bau (zusätzliche Show!)
29.06.22 DE-Bremen, Tower (zusätzliche Show!)
30.06.22 DE-Berlin, Kesselhaus
01.07.22 DE-Hamburg, Uebel & Gefährlich (neue Venue!)
07.07.22 DE-Leipzig, Werk 2 (neue Venue!)
08.07.22 DE-Trier, Mergener Hof (zusätzliche Show!)
Line-up:
Vocals: Olli Weckert
Guitar: Rilo Messer
Bass/Vocals: Mark Rötz
Drums: Steffen Böhm
pic by ​Yuri Cernovolov
cover SILVERLANE - Inside Internal Infinity
THE DAMNATION PROJECT – single "I Can See You" from upcoming album "4"
This is the first single of the new forthcoming album of
The Damnation Project, and is called ''I can see you''.
It is an 8 minute experimental post rock, almost instrumental song, that prologues the album "4" that will be released in 2022,
after 6 years of silence.
This silence is finally broken, at this strange period of time we all live due to pandemic and quarantine, which offered enough time to record the missing parts of this album that it has been preparing since 2017.
All guitars, bass, piano, keys, drums, programming, mixing and mastering by Ioannis Degdekis.
Music and ''lyrics'', too.
The song was recorded, mixed and mastered, at Kavala, Greece,
in August 2017 and January 2022, at Avaton home studio.
Cover photo by
Ioannis Degdekis
cover SILVERLANE - Inside Internal Infinity
THE LOYAL CHEATERS:
NEW SINGLE
'NO SATURDAY NITES'
"No Saturday Nites", taken from "Long Run... All Dead!", the new album by The Loyal Cheaters, is out today on all major digital platforms.
The band states: "This song is dedicated to all sleazy nostalgic rockers that feel like there ain't no crazy parties with good music and right people anymore. Fun fact is that even though our guitar player Max wrote the song already some years ago, when he made us listen to it we all were so astonished that the lyrics were still perfectly relatable to these days. We all agreed this song had a long story to tell. Given this endless loop of rock clubs shutting down and fewer and fewer places for underground aggregation, the videoclip wants to bring to your memories all awkward moments of live music in small clubs, where a live band playing might find a wildlife ranch of suburban creatures sometimes not really interested in music but more on just being "there" because that's the cool place to be".
"Long Run... All Dead!" will be released worldwide February 18th, 2022 on Dead Beat Records.
Line-up:
Vocals/Guitar:
Lena McFrison
Guitar/Back Vocals:
Max Colliva
Bass/Back Vocals:
Tommy Manni
Drums:
Richie Raggini
cover SILVERLANE - Inside Internal Infinity
NEVARIA released Female Fronted Melodic Metal single "Reckless"
Having stirred up the scene in 2019 with their debut album "Finally Free" released via Dr. Music Records, which also achieved considerable international success, and acclaimed live shows, the extraordinary Melodic Metal formation NEVARIA from the Bavarian city of Bayreuth released today, on 02/03/2022, its new single "Reckless", full of critical tones on dealing with the pandemic.
Now acting as a duo, the musicians Tanja Schneider (vocals) and
Markus Spiethaler (keyboards) carry on their vision of catchy Female Fronted Melodic Metal and enlisted support for the recording from guitarist Kim Wölfel, who already played on the debut, as well as
Daniel Unzner (Dislocated Theory; Ex-Profanity),
who recorded the bass with nimble fingers.
The young, untamed Metal guitar work combined with dynamic drumming,
a perceptibly powerful bass and graceful keyboard melodies,
is thereby completed by the vivid,
brilliant vocals of the former Dawn Of Destiny vocalist.
Without leaving the chosen path, NEVARIA refreshingly evolved their independent sound with elements from electronic music and "Reckless", like the album before, was mixed and mastered by André Hofmann (Nothgard, Wolfchant, New Hate Rising).
The band photos were again shot by Gregor Zimmermann (Uzziel),
who stylishly put the two musicians in the right spotlight.
Focusing on just two songwriters provides a real boost in creativity and the mix of hard guitars and refreshing, electronic vibes, enthroned by Tanja Schneider's imposing voice, is impressively convincing.
...to continue, please go to the next side...
pics by Gregor Zimmermann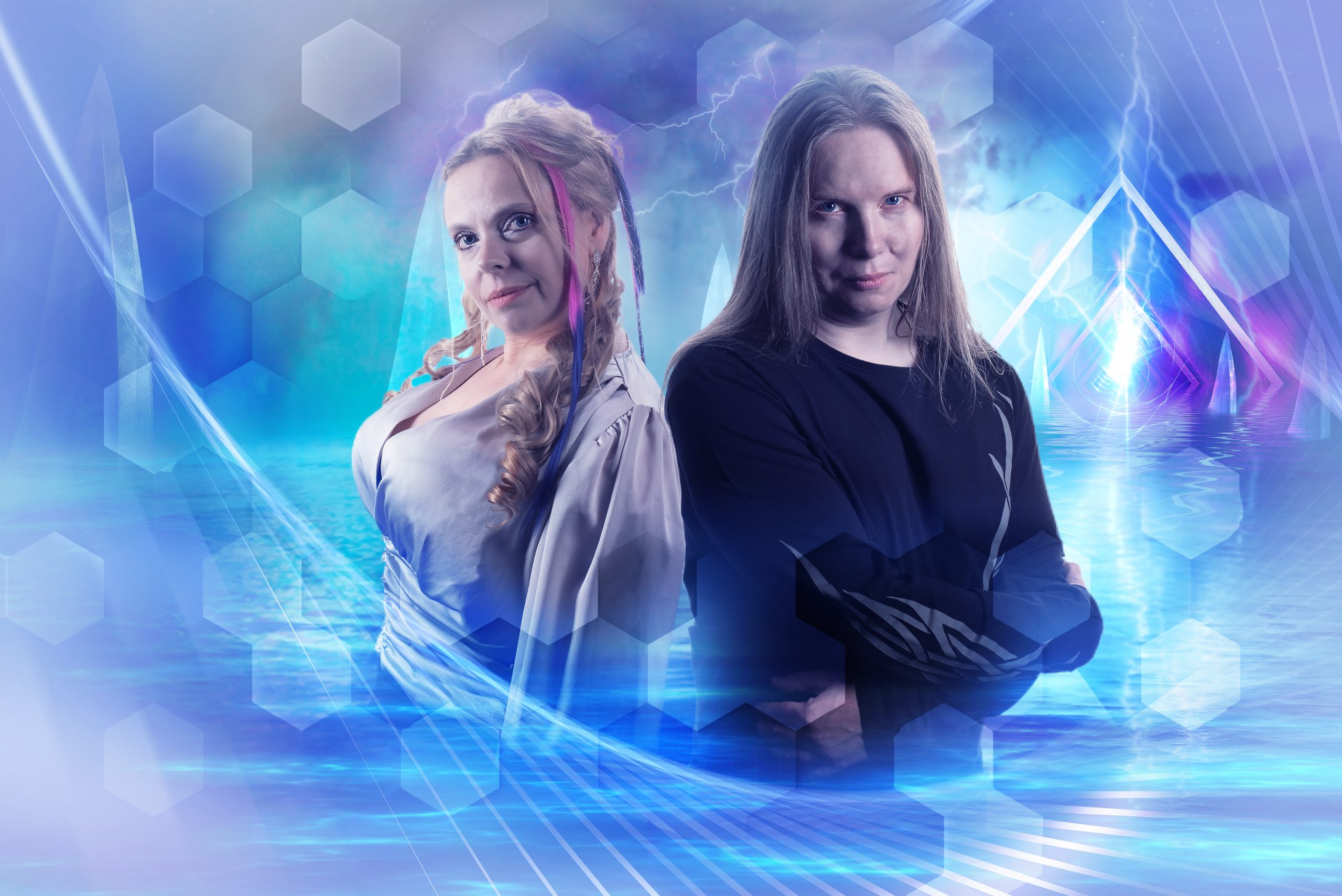 cover SILVERLANE - Inside Internal Infinity
NEVARIA released Female Fronted Melodic Metal single "Reckless"
Driving synth arpeggios, which already take on house or trance-like features, are paired here with beats and natural harsh guitar riffs, which provide the necessary hardness.
More about the new sound design is shared by the singer herself in the liner notes clip.
In the sharp-tongued lyrics, Tanja Schneider processes her personal experiences in the usually already hard work of early intervention for disabled young children, which reached yet another new dimension with
the pandemic's onset in March 2020.
In solidarity with their front lady, the band decided at that time to protect the high-risk group children and cancel the three already booked shows of the month, even before the government measures took effect,
which did not lead to instant understanding everywhere.
Why some people just won't stick to the precautions or don't want to understand their sense is simply beyond the singer's comprehension and out of this frustration, "Reckless" was written.
However, the song is not to be understood as a wagging finger but it is her personal way to reflect and mentally process this exceptional situation at the beginning of 2020.
The unambiguous message of the new single is instead to take care of each other, be considerate and
get vaccinated!
VeryMetalArt video artist Andy Pilkington (Orden Ogan, Visionatica, Van Canto) has produced a mixture of music and lyric video for this highly emotional song, which transports the message visually stunning and
if the song with the track finally ensures that one or the other reconsiders his 'reckless' actions,
NEVARIA have done everything right
Founded in 2018 by vocalist Tanja Schneider and keyboard player Markus Spiethaler, NEVARIA have already gone through different musical careers, gaining first experiences in the music business with European tours and support gigs with bands such as Xandria, Axxis, Sabaton up to various CD releases.
Shortly after, the songwriting for the debut "Finally Free" began, whose lyrics deal with death and solitude, mistreatment, social cooperation, disease, love and desire, each from the affected person's point of view.
The meaning of the lyrics should be 'magical' and follow the motto that the listener can find himself and
his own story in them.
With this credo in mind, the band composed the eleven songs on "Finally Free" in a way that was as varied as it was intense and recorded the appropriate sound in Markus Spiethaler's Soundwerkstatt.
...to continue, please go to the next side...
cover SILVERLANE - Inside Internal Infinity
NEVARIA released Female Fronted Melodic Metal single "Reckless"
Thanks to the stylish artwork designed by Jan Yrlund from Darkgrove Design (Battle Beast, Apocalyptica, Delain), NEVARIA take the listener into cosmic spheres on their album, but also fascinate with the right mixture of Heavy Metal and fine melodies over which the voice literally floats.
This is especially shown by the singles released along with very successful music and lyric videos "Life", "Finally Free" and "Drowning", with which they attracted attention.
NEVARIA enjoy and love their music and enthrall the audience with their passion for playing live.
This could be experienced in 2019 at quite a few exciting shows, where they thrilled their fans at home and abroad, and it is all the more gratifying that NEVARIA are now back with full vigor and the new brilliant single "Reckless".