ambassadors of eternity_arrival_EP Cover
British alt rock group
ROGUE AWAKENING
will release new single
'Overshadowed'
South Coast based Alt rock band Rogue Awakening will release
their second single 'Overshadowed' on the 23rd of september.
The band, fronted by the enigmatic Kimberley Voice,
are excited to share this much heavier version of themselves
with the world.
rogue awakening about the song:
''Overshadowed' is about the contradiction between the confident person
you present to the world versus the saboteur in your mind. It's ultimately about an unhealthy relationship with yourself and how that impacts on those around you. It also touches on the trials of being an over thinker and how that can affect your headspace.'
The band play Music In The City Festival
in Southampton on September 24th
with more shows to be announced over the coming weeks.
Rogue Awakening are a female fronted hard/alternative rock band
from Horsham formed in early 2022.
Their sound is essentially 'heavy but melodic',
with crunchy, thick guitar riffs and soaring, clean vocals.
Lead singer Kimberley heads up the band with her breathtaking voice
and songwriting talents.
Her previous band Damn Dirty Humans received great critical acclaim, touring with the Human League, The Start and Monarchy.
The band unites lots of different musical backgrounds
and tastes from Indie to Death metal.
When fused together this creates a melting pot of fast flowing bass riffs, shredding guitars, hammering drums
and powerful vocal hooks with a symphonic edge.
The band have worked hard with the lyrical crafting of their songs
and want the listener's personal experience to shape the message
they take away from them.
ambassadors of eternity_arrival_EP Cover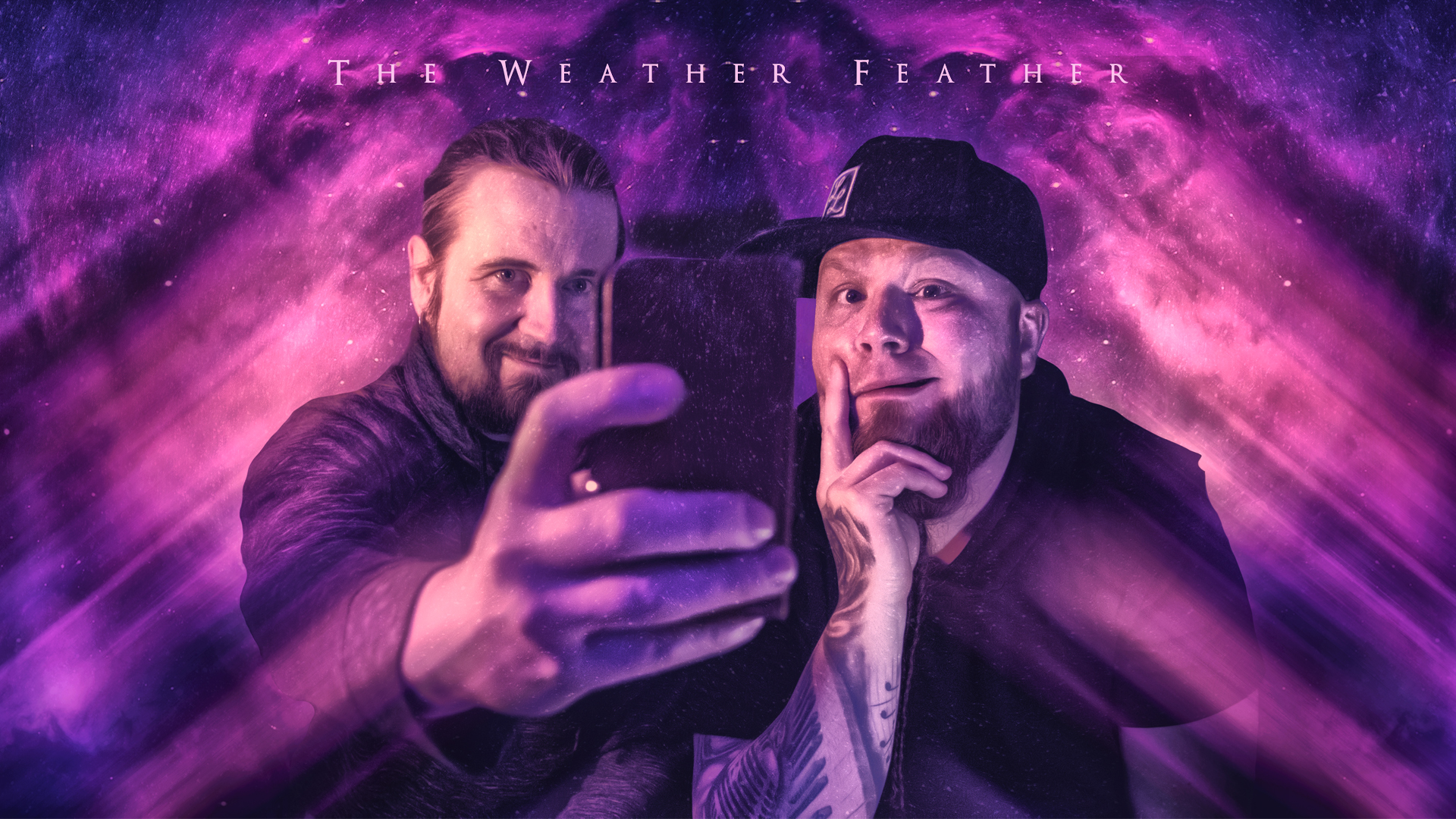 Finnish soft rock project
THE WEATHER FEATHER
has released new single
'Move'
Organic but modern feel combined with a hint of Daft Punk spices
makes you dance along The Weather Feather's new 'Move' single.
The Weather Feather is two producers, a passion for Funk/Rock/Pop
and a soulful melodies.
Raising from fields of Finland.
Composed by
Teemu Liekkala
& Olli Huttunen
Lyrics by
Mika Rintala
Line-up:
Teemu Liekkala
Vocals, guitars, bass, keyboards
Olli Huttunen
Drums, percussions
ambassadors of eternity_arrival_EP Cover
Norwegian AOR act
SATIN
has released first single
'Going Your Way'
Art Of Melody Music & Burning Minds Music Group are excited
to announce the digital release of "Going Your Way",
first single taken from "Appetition",
new studio album by Norwegian AOR sensation, Satin.
"Appetition" is scheduled for release on October 14, 2022
via Art Of Melody Music / Burning Minds Music Group.
A special personalized edition has been created by Outward Styles
in a very limited quantity of 30 copies,
and will be available exclusively
on the Burning Minds Music Group's official online shop.
CD booklet features introductory liner notes
written by Luca Tex & Mr. Double Trouble
(Rock Of Ages / Radio City Trieste).
A dedicated Japanese version,
which includes the exclusive bonus track "Blame The Flame",
will be released via Spiritual Beast / Universal Music.
Line-up:
Satin
Vocals,
all instruments
ambassadors of eternity_arrival_EP Cover
American rock songwriter
ALIZA HAVA
will release single
'Emotion Tide'
Award-winning singer-songwriter Aliza Hava
leads us on a deeply personal journey
on soulful new single "Emotion Tide,"
which delves into the pain and healing of letting yourself fully feel
and express the heavy grief of a broken relationship.
With an intricate genre-blended instrumentation
that weaves the warm sultriness of Spanish guitars
into the lush sensibilities of electric and acoustic guitars
as well as synths, punctuated by rhythmic beats,
the track is led by Aliza's ethereal vocals
which capture cathartic message
that sees emerge stronger after a difficult time.
A fan favourite track that's resonated with audiences
every time it was performed live, the recording "Emotion Tide,"
has been imminent, as she finally shares the emotive yet uplifting number alongside a music video – to be released on September 15 -
produced and directed by Matthew Freiheit in Los Angeles.
Speaking of the track, Aliza says,
"We all know that people often hold back their tears in an effort to be strong. But true healing can only happen when we allow those tears to fall and cleanse us of the grief of a broken heart."
Recorded at Dreamland Studios,
the state-of-the-art analog recording studio
managed by the legendary drummer, Jerry Marotta,
"Emotion Tide," is the first snippet of a forthcoming album
on themes of healing and recovery.
...to continue, please go to the next side...
ambassadors of eternity_arrival_EP Cover
American rock songwriter
ALIZA HAVA
will release single
'Emotion Tide'
A self-taught musician who turned to music seeking solace from a difficult childhood,
Aliza Hava's smooth fusion of folk, rock, pop, and R&B brims
with messages of peace and universal love, offering us empowerment and comfort in equal amounts.
Born out of a period in 2021
when the singer was laid up with a severe neck injury,
"Emotion Tide," is a true representation of the power of music
that Aliza has always tried to highlight in her artistry.
Set to bring several more intimate yet deeply relatable stories of transforming pain into power,
there's a lot more to come from Aliza
who pulls trauma apart to replace it with triumph with her enlightening, earworm musicality.
'Emotion Tide' is slated for release on 15th September.
ambassadors of eternity_arrival_EP Cover
American Pop Punks
NO! THIS IS PATRICK
return with new single 'Shedding Light'.
Nashville Tennessee Pop Punks NO! THIS IS PATRICK return
with huge nu metal inspired single 'Shedding Light'.
This is the second single from their much anticipated second album
due for release next year.
'Shedding Light' shows how diverse NTIP are as a band.
Although still incorporating their Pop-Punk aspects
that are so critical to their sound, this shows a much heavier side to them, opening up their appeal to a much wider audience.
guitarist Matt:
''Shedding Light' is about people. Whether in positions of power or not, who abuse others or make others feel weaker when in fact they are the weak ones hiding behind a thin facade that genuinely fulfilled people see right through.'
Throughout their career so far the band has gained a name for themselves as one of the most exciting live bands of their generation
and have opened for A Wilheim Scream and Carousel Kings,
as well as being asked to perform at a tribute to Tony Hawk's Pro Skater and its hugely influential soundtrack.
Shedding Light is slated for release on 19th September 2022
NO! THIS IS PATRICK is a "heavy pop punk" band based out of Nashville TN.
Originally formed in 2015 by guitarists Sean Naples and Matt Issacs,
the lineup didn't take its true shape until 2018.
With a few line up changes the core members have now found
their true brothers in arms with Vocalist Andrew Dorn,
Bassist Ben McAnelly and Drummer Truman House.
...to continue, please go to the next side...
ambassadors of eternity_arrival_EP Cover
American Pop Punks
NO! THIS IS PATRICK
return with new single 'Shedding Light'.
Their self-titled debut album was a very pop punk/easycore jamfest,
but it was primarily based on things that Sean and Matt
had written during those unstable first years,
so they knew they wanted to expand with the new solid lineup
of insanely talented musicians.
The band set about writing a second album,
and were promptly stopped in their tracks by the pandemic.
Over the past 2+ years they have been doing everything in their power
to put this record together in whatever ways are possible.
Now it's finally ready to start being revealed to the world
and it is something very special.
Primarily a pop punk band,
NTIP don't sound like anyone else in their genre.
This record especially utilises sounds
and influences across many different genres.
These first two singles, "Good Times" and "Shedding Light"
are great examples of the diversity of the record.
The album is about the many facets of life, finding the strength
to carry on in dark times, especially ones with no end in sight,
and the music reflects these themes.
With expressions of anger, frustration, and despair
NTIP always realigns with hope and determination.
With the songs representing so much about the five of them,
No, This is Patrick! connect with their fans on a deep level.
Communicating honestly through their music about their struggles,
their worries and the things that they care about.
ambassadors of eternity_arrival_EP Cover
German rockers
HERBST
will release new album
'Ein letzter Abend'
Herbst will release album "Ein letzter Abend"
on September 16, 2022, via Träumer & Helden (Edel / Kontor New Media).
mastering enginers were sebastian braunreuther and hannes kelch.
sebastian and hannes also mixed and produced this album.
the lyrics for 'genug', 'es ist ok', 'ein letzter abend', 'scheinwerferlicht' were written by oliver klimpel.
for the lyrics of 'märchenschloss', 'verloren' and 'egal' responsible were oliver klimpel and hannes kelch.
the lyrics for 'die leere in mir' was co-written by oliver klimpel
and sebastian braunreuther.
finally responsible for the lyrics of 'lieber allein' and 'wie weit' was hannes kelch.
main composer of 'ein letzter abend' was oliver klimpel,
but with help from matthias engst, ramin tehrani, hannes kelch,
samuel neuwirther and pascal matheja.
track-list:
01. Die Leere in mir
02. Märchenschloss
03. Verloren
04. Lieber allein
05. Genug
06. Es ist okay
07. Ein letzter Abend
08. Scheinwerferlicht
09. Wie weit
10. Egal
ambassadors of eternity_arrival_EP Cover
German semi-industrial act
SCARLET DORN
has released new single
'Meteor'
SCARLET DORN dropped new single & video "Meteor"
from their upcoming album "Queen Of Broken Dreams"
out on September 30th.
On tour as Special Guest with LORD OF THE LOST
starting October 6 until November 11th, 2022 .
This power ballad is the fourth single from their upcoming studio album "Queen Of Broken Dreams" out September 30th, 2022 via SPV Recordings.
Vocalist Scarlet Dorn inspires with powerful power rock
and an emotionally intense ballad.
She spellbinds in this song not only with her great voice
but also with excellent lyrics.
The album contains 12 new songs and will be released
as a Limited LP Edition including red colored vinyl,
CD Edition in a digipak as well as stream and download.
track-list:
01 Falling
02 Born To Suffer
03 Queen Of Broken Dreams
04 Your Highness
05 A Light That Blinds The Truth
06 Meteor
07 Unstill Life
08 When You See Me Again
09 Love Wasn't Made For Me
10 What Are We To Do
11 Tonight
12 A Million Miles Away