The-New-Dark-Ages
MARCO LUPONERO & THE LOUD ONES welcomes you to
'The New Dark Ages'
with their new single
Finnish hard rockers Marco Luponero & The Loud Ones return with the second single from their upcoming debut album.
"I would describe "The New Dark Ages" as a straightforward punk rock banger with a strong message", says Marco. "I wrote it while reflecting on the current state of the world."
In spirit of the track's title, the band collaborated with Frank Berger of folk music act Ratatosk, who brought some true medieval flair to the song with the help of a hurdy-gurdy.
"It's a fascinating instrument. It has a massive sound, at times very reminiscent of a bag pipe".
The hurdy-gurdy has a rich history and is associated with several different parts of the world, perfectly fitting for Marco's original idea.
"I knew I wanted the song to have some Old Norse flair, but I also wanted the sound to resonate with other cultures, because that's what I was after lyrically, as well. The basic message is that no matter who we are and where we're from, one thing is for sure: If we succumb to ignorance and fundamentalism, we're on a dark path."
Marco Luponero & The Loud Ones' debut album "Life & Death" is out March 4th.
Photographer: Daria Gatska
The-New-Dark-Ages
Finnish melodic death/black metal band SE, JOSTA EI PUHUTA released a second single from their upcoming third studio album
Finnish melodic death/black metal band Se, Josta Ei Puhuta released a second single 'Murskaa unelmat' (Shatter Dreams) from their upcoming third studio album Gehenna which is released on April 22nd 2022 via Inverse Records.
Se, josta ei puhuta is a metal band from Iisalmi, Finland.
The band was established 2007 by Samu Männikkö.
During the same year the group recorded a four-piece self-titled demo that resulted to a record contract with record label Sound of Finland. Their deput album 'Ne, joista ei puhuta' was released in May 2010.
2011 band recorded its second full-length album titled
'Musta, kylmä, syvä ja samea',
which was released in November 2011 by Spinefarm Records.
During 2010 and 2011 the group toured actively throughout finnish venues.
the band started the preparations for their third album.
In production phase recording process was halted at the end of 2012.
Finally, in 2020 Se, josta ei puhuta decided to complete the third album.
the Group is very satisfied for the album titled 'Gehenna'.
The album will be released in 2022 by Inverse Records.
the Band's line-up remained unchanged until 2020 when Ilkka Nissinen stepped aside.
Album cover by Bahrull Marta
Promo pic by Tuija Matero
Line-up:
Samu Männikkö - Vocals
Harri Granqvist - Guitar
Heikki Matero - Guitar
Juho-Pekka Lappalainen - Bass
Teemu Roth - Session drums
Track list:
01. Joka tähtiin kurkottaa
02. Gehenna
03. Kuolleena syntynyt
04. Joko viimein uskotte
05. Murskaa unelmat
06. Niille, jotka valoa etsivät
07. Jättiläisten olkapäiltä
08. Aika saattaa
09. Tänä yönä kaikki loppuu
10. Suureen tuntemattomaan
The-New-Dark-Ages
X-PLICIT:
'THE PARTY IS HOT'
new single out now
A couple of months after introducing the new singer Paolo "INJO" Ingianni with a revamped version of "Hell Is Open", a track taken from their debut album "Like A Snake"
(Sneakout Records/Burning Minds Music Group, 2019), Italian hard rockers X-Plicit return with the new single "The Party Is Hot".
Guitarist Andrea Lanza says: "This song wants to channel our growing desire to have fun with friends and play rock 'n' roll on a stage, as we did in a lot of crazy nights before the pandemic and these tough times we're all living, and also the video fully represents what the song is about: after all, life is a great party, it should as well be hot!".
The single, available via Sneakout Records/Burning Minds Music Group on all digital platforms, was produced by Carlo Meroni at ADSR Decibel Studio in Busto Arsizio (Varese, Italy); the video was shot by Vik & Piz.
Line-up:
Paolo "INJO" Ingianni - Lead Vocals
Andrea Lanza - Guitars
Sa Talarico - Bass
Giorgio Annoni - Drums
The-New-Dark-Ages
finnish heavy rock band
ROUGH GRIND
will release on the 28th of january
their new album 'Hardened'
You have to be tough to survive in this cold, cynical world.
But real toughness isn't all that easy to find – the courage to show a softer side of yourself, the guts to go your own way instead of following others, the willpower to get back up when you're knocked down.
All those things are what Rough Grind's
new album "Hardened" is all about.
The new album – released on 28 January, 2022 – is another heavy-duty offering from the metal rockin' steam engine that is Rough Grind,
taking listeners on a 7-song journey through electrifying soundscapes and
some surprising sidetracks.
Two singles have already been released from the upcoming album:
"The Road Song", a stompin' tribute to classic rock,
and an explosive riff rocket named "Dreamchaser".
The last track of the album is the aptly titled and
definitely thought-provoking "Last Thing You'll Ever Hear".
tracklist:
01. Dreamchaser
02. The Road Song
03. Allies/Enemies
04. Flags Fly Free
05. One by One
06. Signs of Life
07. Last Thing You'll Ever Hear
promo-pic by petri damsten
The-New-Dark-Ages
AORATI APILI
have released their deput ep
'Vále stis pólis fotiá'
Αorati Apili means invisible threat in Greek.
Established in 2018 to play hardcore punk music that gathers all their
favorite types of music.
Debut EP "Vále stis pólis fotiá" (Set the cities on fire) was recorded
between November 2020 - July 2021 during the COVID19 restrictions.
line-up:
Haris - bass, back Vocals
Dimitris - vocals
Christos - drums
Fotis - guitar, back Vocals
Giannis - guitar
The-New-Dark-Ages
italian hard rockers
SIMPLE LIES
have released a single
"Flat Brain Society"
Sneakout Records & Burning Minds Music Group are glad to announce the digital release of "Flat Brain Society", second single taken from "Millennial Zombie", new studio album of Italian hard rockers Simple Lies, scheduled for release on February 25, 2022.
Simple Lies were born in Bologna in 2006,
reaching the final line-up in 2012.
Their first full-length "No Time To Waste" received excellent feedback from audience and specialized press, allowing the band to start an intense live activity throughout Italy and Europe.
In 2015 they released a second record, "Let It Kill", that confirmed the trend of the debut in terms of reception and was supported by a lot of gigs.
During their career, Simple Lies performed across Italy, Ukraine, Russia, Spain, France, Lithuania and Latvia, opening for major acts such as Skid Row, Angra, Wednesday 13, Nashville Pussy, Almah, Girlschool, Secret Sphere and many others.
In 2016, guitarist Lello left the band and was replaced by Jam, a long-time friend and roadie.
In 2018, Simple Lies took a break from their touring activity to focus on the production of their new album "Millennial Zombies".
In 2020 the first single "5 6 7 Hate!" is released.
During the fall of 2021, they signed a deal with Sneakout Records/Burning Minds Music Group for the release of the album.
"Millennial Zombies" features Simple Lies fiery blend of hard rock grooves, classic rock melodies and heavy metal riffing crafted with an up-to-date production, with a style that falls somewhere between Kix, Hardcore Superstar and The Poodles.
The single digital art has been designed by Roger Virzì. Official lyric video thanks to Alessio "Smoke" Covarelli.
TRACKLIST
01. The End
02. 567 Hate!
03. Mr. Leg Day
04. Weird Uncle
05. Prince Of Darkness
06. Millennial Zombie
07. On A Stage Together
08. The Cage
09. Flat Brain Society
10. Ravencock
11. Here Lies Her Ghost
The-New-Dark-Ages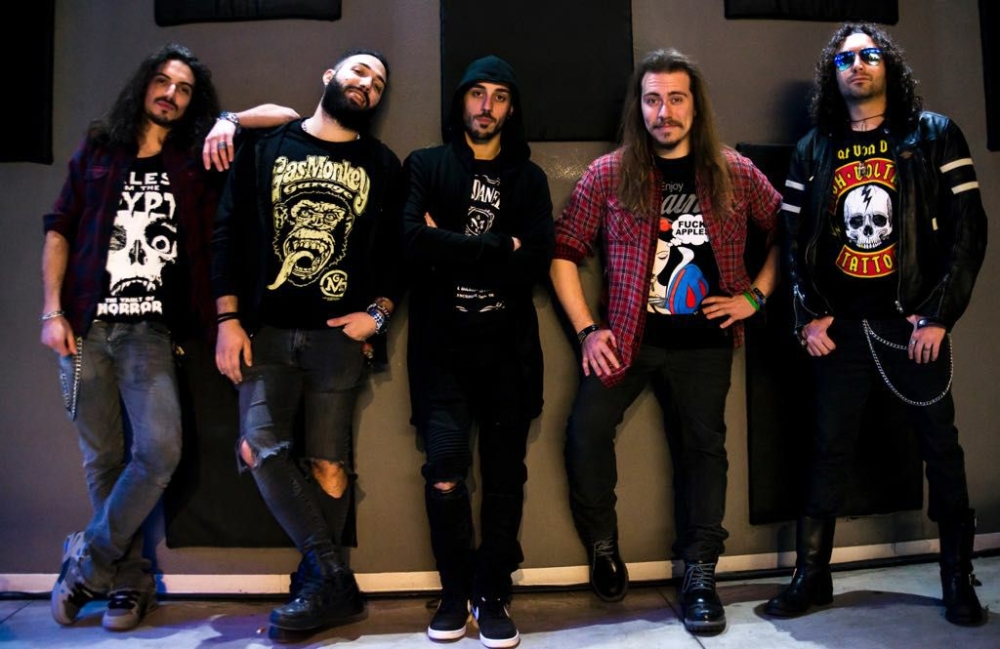 italian hard rockers
SIMPLE LIES
have released a single
"Flat Brain Society"
LINE UP
Alessandro Rubino: Vocals
Alberto Molinari: Guitars
Jam Bognanni: Guitars
Ash Saboori: Bass
Zak Zucchini: Drums