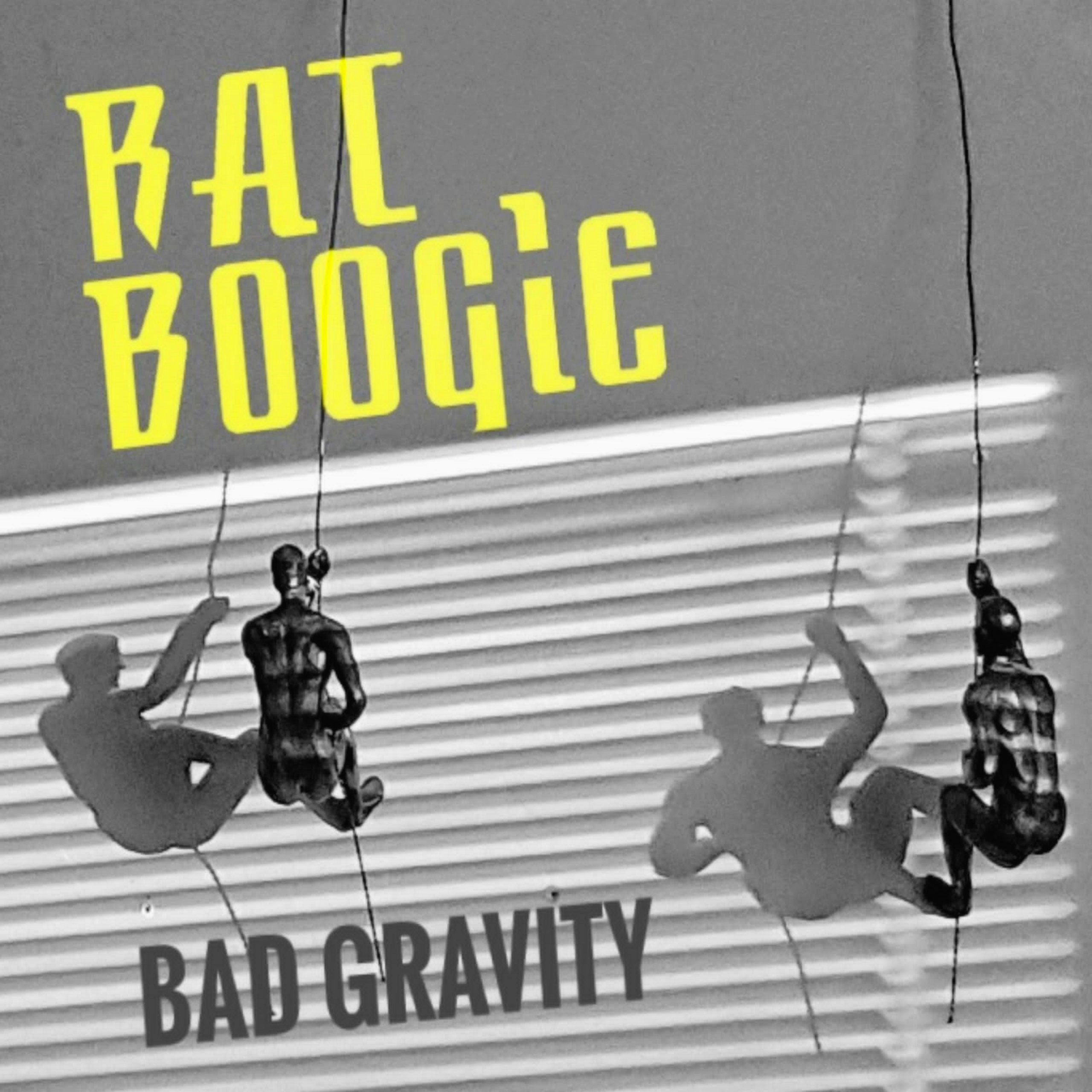 scarlet_will cover artwork 3000pix
american midwestern metal act
OF VIRTUE
have released new single
'Hypocrite'
OF VIRTUE released their second single
via Arising Empire called 'Hypocrite'.
"Hypocrite is all about the negativity building up inside of us. Everything that you hate about yourself, looking at you in the mirror. We know who we are but we refuse to change, eroding our potential by burning bridges in the meantime." - Of Virtue
The band combines an eclectic taste for the melodic, catchy, and ethereal with a foundation in heavy music and a penchant for punishing breakdowns and immolating riffs, to define themselves as a multifaceted, diverse
and engaging act that draws on influence from metal and alternative music of all types and styles to create something that fans of just about any type of music can find something to fall in love with.
scarlet_will cover artwork 3000pix
Swedish metallers
TUNGSTEN
have released new album
'Bliss'
"Out of darkness comes Bliss!"
Swedish metallers Tungsten are back to conquer the world with their third studio album entitled »Bliss«.
»Bliss«, which has been released on the 17th of June, is undoubtedly the heaviest and darkest album to date by Tungsten.
The typical ingredients that define the music of Tungsten are still there while new grounds and territories are being explored musically.
The hook lines are stronger and more dynamic than on previous albums. The lyrics are darker but they still focus on things
common man might relate to in one way or another.
Mike Andersson (vocals) says:
'It all came naturally. Creating and recording this album truly put us in a feel of bliss. Nick & Karl who wrote the music have really shown their skills and musical talents on Bliss with new musical ideas but still based in the genre that we established in the band in from the beginning.'
»Bliss« was recorded the same way as the previous albums
at Harm Studios, Trelleborg (Sweden).
Nick Johansson once again took care of the mixing, mastering,
and production duties.
Karl Johansson says:
'We really hope that 'Bliss' will reach out to an even broader fanbase than before. So much pain, sweat, and love have been put into this album. We are truly excited to introduce Bliss to the world.'
Anders Johansson agrees:
'Yes, this album might be one of the hardest for me to record. Nick is close to a perfectionist at the production helm so if I can find something that has been good about the pandemic it might be the fact I could spend so many more hours in the drum studio just to practice and develop my technique.'
...to continue, please go to the next side...
TUNGSTEN are:
Mike Andersson - Vocals
Karl Johansson -
Bass & Screams
Nick Johansson - Guitar
Anders Johansson - Drums
scarlet_will cover artwork 3000pix
Swedish metallers
TUNGSTEN
have released new album
'Bliss'
Andreas Marschall was once again hired to paint the front cover.
The conceptual idea was a collaboration between the band and Andreas
and it really conveys a darker feeling which suits the music perfectly. Volfram is back in a twilight world to ours on his neverending quest
to aid the weak.
Tungsten is ready to enter the live scene in 2022 and is already confirmed for Oslo Metal Winter fest in Norway
as well as Sabaton Open Air in August 2022.
Tungsten themselves describe their music to be
"melodic, industrial power metal with hints of Northern Folk music". Tungsten's first album »We Will Rise« was released in September 2019 and the song 'The Fairies Dance' is close to passing 3 million streams
on Spotify alone.
About a year later, in November 2020, Tungsten released
their second album called »Tundra«.
The song 'King of Shadows' was chosen to be the first single
for the second album and also this song has become an "anthem song"
for Tungsten when performing live on stage.
TUNGSTEN are:
Mike Andersson - Vocals
Karl Johansson -
Bass & Screams
Nick Johansson - Guitar
Anders Johansson - Drums
scarlet_will cover artwork 3000pix
British post-hardcore band
POLAR
released single/video
'Dissolve Me'
At the beginning of 2020, the music world came to an abrupt stop; which for London UK post-hardcore heads Polar, meant a conclusive end
to their unfinished tour alongside After The Burial, Spiritbox,
and Make Them Suffer within their cycle
of 2019's acclaimed album »Nova«.
Filled with a sense of uncertainty in a world turned upside down,
Polar (Adam Woodford, Fabian Lomas, Gav Thane & Noah See)
took to work on brand new material that lyrically delves deep within
the self, while musically treading new and experimental grounds.
Now armed with heavy new material and releasing their first bit
and vital sign called 'Dissolve Me', the band is excited to take to the stage after years of musical and personal growth behind the scenes.
Adam Woodford (vocals):
"Dissolve Me is all about the red mist of anger that seems to be within everybody in today's world. A loss of patience like the final straw has been had within all walks of life. A feeling of privileges and freedom having been taken away and this song is a vessel to release the anger inside."
Expect the unexpected.
Polar are:
Adam Woodford - Vocals
Gav Thane - Bass
Fabian Lomas - Guitar
Noah See - Drums
Photo by Tom Green
scarlet_will cover artwork 3000pix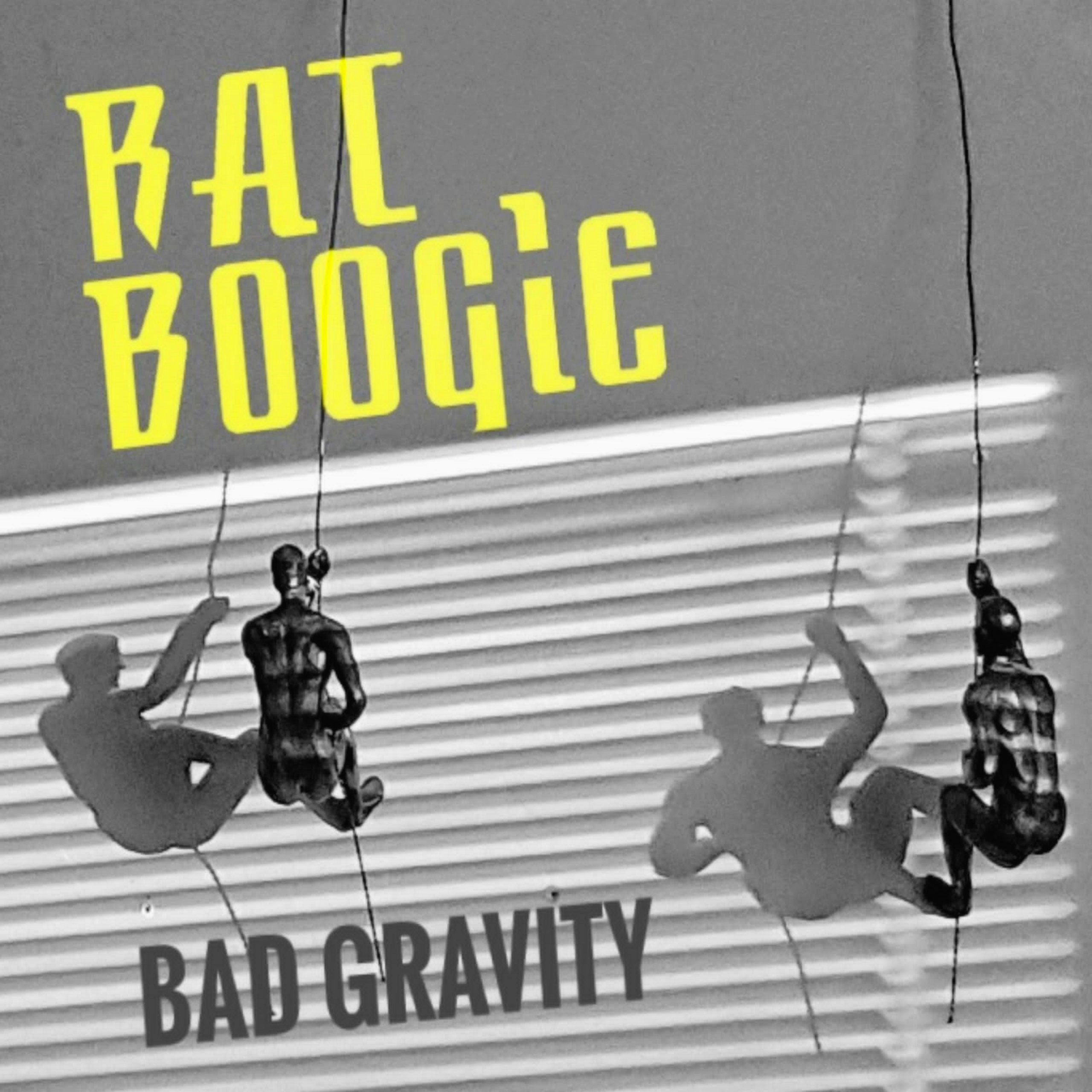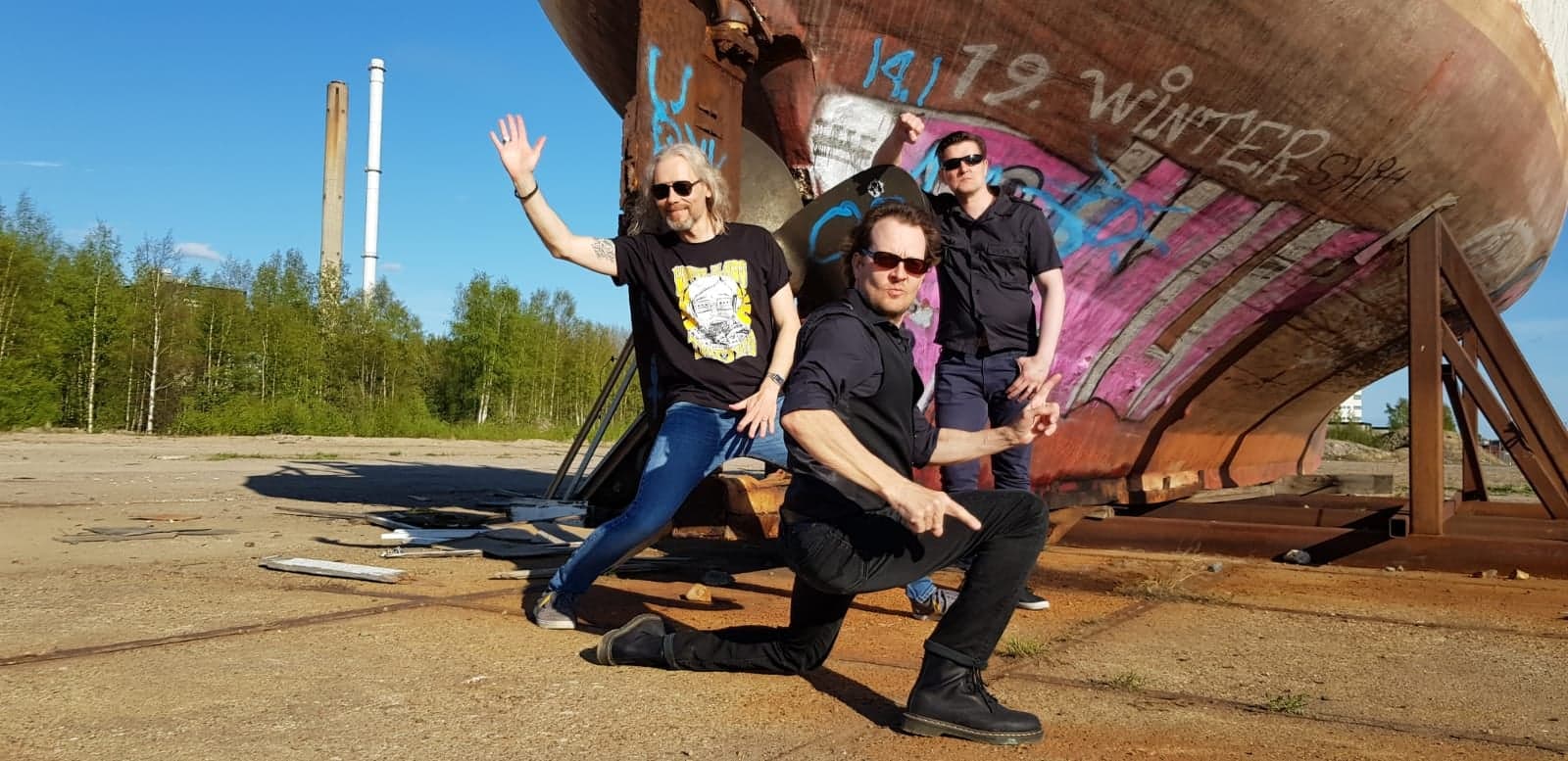 Finnish hard rock act
RAT BOOGIE
has released their single
'Bad Gravity'
The Finnish Oulu-based power trio Rat Boogie released a new single
'Bad Gravity' via Finnish record label Secret Entertainment.
What keeps you on the ground and keeps your dreams down?
It's Bad Gravity!
With their latest single Rat Boogie studies this familiar phenomenon
a bit more, continuing with a theme from their debut album.
But it's uplifting rock'n roll, all the same!
Hailing from Oulu, northern Finland, Rat Boogie is a trio
that melts different influences into a tightly rocking, original package.
In the core there is always the organic live playing
that gives the flowing melodies a solid backbone.
With an amply aggressive but breathing sound, Rat Boogie adventures
inside the rock'n roll nucleus, celebrating all the good things
that can be achieved with guitars, bass and drums.
With long musical experience in Finnish bands such as EBPSATRFM,
The Blaster Master and Laid Back Townies,
Rat Boogie makes memorable melodies,
while rocking tightly in the trio format.
The songs are firmly connected to the reality around us,
but not without imagination and humour.
Composed by Mika Palosaari
Lyrics by Mika Palosaari
Cover art by: Pasi Aikio
Line-up:
Mika Palosaari
Vocals, guitar
Mika Säkkinen
Bass, vocals
Pasi Aikio
Drums
scarlet_will cover artwork 3000pix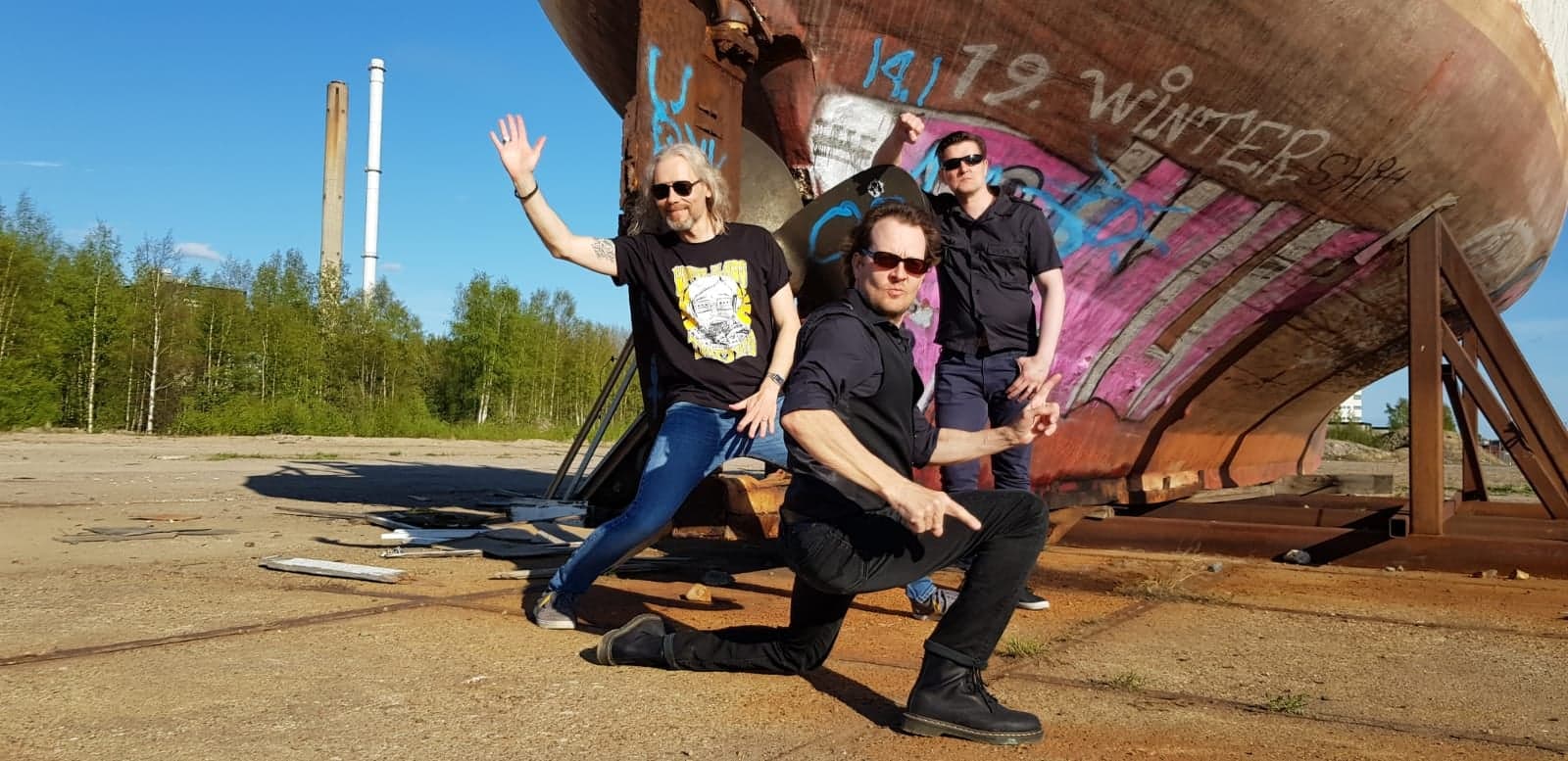 Finnish Industrial Metal band
RUOSKA
have released new single
'Silti syntinen'
Finnish Industrial Metal band Ruoska celebrates Midsummer
with new single "Silti syntinen"
Finnish Industrial Metal band Ruoska
has released new song "Silti syntinen".
This is the third single from their upcoming sixth full length album
to be released in autumn 2022.
The band backgrounds the single:
"Ruoska presents a full-body-shaking Metal disco with their latest single. Lyrics are filled with humorous metaphors but actually the theme is quite serious text about the darker and less flattering deep aspects of human behaviour. This is most likely the last single before the full album!"
Composer: Samuli Rimmi
Lyrics: Patrik Mennander,
Enni Rautiainen, Samuli Rimmi
scarlet_will cover artwork 3000pix
German viking metallers
CORVUS CORAX
have released their album
'Era Metallum'
German viking metallers CORVUS CORAX have released their album
'Era Metallum' on the 24th of june. alsongside with single/video
'Lá í mbealtaine' ft. Hansi Kürsch, Bill Gould & Sonia Anubis.
CORVUS CORAX raise the banner of "ERA METALLUM" to bang heads
and let electric guitars rip.
Reinforced by KREATOR's Finnish guitar god Sami Yli-Sirniö
and other seasoned veterans of the heavy scene, these masters
of ancient instruments have reimagined a selection of their most
popular tunes and clad them in sonic steel.
"We simply felt like doing a heavy album and so we just went ahead and did it", explains drummer and percussionist Norri,
who had already gained solid metal credits in the past
while recording and playing with the cult act DEPRESSIVE AGE.
"ERA METALLUM" is not a "medieval rock" record and those expecting
a happily swaying sing-along will drop their jaws and mead horns
once the opening track comes crashing in.
Following an ominous intro, the 'Gjallarhorni' sounds
with Asgard-shaking force in an uncompromising demonstration
as to where this musical journey is heading:
Out to the North Atlantic.
The Germans combine droning horns, powerful choirs, and quite a few "old" instruments, which deliver everything from melody to madness,
with bass, drums and guitars in the best thrash and power metal traditions.
The skalds are even announcing a new song that CORVUS CORAX have carved out of a dark wood: 'Víkingar' has been expertly crafted to fit
the epic measure of "ERA METALLUM".
...to continue, please go to the next side...
Tracklist
Disc 1
01 Intro Gjallarhorni
02 Gjallarhorni
03 Sverker
04 Béowulf is mín nama
05 Lá í mbealtaine
06 Ragnarök
07 Hugin & Munin
08 Havfru
09 Víkingar
10 Yggdrasill
11 Gimlie
12 Na láma-sa
Disc 2
01 Lá í mbealtaine ft. Hansi Kürsch, Bill Gould & Sonia Anubis
02 Ragnarök ft. Sabina Classen
03 Béowulf is mín nama ft. Doro Pesch
04 Víkingar ft. Arndis Halla
05 Gimlie ft. Kärtsy Hatakka
06 Yggdrasill ft. Philipp Bischoff (Damnation Defaced)
07 Na láma-sa ft. Alan Nemtheanga A.
scarlet_will cover artwork 3000pix
German viking metallers
CORVUS CORAX
have released their album
'Era Metallum'
To make it twice as exciting, the band cleverly turned
this testosterone infused song into its own feminine counterpart
by inviting Icelandic opera singer Arndís Halla to transform it
in the way of a Valkyrie on the second CD.
The two Irish pieces 'Na láma-sa' and 'Lá í mBealtaine' receive
an equally fascinating double treatment.
The former is heavily roughed up in an alternative version
by Primordial's vocal agitator Alan "Nemtheanga" Averill,
while the latter song is reinterpreted as a hymn performed
by BLIND GUARDIAN singer Hansi Kürsch,
bassist Bill Gould (FAITH NO MORE), and guitarist Sonia Anubis
from COBRA SPELL.
If the ancient gods of metal had the power to forbid CORVUS CORAX
the omission of one song from becoming reinforced with strings of steel, they would have chosen the most popularFaroese tune 'Sverker'.
One-eyed Odin might have demanded the same
for the ominous, heavy epic dedicated to his ravens 'Hugin & Munin'.
And with a glee rivalling the deeds of trickster god Loki,
the upbeat mermaid 'Havfru' has been turned into a raging fury
in this metallised new version.
With Sabina Classen of HOLY MOSES taking over the vocal part of 'Ragnarök', the fiery end of the world comes frighteningly close.
Although "ERA METALLUM" does by no means require any knowledge
of history, specialists will notice that CORVUS CORAX cover the entire
Old Norse cultural sphere including the Anglo-Saxon
and Irish contact zones – without even so much as a hint
of a lecturing attitude.
...to continue, please go to the next side...
scarlet_will cover artwork 3000pix
German viking metallers
CORVUS CORAX
have released their album
'Era Metallum'
CORVUS CORAX are one of the original instigators of a specific part
of the German rock scene, which is dedicated to old instruments like bagpipes, drums, and shawms.
The band's two founding members Castus and Wim Dobbrisch had already come together in times of the GDR and via their country's popular "medieval fairs", CORVUS CORAX's path led
to the biggestconcert halls and large music festivals
such as the famous Wacken Open Air.
With projects like the elaborate re-imaging of the Carmina Burana entitled "Cantus Buranus" with symphony orchestra and choir
or the tongue-in-cheek fantastical "The Curse of the Dragon",
the band has always displayed a wide stylistic range
and penchant to explore new musical grounds.
In conclusion, it is only logical that CORVUS CORAX finally dedicate
an album to their love for heavy metal with "ERA METALLUM".
And once again these musical alchemists succeed in transforming
raw metal into pure gold!
CORVUS CORAX literally make all the right noiseswith "ERA METALLUM" that will not only bang the heads of metal-fans.
Text: Gunnar Sautermann
Driving rhythms, traditional melodies and the sound of old times:
With a fascinating array of large drums and self-built bagpipes,
Corvus Corax bring the moods of old times to life. With their work,
the Berlin musicians have shaped our current understanding
of medieval music.
Their influence on the music scene reaches from Moscow to Mexico City, they toured in Japan and China, the USA and Canada as well
as all over Europe.
...to continue, please go to the nexte side...
Distribution partners worldwide
Switzerland: Phonag
Austria: Hoanzl
Scandinavia: Border
Benelux: Suburban
France: Season Of Mist / Modulor
Spain: PIAS
Portugal: Compact
Italy: Audioglobe
UK: Plastic Head
Poland / Czech Rep. / Slovakia / Hungary: Mystic
Bulgaria: Wizard
Greece: Infinity
USA / Canada:
eOne Entertainment/Amped
AUSTRALIA: MGM
scarlet_will cover artwork 3000pix
German viking metallers
CORVUS CORAX
have released their album
'Era Metallum'
After more than 30 years of medieval music they can look back on countless albums and various projects.
With their mystical and legendary albums like "Mille Anni Passi Sunt" they brought ancient gods
and legends to life, with albums like "Gimlie" and "Sverker" they worked up Celtic and Nordic traditions
and brought the culture of the Vikings into the modern present.
Anyone who has seen the masks and costumes of the more recent shows must admit
that they successfully reinvented the Vikings.
This creative preservation of cultural heritage inspires people all over the world.
No less a person than Hollywood composer Hans Zimmer ("Gladiator," "Pirates of the Caribbean")
recruited the kings of minstrels to compose music for "Ironclad" for this very reason.
In the BBC documentary "The Crusaders", presented by Monty Python legend Terry Jones,
their bagpipes and drums can be heard as well as in the computer game "Dragon Age".
Finally, even the producers of the most successful TV series of all time, "Game of Thrones,"
were so impressed that they invited the band to play live on the set during filming for the series.
Besides the main band activities Corvus Corax realized several special projects:
With a lot of heart and soul they created their settings of individual texts from the Carmina Burana -
the most famous medieval song manuscript.
"Cantus Buranus" combines film music with historical instruments,
orchestral instrumentation and epic chorales.
In addition, they realized a special Corvus Corax show together
with the well-known Taiko drummers of "Wadokyo".
A German highlight was, among other things,
the live performance of "Die Zwerge" (The Dwarves) - the most successful German fantasy novel series
by Markus Heitz - together with Johannes Steck.
With these two artists they also brought their next big project, the first "Fantastical" 2017 on stage.
"The Curse of the Dragon" combines historical music with fantasy literature, acting
and musical performance.
...to continue, please go to the next side...
scarlet_will cover artwork 3000pix
German viking metallers
CORVUS CORAX
have released their album
'Era Metallum'
In 2022, a new experiment will be launched:
in collaboration with guitarist Sami Yli-Sirniö
(KREATOR, WALTARI), the new band project "Corvus Corax Era Metallum" combines the Nordic works of Corvus Corax with the hard sound of metal, off the usual paths of the well-known medieval rock.
So you can't say Corvus Corax make "only" medieval music.
Corvus Corax combine historical music with modern fantasy elements,
they experiment with different cultural sounds and crazy instruments.
It doesn't matter if they play in a club, in a concert church,
at the Kaltenberg Knights Tournament
or in front of thousands of metal heads at the Wacken Open Air:
Corvus Corax know how to get people dancing and jumping around crazily - just like you know it from the St. Vitus dance from the Middle Ages
scarlet_will cover artwork 3000pix
Finnish Dark Synthpop band
TEN AFTER DAWN
releases new single
'Circles'
"Are you in or not? What ever it takes, are you still with me?"
That could be the simple idea of this new Ten After Dawn single "Circles".
You can hear influences from traditional synth pop all the way
to central European EBM styles, with strong melodic vocals.
Ten After Dawn released their first EP "Best Of Both Words" in 2017
and began to tour more also abroads besides Finland
and after their 2019 single "CLUB" they had already toured and played gigs besides Finland also in Germany, Denmark, Russia and the Baltics
and have consequently gained positive reviews
and an ever-growing global interest.
Now the world is opening again and they are here again too,
ready to rock the synth pop...as they're from Finland!
scarlet_will cover artwork 3000pix
German semi-industrial act
SCARLET DORN
has released new single/video
'Unstill Life'
Scarlet Dorn have released their second new single "Unstill Life"
along with a beautiful music video from their forthcoming
third studio album "Queen Of Broken Dreams"
out on September 30th, 2022 via SPV Recordings.
With her captivating voice, singer Scarlet Dorn exudes a variety
of emotions ranging from gentle and tender to menacing and somber.
Free of boundaries between genres, Scarlet sings her way
straight into your heart.
From industrial sounds, rock ballads, and some catchy electronic beats,
the band takes all listeners on a journey through complex human abysses, the world of hope and sorrow, but also directly
into the arms of life in all its glory.
Scarlet Dorn always combine an incredible elegance of darkness
with a particularly memorable catchiness of the songs.
Scarlet Dorn was founded in 2016 by the producers Chris Harms
and Benjamin Lawrenz, together with the singer Scarlet Dorn.
Not only through the release of the albums "Lack Of Light"
and "Blood Red Bouquet", but also through determined touring
with Within Temptation, Joachim Witt, Letzte Instanz
and Lord Of The Lost among others.
The new Scarlet Dorn album "Queen Of Broken Dreams" will contain 12 new songs and will be released as a Limited LP Edition
including red coloured vinyl, CD Edition in a digipak as well as digitally.
SCARLET DORN is Supported by Initiative Musik gGmbH
with project funds from the Federal Government Commissioner
for Culture and Media.
...to continue, please go to next side...
line-up:
Scarlet Dorn - Vocals
Bengt Jaeschke
Guitars, Backing Vocals
Benjamin Mundigler
Bass, Backing Vocals
Gared Dirge - Piano
Henrik Petschull - Drums
pics by Jan Season
scarlet_will cover artwork 3000pix
German semi-industrial act
SCARLET DORN
has released new single/video
'Unstill Life'
SCARLET DORN live
as Special Guest for Lord Of The Lost
06.10.22 DE – Nuremberg / Hirsch
07.10.22 DE – Stuttgart / LKA-Longhorn
08.10.22 DE – Cologne / Essigfabrik
12.10.22 HU – Budapest / Barba Negra
14.10.22 AT – Vienna / Szene
15.10.22 DE – Munich / Backstage
20.10.22 DE – Frankfurt / Batschkapp
21.10.22 DE – Leipzig / Täubchenthal
22.10.22 DE – Hanover / Pavillon
27.10.22 DE – Berlin / Columbia Theater
28.10.22 CZ – Prague / Club Storm
29.10.22 PL – Warsaw / Hydrozagadka
02.11.22 DE – Bochum / Zeche
03.11.22 FR – Paris / Petit Bain
04.11.22 FR – Lyon / CCO
05.11.22 ES – Barcelona / Salamandra
06.11.22 ES – Madrid / Mon
09.11.22 IT – Milan / Legend Club
10.11.22 CH – Pratteln / Z7
11.11.22 DE – Kaiserslautern / Kammgarn
12.11.22 DE – Herford / X