cover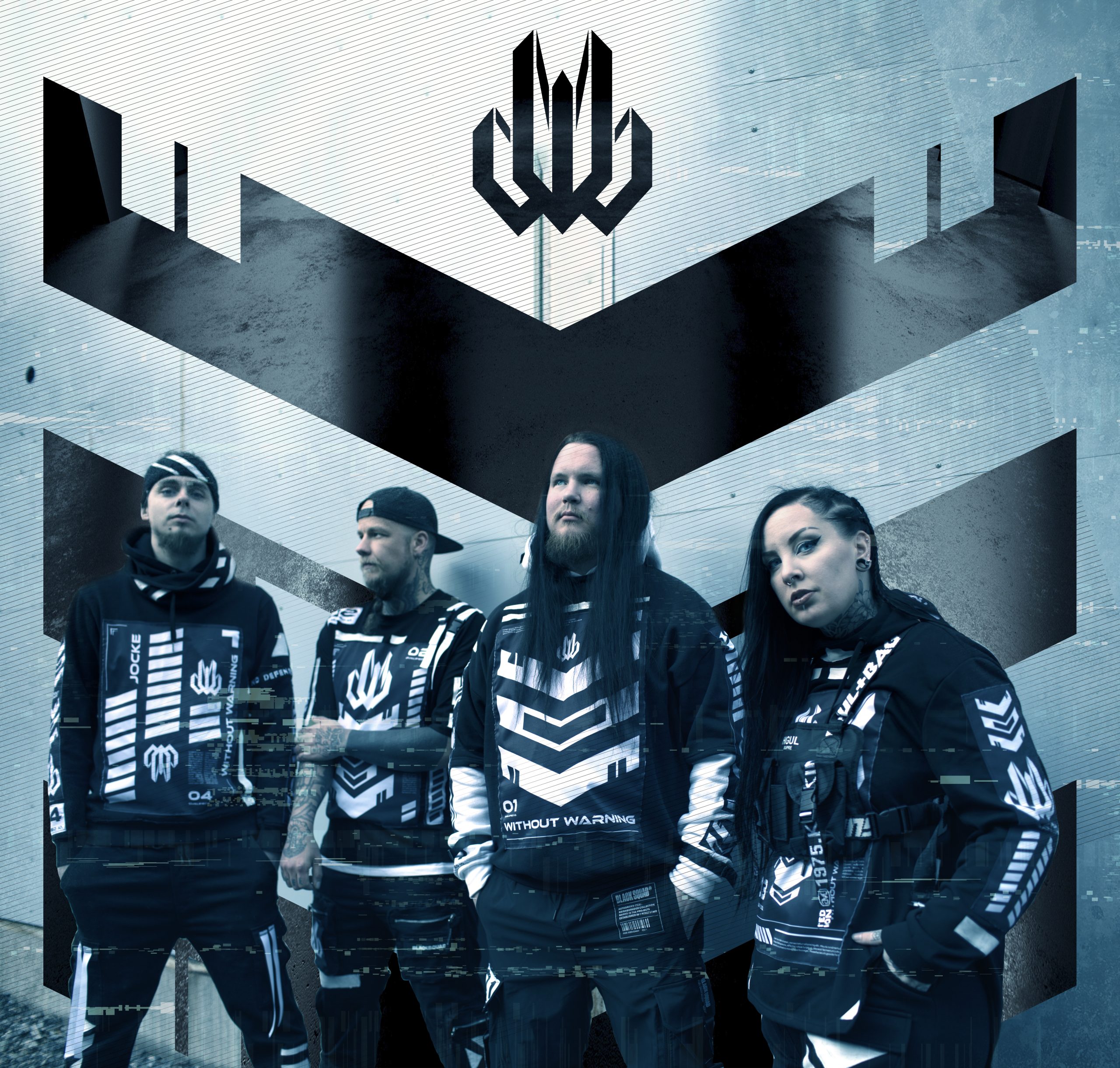 Finnish modern metal band
WITHOUT WARNING
released new single/video
'Black Venom'

Finnish modern metal band Without Warning released
their third single and music video 'Black Venom'
via Inverse Records on June 9th 2022.
"Black Venom" is an intense story about the definition of evil,
manifested in a woman and ready to spread hatred everywhere she goes.
Visually the story is brought to life in a horror biohazard surrounding, taking the spectator in the middle of events.
The song came along quite fast as Juuso (guitarist) got inspired
by the concept of the story, and wanted to bring life to it.
It felt as the easiest project so far music wise
as the band had a very clear idea of how it would be produced.
"I like to write about my experiences in a metaphoric way, just like I did with Black Venom. I believe in the good in people, but on a rare occasion you might cross paths with someone you wish you didn't. Someone who lives off of creating chaos and taking everything from you to the last drop. Pure evil. And that's what spreading the black toxic is about."
states Micha (vocalist).
Composer: Without Warning
Lyrics: Michaela Tuomenoksa
Production/mixing/mastering: Aleksi Rintala
Single cover by
Michaela Tuomenoksa
pic by Michaela Tuomenoksa
cover
German gothic metal act
CHILD OF CAESAR
have released new single/video
'Exitus'
With just the right pinch of audacious energy,
the German Gothic Metal band CHILD OF CAESAR released "Exitus",
its aggressive second new single and the accompanying
impulsive music video with unbridled dynamics.
The song is a stormy ode to death, with brutal Old School Death Metal growls soundtracking the hazy thoughts just before the final breath.
The band shows their angry and reckless face in the energetic music video by Swedish director and photographer Matthias Blom
(e.g. Darkane, Corroded, Lik) and offers an exciting contrast
to the catchy Gothic Metal of the previous single "Seven".
With "Exitus" CHILD OF CAESAR demonstrate the musical complexity
of their new full-length "Spirit & Liberation".
For the sinister follow-up to 2015's album "Love In Black",
mastermind and guitarist André Marcussen has stepped out of the shadows of the past with his project and recorded the eleven songs
with the current line-up, which will be released worldwide on CD
and digitally on August 26, 2022, via Dr. Music Records.
The recording and mixing of the album was done at guitarist Christopher F. Kassad's Tones & Tunes Studio, and for the mastering,
the musicians once again entrusted Mika Jussila of Finnvox Studio (Amorphis, Solstafir, Nightwish).
The songs of CHILD OF CAESAR are an equally sinister feast for the ears of Goth fans and metalheads who miss the ferocity of Tiamat's
early records while appreciating Satyricon and not denying themselves
the punky Bad Religion vibes.
With the new music video, CHILD OF CAESAR put the pedal to the metal
in terms of hardness and wild aggressiveness.
discography:
2022 Spirit & Liberation
2015 Love In Black
cover
British skatepunk band
EVERYONE LIES
have released new song
'Biscuits'

'If you like carefree and fun indie punk rock then Everyone Lies is the band for you' - Off The Hook Music Reviews
'Everyone Lies are a fun and very upbeat band that can get a crowd shifting and out of the depressive climate we live in today.' - RGM Mag
Fresh from playing with living legends UK Subs
and recently announced shows with Millie Manders and the Shut Up,
Wonk Unit and Clowns, Southampton punk band 'Everyone Lies'
follow up radio favourite 'TNTina' with brand new track 'Biscuits'.
Another up-beat punk track harking back to the sounds
of the 90s punk bands,
'Biscuits' has an important message about mental health.
Singer/Guitarist Ben says:
''Biscuit' is about mental health. Written while I was off after a breakdown and I wrote the song about what I was doing and feeling at that moment in time. Literally dunking a Garibaldi biscuit in my cuppa'.
Taken from the EP 'Shakedown' the track has become
a firm favourite at the bands live shows
and has all the ingredients to be a future punk classic.
The track was recorded and mixed at The Ranch Production House
in Southampton and produced by Daly George
(Creeper, Boston Manor, Miss Vincent).
Upcoming Shows
June 11th - Winchester Gate - Salisbury - w/Millie Manders and the Shut Up
June 24th - The Hobbit - Southampton - w/Stankfinger and The Stayawakes
July 1st - The Joiners - Southampton - w/Clowns
July 16th - The Anvil - Bournemouth - w/Wonk Unit
August 5th - Four Horsemen - Bournemouth
August 26th - Paradiddles - Worcester
September 2nd - Percys - Whitchurch
September 9th - Rock House - Andover
September 10th - The Duke - Neath
cover
German viking metallers
CORVUS CORAX
have released single/video
'Béowulf is mín nama' ft. Doro

For the third herald of the album "ERA METALLUM"
the " Kings of Minstrels" CORVUS CORAX team up with the Queen of Metal DORO PESCH to form an unbeatable unit.
The outstanding rock singer sings the Old English heroic epos
"Béowulf is mín nama" in its original language.
The musical foundation is a skilful fusion of rapid 190bpm drumming by Norbert "Norri" Drescher and ingeniously melodic guitar riffs by
Sami Yli-Sirniö, backed by powerful male choirs.
The result is an incredibly catchy hybrid of speed, melody
and the unmistakable power voice of an absolute METAL legend!
cover
Finnish hard rock act
MEGASNAKE
have released their deput
'Charming'
The Finnish power quartet MegaSnake
has released their debut album "Charming".
The band's line-up is
singer Richard "Tipe" Johnson
(Leningrad Cowboys, Gringos Locos, Apocalyptica's live line-up),
Drummer Twist Twist Erkinharju
(Peer Günt, Leningrad Cowboys, Los Bastardos Finlandeses),
Guitar player Samuel Hjelt (Kings of Modesty, ex-Ancara)
and bass player Henrik Tuura (Kings of Modesty, Killer Kachina).
track-list:
1. Sun Don't Shine
2. Shame On Me
3. My Window
4. All In Good Time
5. Another Lesson Learned
6. Stone River
7. Don't
8. HeVil
cover
Finnish dark metal band
MUSTAN KUUN LAPSET
have re-released
'Suruntuoja'
The year is 2022 and Mustan Kuun Lapset's debut album, Suruntuoja,
is turning 20 years old.
To celebrate it the band decided to release the album
as a re-mastered version with bonus tracks and a background story
of the album written by music journalist Natalie Humphries from UK.
As bonus tracks there are two live tracks from 2016
and three original cassette demo tracks
recorded before the album release in 2000.
The whole album and the bonus tracks are re-mastered by Teemu Liekkala.
The album is also wrapped with new artwork
and available as limited CD pressing
and also first time on digital music services.
track-list:
1. Ajaton
2. Seremonia
3. Suruntuoja
4. Ennen unta
5. Köysi
6. Sodoman ilmestys
7. Toisten laskettua seppeleet
8. Taivaan takana
9. Suruntuoja (live 2016)
10. Sodoman ilmestys (live 2016)
11. Seremonia rehearsal (tape 2000)
12. Köysi rehearsal (tape 2000)
13. Ajaton rehearsal (tape 2000)
cover
Finnish hard n heavy act
JIMBO'S GARAGE
have released their
selftiteled deput album

Jimbo's Garage is a band that combines the hookiest elements
of modern heavy rock and traditional hard rock.
And now they are releasing their debut album.
The band's main architect is the drummer Jimbo Mäkeläinen,
former sticksman of Ironcross and Lordi.
Vocalists on the album are Taage Laiho (Kilpi, Altaria, Mad Hatter's Den), Peter James Goodman (Conquest, Metal Gods, STUD..)
and Maya Liittokivi (Deathlike Silence).
Guitars are played by Kari Riihimäki and bass by Jari Riitala.
The band's music is an interesting combination of moderd heavy metal
and traditional hard rock.
track-list
1. Living the Hard Way
2. Now We're Strangers
3. Dancing With the Devil
4. Dreamer
5. Wings
6. Stranger
7. Hello
8. Echoes
cover
Finnish hard rock group
RIMBACHER
have released their single
'Last Breath Of Rock 'N' Roll'

'Last Breath Of Rock 'N' Roll' is a retrospective to the moment
when you heard Rock music for the first time.
Rimbacher is a band from central Finland
that has built it's foundations to traditional 80's rock music.
During spring 2022 the band has released couple of singles
from their upcoming debut album.
"Cocaine Eyes & Nicotine Stains" introduce the hybrid sound of Aussie Rock and 80's Hair Rock, heavily riffing "Chasing Ghosts"
and catchy rock anthem "Loving You (Is Loving A Broken)".
"'Last Breath of Rock 'N' Roll' represents the style of music that was my first personal touch to Rock music. This song is about the spontanious reaction that young guy felt when he listened to Rock music for the first time. So we made really rough and stripped song out of it - a tribute to the deepest essence of Rock. So raise your fist in the air and move your head!" singer Niko Rimbacher enthusiastically tells.
"Even as the track title refers to the ending of life the whole idea is actually the opposite. It's about how to fill the huge gap that the current rock legends will leave after retiring and leaving the field open. And how to respect that heritage with total dedication"
bass player and lyricist Reisca Morani continues.
The band also releases a music video that is built
from the footage filmed on the Rimbacher shows.
Composed: Niko Rimbacher
Lyrics: Tatu Reijonen
Arrangement: Rimbacher
cover
Finnish gothic metal project
RIOGHAN
have released their single/video
'Sight'
Finnish Rioghan is set to release her debut album
'Different Kinds Of Losses' later in 2022 via Inverse Records.
The album has been made in collaboration with Jonas Renkse (Katatonia), Einar Solberg (Leprous), Teemu Liekkala
(ex-Manufacturer's Pride, Red Eleven) and Teemu Koskela (ex-Celesty).
The third single 'Sight' from the upcoming album is released
and a stunning music video made by Aarni Visuals.
Rioghan comments:
"'Sight' brings a story to the feeling when you fantasise about revenge so much it fills your whole perspective with passive-aggressive emotion and you no longer have clear sight of other things or what is normal. When the thought of revenge consumes you slowly, maybe leading to your own demise instead of the one you've sought to bring down. With this composition I had the pleasure to work with Jonas Renkse, and I was of course terrified of my own (self-alleged) incompetence but soon Jonas made me realise I actually have some good stuff going on. Jonas picked this exact poem he wanted to work on, we got into the vibe and the whole process from there was very effortless and encouraging. This was also the first song from the album we got ready and only made some really minor arrangement additions later on."
Jonas Renkse comments:
"I'd never written a song for someone else before but when this opportunity showed up I jumped at the chance. I was already in writing mode and had everything set up. I think me and Rioghan found a starting point quickly and could just go with the flow on this one. We were bouncing ideas for a bit and then the song pretty much wrote itself."
Line-up on Sight single:
Vocals - Jenni Perämäki, Guitar solo - Jonas Renkse
Guitar, bass, keyboards - Teemu Liekkala, Drums, percussions - Valtteri Revonkorpi
Composed by
Jenni Perämäki & Jonas Renkse.
Lyrics by Jenni Perämäki
Single cover by
Sakari Tuokkola
Mastered by
Svante Forsbäck / Chartmakers Oy.
Vocal recordings:
Ville Hautaluoma
Produced, recorded & mixed by Teemu Liekkala
Promo picture: Aarni Visuals / Mikko Parkkonen.
Hair & makeup
by Laura Salo Creative