WW_SpaceInvaders
Finnish old school metal band
WISHING WELL
released single/video
'Space Invaders'
Finnish old school metal band
WISHING WELL
released single/video
'Space Invaders'
Composed by
Anssi Korkiakoski,
Rick Becker
Lyrics: Anssi Korkiakoski
pic by Jussi Koskinen
Finnish traditional heavy metal band Wishing Well
have released another single from their upcoming "Sin And Shame" album.
"Space Invaders" features a flamboyant intro and eerie Moog-riff
plus some melodic instrumental parts.
Surprisingly the song does not include Hammond organ,
their trademark, at all.
Lyrics of the song got inspiration
from legendary 80s arcade shooting game, Space Invaders.
The song was written by guitar player Anssi Korkiakoski
and band's ex-bass player Rick Becker.
The single is out with a promo video, filmed and edited by Jussi Koskinen.
Arto Teppo, the nestor of the band:
"This song is a bit different in many ways but of course it's the synthesizers that make the difference. I admit that I wasn't too keen on the idea of leaving Hammond out. However, when I found that cool Moog sound and arranged synth parts I realized that they are perfect for this particular song. They say that variety is the spice of life but whatever the case, I'll stick to Hammond organ until the day I day, I'm too old to learn too many new tricks. Plastic toys are not my thing, I'll leave all those files and menus for younger players. I trust old school hardware and hardwood more than programmed and downloaded sounds. In this matter I have very traditional values."
...to continue, please go to the next side...
WW_SpaceInvaders
Finnish old school metal band
WISHING WELL
released single/video
'Space Invaders'
Finnish old school metal band
WISHING WELL
released single/video
'Space Invaders'
Composed by
Anssi Korkiakoski,
Rick Becker
Lyrics: Anssi Korkiakoski
pic by Mikko Lähdeoja
Anssi Korkiakoski, the guitar player of the band:
"This song is as old as the hills but with the synths and proper arrangement this became a modern song, at least in our standards. Space Invaders was a great game back in the day and that gave us a cool sci-fi theme that always fits with metal, tongue-in-cheek, of course. The instrumental melody part was written by Rick Becker years ago and I'm happy that we were able to utilize that in this song. There are some new sounds on the new album and in my opinion they upgrade and refresh our overall sound pretty nicely."
"Sin And Shame" album is out on 17 March.
The band will play album release gig at On The Rocks Club in Helsinki
in 31 March, supporting Finnish hard rock legends Peer Günt.
WW_SpaceInvaders
Italian hard rock act
BULLRING
has released single/video
'Still Blood'
LINE-UP:
Remo Ferrari
Vocals & Bass
Dave Pola - Guitars
Luca Ferraresi - Drums
pic by Davide Giuliani
Street Symphonies Records & Burning Minds Music Group
are proud to present the latest single
by Italian modern hard-rockers Bullring,
"Still Blood".
The song was mixed and mastered by Alessandro Ascari
at Flatroom Studio (Soliera, Modena, Italy),
while the official video was shot by Riccardo Farina
for FuoriTurno Video Productions.
The band states:
"Bullring's new single 'Still Blood' expresses the band's views on the danger of intense feelings. We composed this track by scratching guitar riffs through our unique, raw, cruel, woodcutter-like approach, making the tension grow progressively into a powerful chorus. Emotions can be dangerous when not properly handled, and here's our point of view on this topic. When dark feelings take over . . . there's no other choice!"
WW_SpaceInvaders
American rock band
TOUCH THE BUFFALO
will release single/video
'In Six Heads About It'
American rock band
TOUCH THE BUFFALO
will release single/video
'In Six Heads About It'
LINE-UP:
Jon Johnson
lead singer, ukulele, keys
Tyler Beard
drums, back up vocals
George Rhodes
guitar, back up vocals
DC based Rock Band 'Touch The Buffalo' release brand new single
'In Six Heads About It' next month.
The track, reminiscent of classic Mumford and Sons mixed
with a bit of grunge,
is an aural delight combining their signature ukulele sound
with gravelly vocals and rock riffs.
the band explains:
'The song lyrically, structurally and emotionally is trying to capture the feeling of a descent into madness.'
'In Six Heads About It' is a single taken
from Touch the Buffalo's upcoming EP "Bodhicitta",
which means "a mind that is aimed at awakening".
The EP, through different and new flavours of rock,
seeks to explore some of the complex human experiences the world,
as individuals, went through since the start of the covid pandemic.
Touch the Buffalo is a four-piece rock band.
They made their first official release in 2017
with their three track EP, "Ulrich".
The release of 'Ulrich' earned the band a spot
in the Celebrate Fairfax Music Festival,
with headlining bands Good Charlotte, Sugar Ray, and Gin Blossoms.
Their style has elements of garage, grunge, punk, classic rock,
indie and dance.
They adore rock music and exploration of the sound scape.
The band has since gone on to release an album, play more Festivals,
and win a battle of the bands.
The Indy Review:
'grooving bass lines & vocals reminiscent of classic 90's alternative acts'
May The Rock Be With You:
'This band is making new rock that old rock would be proud of'
WW_SpaceInvaders
German metalcore group
DEFOCUS
released single/video
'Biased'
German metalcore group
DEFOCUS
released single/video
'Biased'
»The AGAINST
ALL TYRANTS TOUR«
on tour with Necrotted
and Abbie Falls:
07.04. Bern (CH)
08.04. Oberndorf (DE)
09.04. Aalen (DE)
11.04. Salzburg (AT)
12.04. BRNO (CZ)
13.04. Vienna (AT)
14.04. Jena (DE)
15.04. Berlin (DE)
DEFOCUS return with a massive new track
after causing a sensation with their debut album,
»In The Eye Of Death We Are All The Same«.
'Biased' takes the listeners on a mental journey
through the darkest depths of their own perception,
which is distorted and biased in everyone.
The cold and dark mood is underlined
with an impressive music video shot by Jan Barthel,
which embodies the distorted mind deep inside.
DEFOCUS sets itself directly into the cold reality of 2023,
both in terms of content and music.
DEFOCUS are:
Simon Müller - Vocals
Jeffrey Uhlmann - Guitar
Marcel "Bambam" Heberling - Bass
Jonas Mahler - Drums
WW_SpaceInvaders
SAVING JACKIE
an American rapcore band
Jenny & Anthony, a Brother/Sister duo, and John Cortez
are former members of the original Rap/Rock Band Jackie On Acid (JOA).
JOA was formed in late August 1998 and played throughout Texas,
opening up for National groups, including Mighty Mighty Bosstones,
Papa Roach, 2 Live Crew, Bowling for Soup, Fu Manchu, Skatenigs,
Union Underground, and L7.
During their five year venture, JOA released a self-titled LP
with popular songs such as 'Stitched Lips' and 'Killa Man'.
They were featured in numerous media publications
such as the San Antonio Current, Express News,
The Edge Magazine and Meltdown Magazine.
On July 3, 2003, JOA played their last farewell bash at Sin 13 Bar,
selling out on all their merchandise.
Entering into a new era, in early 2019,
the three former members of JOA reunited with a new vibe
to create Saving Jackie, a Rap/Rock group
with a message of redemption for new life.
Alongside former members, Front Woman/Vocalist Jenny 4C Ramirez,
Drummer Anthony, and Bass Player John Cortez and new members,
Jerry Ryan on Rhythm Guitar/Backing Vocals 2019-8/2021,
Rick Garza on Lead Guitar/Backing Vocals.
After encountering life's struggles and strife,
the group is back to share a message
of how they overcame life's major trials.
Their EP brings a rocking out message of victory and hope
with songs like 'My Faith is Larger', 'My Everything'
and 'Silence the Storm'.
Bryan Blake of Vinyl Lollipops:
"This band seriously kicks the gluteus Maximus and leaves you wanting more."
WW_SpaceInvaders
Norwegian black metal act
NATTEHIMMEL
will release album
'Mourningstar'
Former In the Woods... members deliver epic Norwegian Black Metal'
It's the moment just after the tree-root thick tangle of guitars
come in and the luminous clean vocals light up the sky
while the keyboards suddenly shine from below:
when the singing enters on 'Astrologer',
the first track of Nattehimmel's first album "Mourningstar",
that one might actually hear a continuation
from In The Woods...'s legendary "Omnio" album from 1997.
None of the 5 members are strangers to one another,
having met before in bands such as In The Woods... and Strange New Dawn.
We guarantee that the members regard "Omnio" pretty highly.
Enough to revere it though?
The similarity is not likely to be incidental,
and anyway proves fleeting in the context of the 8 songs on "Mournigstar",
this new union turning out very creative in shaping their Black Metal
with a variety of elements.
Primarily, the vocals set Nattehimmel apart from many other acts
of this nature by including a variety of tropes from harsh growls
to monkish groans to undead rasps, plus other backing parts
that overlay the slightly echoey production with a ton of resonance.
These come from James Fogarty, who, along with the Botteri brothers,
could be thought to bring a slight doom influence
to otherwise identifiable next wave Black Metal,
as comes out in the crashing low-paced riff kicking off
'Mountain of the Northern Kings' sort of like Isole
or other epically touched acts.
...to continue, please go to the next side...
track-list:
01 Mourningstar (Intro)
02 Astrologer
03 Each Man a Constellation
04 Armies of Tiamat
05 Slay the Shepherd
06 Mountain of the Northern Kings
07 Realm of Hades
08 The Immortals
09 The Nightsky Beckons
WW_SpaceInvaders
Norwegian black metal act
NATTEHIMMEL
will release album
'Mourningstar'
Nattehimmel prove unafraid to lay off the heaviness on that song too,
letting the keyboards change to electronic sounds in the introduction
and a repeated interlude that doesn't shift the goalposts
as far as you'd think.
Furthermore, touches like the expressive solo in 'Astrologer' divorce
"Mourningstar" from regular Black Metal assumptions,
and one might expect little else from the diverse CVs of this group.
With members of such experience, Nattehimmel would have to be silly
to mess things up, yet one does not expect to be so impressed
by the concoction boiling in this Norwegian cauldron.
Despite the very pretty nature of some melodic guitar
and the lush keys that serve multiple purposes,
the riffs lift every song to stateliness despite not having many apiece,
while the vocal styles have been judged well enough
to smother this cake with icing.
Forget the surrogate for now,
because Nattehimmel is about to give us something really special.
Any In The Woods... fan that loved "Heart of the Ages" and "Omnio"
will love this logical continuation.
• Fantastic debut album that truly contains the spirit of 90's Black Metal
• Features the so-called Botteri twins on bass and guitar,
from 1991 up until 2016 the creative core of In The Woods...
• Features James Fogerty (aka Mr. Fog) on vocals,
known from In The Woods..., Ewigkeit and Old Forest
track-list:
01 Mourningstar (Intro)
02 Astrologer
03 Each Man a Constellation
04 Armies of Tiamat
05 Slay the Shepherd
06 Mountain of the Northern Kings
07 Realm of Hades
08 The Immortals
09 The Nightsky Beckons
WW_SpaceInvaders
German NWOBHM act
WARDRESS
will release album
'Metal Til The End'
Wardress were originally formed in Nürtingen in 1983
and have been dedicated to 80s NWOBHM ever since,
but failed to cement their status
with an album release in their early years.
It took a quasi-re-formation in 2018
when guitarist Gor and vocalist Erich decided
to finally put some recovered original song material
from the band's early days on record.
So in 2019 they finally released their debut "Dress For War" (2019)
on which old songs as well as current material were immortalised.
The band used the time of the pandemic measures
to work on their second album "Metal Til The End",
on which the band remains stylistically true to their roots
and at the same time makes the album title the programme!
Sawing riffs with surprising breaks
and anthemic melodies alternating with exploding solos,
complemented by bitingly ironic lyrics.
Production and mix,
for which Rolf Munkes is responsible in the Empire Studio in Bensheim, provides a dynamic live-like atmosphere.
"Metal Til the End" seems to breathe, sweat and bleed.
Heavy metal in its purest form, original and yet simply timeless!
Their second album 'Metal Til The End'
will be released on the 17th of march, 2023.
track-list:
01. Berserk
02. Metal Til The End
03. Motorlust
04. Mr. Crowley
05. Wardress
06. Serpents Kiss
07. Serves You Right
08. Metal Melodies
line-up:
Erich Eysn - voc
Gor Moore - guit, backvoc
Kimon Roggenbruck - guit
Mirco Daugsch - bass
Andy Setter - drums
pic by Joerg Tochtenhagen
WW_SpaceInvaders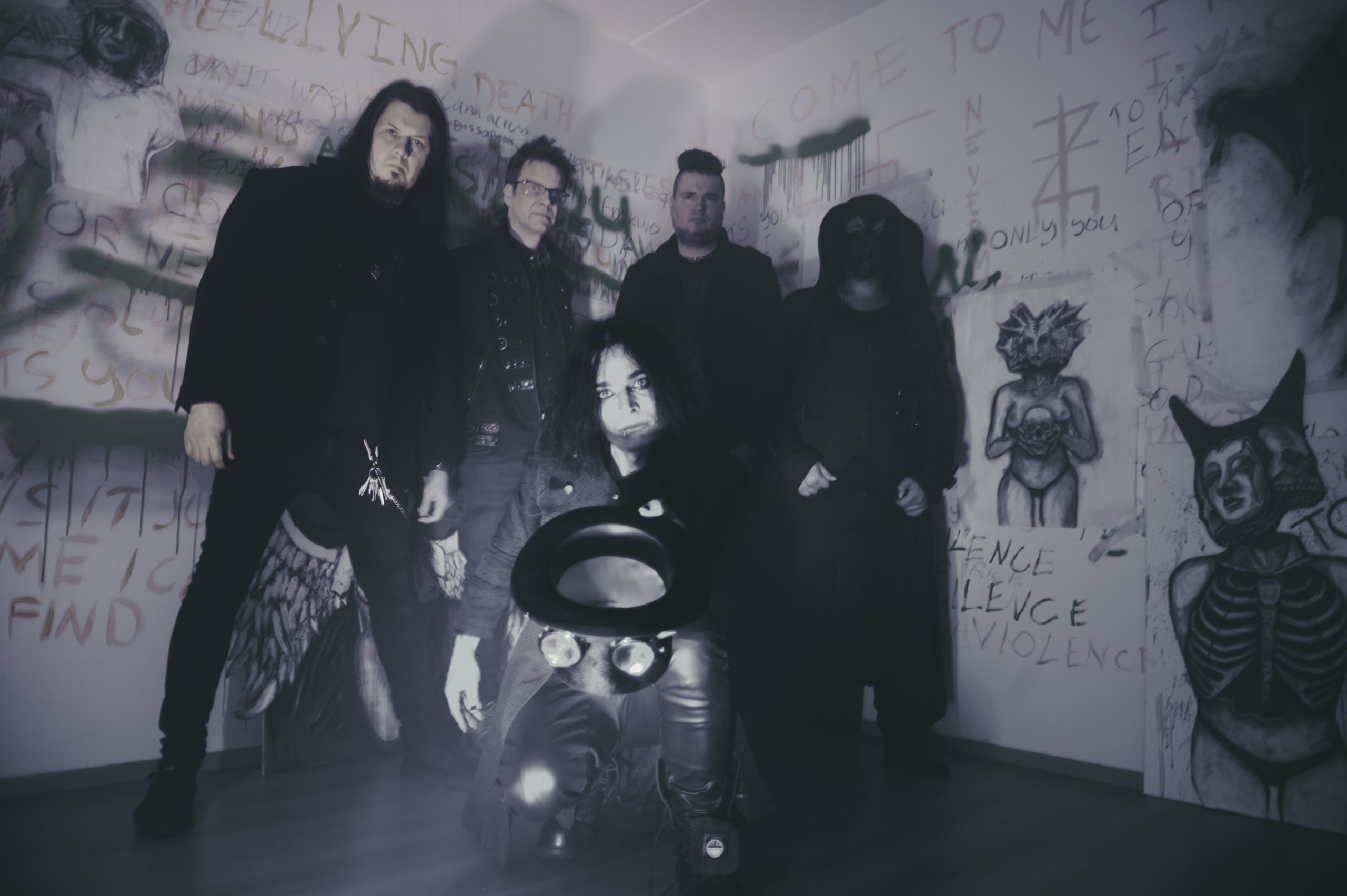 Finnish dark rock band
DOL
released single
'Hand Of Hate'
Finnish dark rock band
DOL
released single
'Hand Of Hate'
Composed by Eero Kaasinen
Lyrics by Eero Kaasinen
pic by Maria Ilonen
Dark rock band DOL from Finland
releases their second EP "Amor Brutale" later this spring.
Now they have released second single "Hand Of Hate"
from the upcoming mini album.
This song was originally written back in the late 2020
by Dol vocalist/ guitarist Eero "Mc" Veri,
who wanted to find a new sound,
that would define the musical direction for the new ep.
The result was heavier and darker stuff,
than the bands previous work.
Song also features much more programmed synths and samples.
Lyrically the song is a dark self reflection
about how it can sometimes feel like you dont deserve happines
and that all the happines you might have will just end in tears.