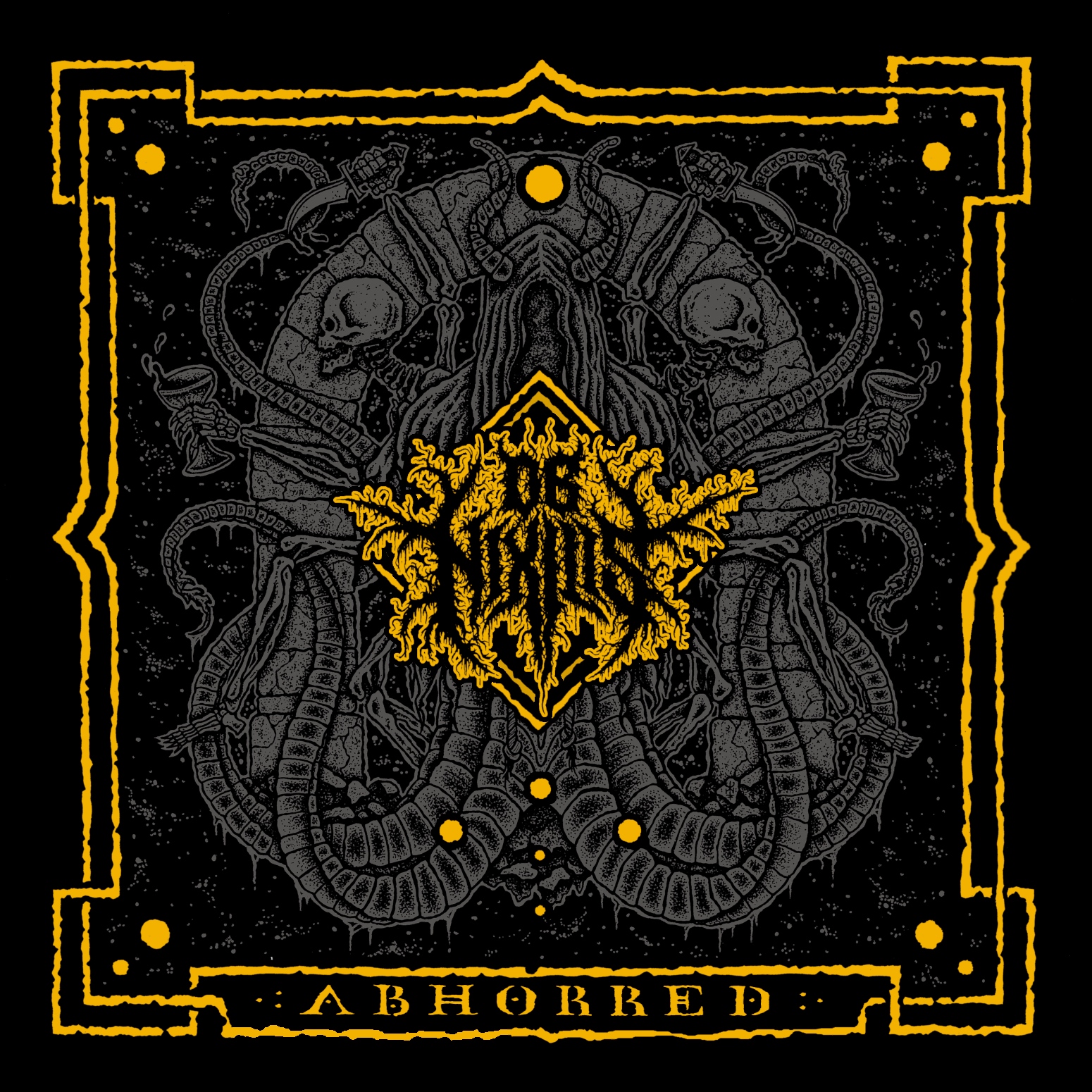 1c45c7_a0d4334c06f54436aa29113c1df1c175~mv2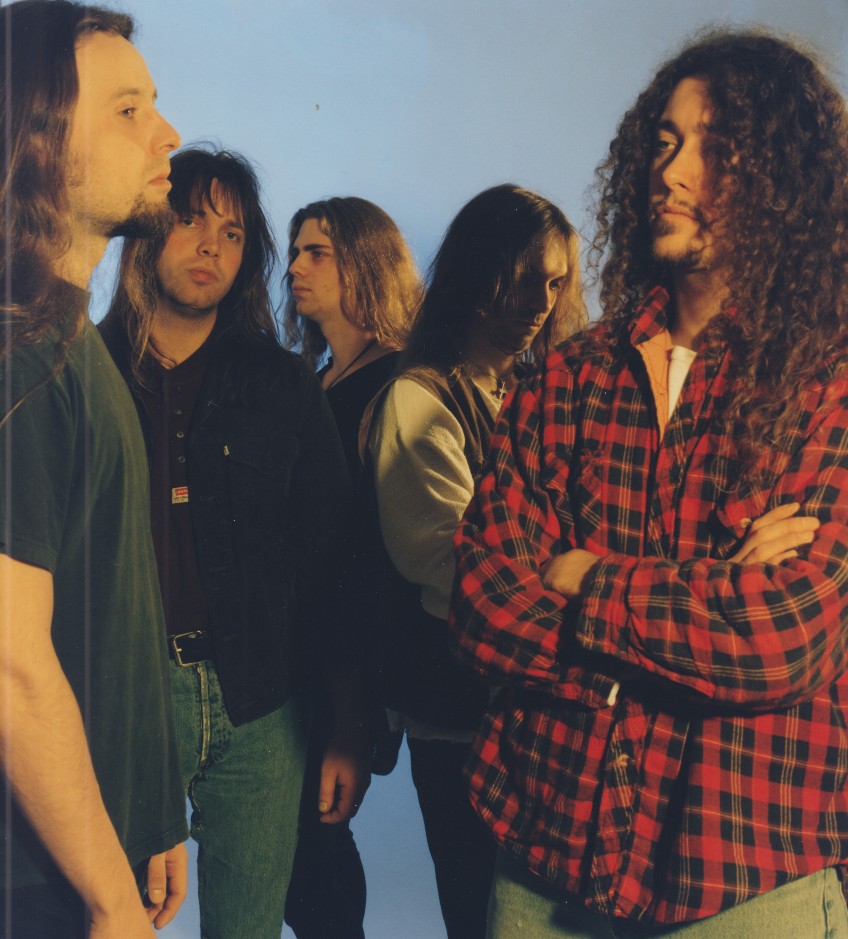 Swedish experimental metal band
ABSTRAKT ALGEBRA
has re-released their album
'Abstrakt Algebra'
Swedish experimental metal band
ABSTRAKT ALGEBRA
has re-released their album
'Abstrakt Algebra'
The early nineties have been notoriously talked down retrospectively
by metalheads, mostly for the wave of grunge and alternative bands dominating the news.
But we all know those were actually feature-rich metal years,
with thrash continuously evolving
and death metal being on the peak of creativity.
One album that fell flat in 1990 attention-wise was Abstrakt Algebra,
a rare progressive/power gem for doom childs,
cooked up by Candlemass and King Diamond members.
Well, it's not rare anymore:
it is rer-released as a remastered Digipack with bonus tracks.
Probably THE finest 1990's example of power/doom metal,
this album has been lost in the sands of time until now:
ABSTRAKT ALGEBRA'S self-titled debut.
The brainchild of CANDLEMASS mastermind Leif Edling, would,
in any other era, have taken the world by storm,
but with the music press and radio obsessed with stuff like Nirvana
and their ilk, it was near impossible to get coverage for an album
even as strong as this debut.
Leif had come up with a collection of songs that although had an undeniably link to his main band Candlemass,
also gone in a more modern direction.
Hard to classify and compare to other releases at the time,
Abstrakt Algebra had a brilliant production and incredible riffs
that were way ahead of it's time.
Featuring Mats Levén on vocals as well as Leif himself on bass, the bands lineup was completed by guitarists Mike Wead (King Diamond)
and Simon Johansson (Wolf) and drummer Jejo Perkovic.
Additional keyboards were played by Carl Westholm.
The re-issue has been remastered by Patrick W. Engel.
Tracklist:
01 Stigmata
02 Shadowplay
03 Nameless
04 Abstrakt Algebra
05 Bitter Root
06 April Clouds
07 Vanishing Man
08 Who What Where When
Bonus Tracks:
09 Remulus And Romus
(Studio Outtake)
10 Nameless (Demo)
11 Shadowplay (Demo)  
1c45c7_a0d4334c06f54436aa29113c1df1c175~mv2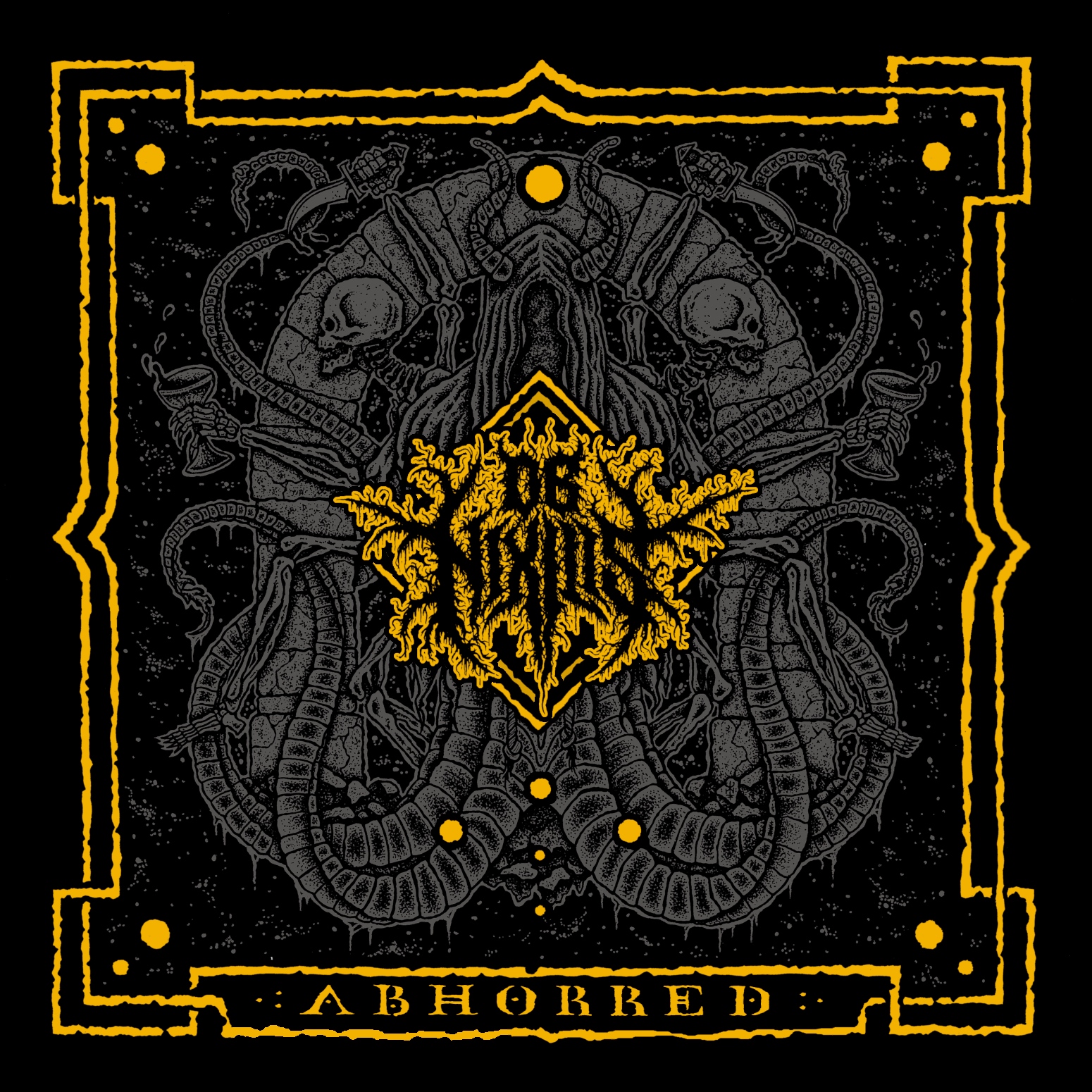 American black/death metal band
OB NIXILIS
will release their album
'Abhorred'
"Abhorred" is a culmination of heavy hitting drums,
rhythmic and shredding guitars, brain rumbling bass lines,
and gruesome vocals.
The album encapsulates dark and melodic elements along with
hard hitting, melodic guitar leads and passages with fast, tremolo picking.
Add the heavy, fast bass lines in
and the low end is covered and prominent in the mix.
Throw all that on top of fast tempo, hard hitting, smooth
and technical drumming, and the composition is complete.
Finally, adding crusty, brutal deep tonal vocals
as well as higher pitch backing vocals in,
completes and rounds out the album!
The album is relentless from start to finish!
OB NIXILIS is a 4-piece American blackened death metal band
hailing from Colorado Springs, Colorado.
The band formed in the bleak winter of February 2020
from a collection of seasoned musicians,
some of who met through the local metal scene
and others who have known each other for numerous years.
The band is often inspired by bands like Dissection, Deicide,
Hypocrisy, and Immolation.
Once the band was united, they decided to fuse their unique artistic vision
to bring haunting melodies, heavy rhythms, soul crushing leads
and dark ambiance that will make you want
to punch your neighbor and hug your mailman!
OB NIXILIS has performed numerous local shows in the Colorado area and is looking forward to play other US regions as well as over seas!
The band released its first EP, "Grimoire of the Dead", in late 2021,
while its first full-length album "Abhorred" is set to be released
via Reaping Scythe Records on January 27, 2023.
Tracklist:
01.  Prolific Destitution
02.  Discordian Epitaph
03.  Bloodletting
04.  Interludium II
05.  War of the Burning Sands
06.  Deathrite Shaman
07.  Fated Ascendance
Line-Up:
Jeremy Cuchiara
Drums, Lead Vocals
Manuel Moreno
Guitars, Backing Vocals
Matt Maio
Guitars
Joe Niski
Bass
1c45c7_a0d4334c06f54436aa29113c1df1c175~mv2
Finnish dark metal band
KUOLMAN GALLERIA
has released single/video
'Taudinkantaja'
Finnish dark metal band Kuoleman Galleria
releases their fourth full length album "Pedon Synty"
on March 24th 2023.
The album continues the story
that a year ago released third album "Armon Loppu" started.
The singer Kimmo Jankkari describes the album:
"'Pedon Synty' is a turning point that crawls from the depths of your mind when you least expect it. It tears the wounds open and forces you to look at the truth straight from eye to eye. In the very end the thing that you fear is something else that you thought it to be. On this trip you might find something that will lead you yet to a different path."
Now the first single and music video "Taudinkantaja" is released.
singer Kimmo Jankkari about the song:
"Taudinkantaja (Carrier of The Sickness) is a melodic piece from the gloomier side of metal. It dives deep into the darkest depths of the human mind. There's buried something, a presence you can sense. Your dark side. And when you meet it, there's no coming back."
Discography
Kärsimys kunniaan (Inverse 2016)
Pimeys saapuu pohjoiseen (Inverse 2017)
Armon loppu (Inverse 2022)
Pedon synty (Inverse 2023)
Composers:
Kimmo Jankkari,
Timo Anttonen,
Juha Matinlompolo,
Juha Väinölä,
Jussi Kulomaa
Lyrics: Kimmo Jankkari
pic by Susanna Raitamaa
1c45c7_a0d4334c06f54436aa29113c1df1c175~mv2
Finnish old school metal band
WISHING WELL
released single/video
'Soul Rider'
Finland's own Wishing Well have released the first single
of their upcoming fourth album.
The new song is called "Soul Rider"
and it's an easy-going classic rock style song
featuring cool wah wah -guitar and Hammond organ.
The band shot a promo video to support the song
and it's easy to hear and see that they're having a good time together.
The new album, titled "Sin And Shame" is out on Inverse Records
March 17th this spring.
Anssi Korkiakoski, the guitar player of Wishing Well
who has written the song:
"It was easy to pick this song for the first single because we feel that it really represents us right now. It shows why we keep going doing this and there's a great camaraderie in the band. We hope that people get that. It feels great to release a new album after three years. We have worked hard to come up with the best possible album. Like before, there are many different kind of songs on the new album but it's nice to start with this a bit more laid-back song."
and Anssi continues:
"The song was written last summer and we recorded it in November. That's our new speed record, usually we sit years on new songs before recording them. That shows how excited we all were about this song."
'Soul Rider' was recorded and mixed by Henrik Sirelä
at Loiste Production studios in Helsinki.
Wishing Well will play a record release gig
at On The Rocks Club in Helsinki on 31 March.
Composing & Lyrics:
Anssi Korkiakoski
pic by Henrik Sirelä
&Jussi Koskinen
1c45c7_a0d4334c06f54436aa29113c1df1c175~mv2
Irish blues rock legend
EAMONN McCORMACK
released single/video
'Living Hell'
Eamonn McCormack announces a new album for February,
along with an extensive barrage of tour dates;
Sinister blues rocker 'Living Hell' has been released.
Irish blues rock legend Eamonn McCormack has a new single
and lyric video out, and this 'Living Hell' turned out so sinister
that if it was a hurting creature, it would bleed black.
Dealing with the criminogenic nature of drug prohibition
and institutionalized war mongery, the song's musical direction
could make it sail on the darkest depths of post metal with ease.
Opening a new record with a slow hand and lines such as
"Oh is there a dark shadow on their soul /
Blood dripping from their hands yeah /
Oh the devils work in this living hell"
puts Eamonn in a good position
to becoming the enfant terrible of heavy blues rock.
It's just his way of facepalming his marketing guys
and the industry's "best practices" and the guitar whiz clarifies:
"I don't want silly fun sports with strings, I want my music to reflect life. And in our lives – in this world – you start slow and get going. As awareness solidifies and consciousness grows, you speed it up, eventually working your way towards happiness. Whether you've just been born or you just woke up in the morning, that's how it is!"
With his brand new record Eamonn McCormack,
which is set to release worldwide on February 3rd, 2023,
Eamonn introduces the listener to a supercharged, heavy rocking portrayal of the traveling blues rock artist's life.
...to conyinue, please go to the next side...
1c45c7_a0d4334c06f54436aa29113c1df1c175~mv2
Irish blues rock legend
EAMONN McCORMACK
released single/video
'Living Hell'
Everything on Eamonn McCormack is interconnected:
the places he's seen, the people he's met and jammed with,
the miles he's covered, and the experience he brought home to friends
and family, time and time again.
The result is an album that feels like a handful of rich, fertile soil, composed of the best this planet has to offer.
You can't expose yourself to it without getting dirty,
depending on your own definition of dirt:
The blues on Eamonn McCormack's eighth album is certainly not clean.
Neither is the rock, nor the indie folk that Eamonn throws at it.
And how could it be, anyway – being found, carried
and shaped far off the beaten track
that too many norm-abiding, standardizing
copycats have already paved and cleaned?
This warm, road-dusty record isn't meant to be seen
as a blues tourist's postcard but as the recollection of a traveler
in many respects, a true explorer.
The stories that Eamonn has brought back home over the years
are being told in a down-to-earth fashion, interwoven with the gritty mud of delta blues, lush southern American rock, Celtic Irish spirit,
Hendrix-infused funk and even the eclectic layering
of a quiet, post metal atmosphere, when it's time to let go.
Eamonn's blues is known to be unapologetic
about his shitting on conventions, and it doesn't whine
as often as blues seems to be expected to do, hell no!
Instead, it snarls with gnashing teeth like Clint Eastwood,
pointing thick-skinned fingers at shit that never disappoints
in pissing the man off.
...to continue, please go the next side...
1c45c7_a0d4334c06f54436aa29113c1df1c175~mv2
Irish blues rock legend
EAMONN McCORMACK
released single/video
'Living Hell'
Be it the corrupt gun biz from weapons of mass destruction
to the guns in the hands of teens on the streets
and child soldiers ('Living Hell') or the insufferable fear of humanity wiping itself out with the push of a button ('Angel of Love').
'In Letter to my Son' he sits down to warn the boy from falling prey
to the temptation of greed, disrespect and hatred.
Instead, he encourages his son to make mistakes but learn from them, paving any potential ripples caused with an imprest
of generosity and unconditional love.
The starkly contrasting story of 'Geronimo' deals with the plight
of the Apache native American tribes, illustrating why not enough
such letters could be addressed to kids by their passionate parents.
At the other end of the spectrum, the joy of living life
to the fullest takes the stage in the dance floor stomper
'Rock'n'Roll Boogie Shoes',
while a funky chunk of self-irony grants a glimpse
at Eamonn's humorous side and his smartphone addiction with
'Social Media Blues'.
Eamonn and his young rhythm department
have been called a modern-day power trio numerous times,
and songs like these – along with an ecstatic stage presence –
could very well be the reason why this is true for the millions of people who visited their explosive shows, uniting hard rocking bikers,
blues fans and folk fanatics all under one roof.
And despite all the fame he's earned breaking the blues charts:
Eamonn McCormack will never consider himself too good
for kneeling down in awe to salute people
that he can't help but admire unconditionally for their life's work.
...to continue, please go to the next side...
1c45c7_a0d4334c06f54436aa29113c1df1c175~mv2
Irish blues rock legend
EAMONN McCORMACK
released single/video
'Living Hell'
His 'Hats off to Lemmy and Lady Lindy', an ode to the great aviator and pioneer Amelia Earhart,
are just two of the raw shoutouts he loves to do as tokens of respect or gratitude.
Eamonn McCormack was born in the center of Dublin, the capital city of Ireland,
and raised in a North side suburb.
He started out on the acoustic guitar at six years of age.
Prompted by the acoustic performance of his school classmate Gerry Leonard (David Bowie, Suzanne Vega),
his earliest influences included Slade, Cat Stevens, Neil Young and Rory Gallagher.
By twelve he was singing along with his guitar and performing at church folk masses.
Soon, finding the church music somewhat restricting,
the young teenager acquired his first electric guitar (a Guild Starfire), progressed to lead guitar
and joined a local garage cover band prior to playing his first paid gig.
By now influences extended to Jimi Hendrix, Eric Clapton, Thin Lizzy and Dutch group Focus.
At sixteen, Eamonn performed live on a national Irish radio show.
Around this time he also won a major high school competition, performing his own material.
After a short stint playing in various bands throughout Ireland,
Eamonn headed off to the USA where he performed extensively.
He joined a band in California that was an offshoot from Canned Heat,
and JJ Cale once showed up to jam with them.
There he broadened his musical horizons, gained vital stage experience
and absorbed fresh American music and cultural influences.
All this blended together nicely with his strong Irish heritage.
Returning to Ireland after four years traveling and performing in the States,
Eamonn's unique style and sound already began to show,
setting him apart from the usual blues rock at that time.
He consequently solidified this signature by putting it to the test in an extensive streak of live performances under the stage name Samuel Eddy, establishing himself across Europe.
Samuel Eddy and his band were rewarded for their efforts as they garnered the reputation
of major European music festival favorites.
Eamonn aka Samuel Eddy signed with Universe Productions/Virgin Records and later SPV Records worldwide.
...to continue, please go to the next side...
1c45c7_a0d4334c06f54436aa29113c1df1c175~mv2
Irish blues rock legend
EAMONN McCORMACK
released single/video
'Living Hell'
Three critically acclaimed studio albums, which all sold phenomenally well, confirmed
that an exciting young up-and-coming world class guitarist was emerging out of Ireland.
The following two decades saw a young Eamonn play, tour, and record with many
of his earliest guitar influences, such as Rory Gallagher, Johnny Winter, Jan Akkerman (ex. Focus),
Pat Travers, George Thorogood & The Destroyers, Walter Trout,
Brian "Robbo" Robertson (Thin Lizzy, Motörhead) and Nils Lofgren.
Another highlight of this period was Eamonn and his band's unforgettable performance
at the Parkpop Festival in the Netherlands to an audience of around half a million people,
sharing the bill with Robert Plant and more.
Eamonn also got to play the prestigious WDR Rockpalast in Germany on the bill with
Lynyrd Skynyrd & The Band, which was televised and broadcasted right across Europe.
On his own label, Eamonn decided to release a best of type of album,
mainly consisting of remastered Samuel Eddy tracks and eight newer unreleased songs
engineered in Dublin by Paul Thomas (U2, Phil Lynott), before finishing a great year successfully
with a blinding show opening for the legendary ZZ Top in Amsterdam.
At this time he also decided to drop his old stage name and revert to his real name Eamonn McCormack.
His best of album Kindred Spirits, featuring older tracks with special guests Rory Gallagher, Jan Akkerman, Herman Brood and Keith Donald, garnered great recognition.
Following the success of Kindred Spirits, Eamonn decided to take a break from the road, travel the world,
write some new material and jam with various artists in the US, Mexico and Hong Kong
before returning to the studio – this time in Germany – to record his fifth album 'Heal My Faith'
for In-Akustik.
The album was very well-received and put him firmly back on the road
as a full-time recording/touring artist.
Eamonn followed up with a double album recorded and produced in the UK
by Grammy-nominated producer Chris Tsangarides (Black Sabbath, Thin Lizzy).
His band now consisted of Jonathan Noyce (Jethro Tull, Gary Moore) on bass
and Darrin Mooney (Gary Moore, Primal Scream) on drums.
The album 'Like There's No Tomorrow' literally achieved five star reviews across the board:
...to continue, please go to the next side...
1c45c7_a0d4334c06f54436aa29113c1df1c175~mv2
Irish blues rock legend
EAMONN McCORMACK
released single/video
'Living Hell'
One disc full on electric and the other acoustic-based, it once again proved Eamonn's talent
as a competent acoustic writer and performer and showcased his other skills on harmonica and mandolin.
More touring and mind-blowing festival appearances followed,
leading to a new management and a new label coming on board.
To top it all off, Eamonn got invited to perform once more on WDR Rockpalast in Germany,
this time alongside Kenny Wayne Shepherd.
After this explosive show, Eamonn and his young band headed straight into the studio along
with German star-producer Arne Wiegand and recorded his seventh album 'Storyteller'
with eleven versatile original tracks,
featuring Edgar Karg on bass guitar and Max Jung-Poppe on drums and percussion.
'Storyteller' was released in Europe and the UK in May 2020,
where it reached No.1 on the Blues Charts in over half a dozen countries.
A later release in the United States followed in 2021 to great response.
What's next?
A self-titled new album has been recorded in June 2022:
'Eamonn McCormack' will be released on February 3rd, 2023.
Eamonn McCormack on tour:
January
21 - Dinteloord - De Boonefooi (Solo concert) NL
22 - Spijkenisse - Murry's Music Club (Solo Concert) NL
February
24 - Amsterdam - tbc NL
25 - Aalten - Tico Tico NL
26 - Weert - De Bosuil NL
March
02 - Eppstein - Wunderbar Weith Welt D
03 - Cologne - Yard Club D
...to continue, please go to the next side...
1c45c7_a0d4334c06f54436aa29113c1df1c175~mv2
Irish blues rock legend
EAMONN McCORMACK
released single/video
'Living Hell'
04 - Offenbach / Frankfurt - KjK D
11 - Hengelo - Metropool NL
12 - Drachten - Induna NL
16 - Straubing - Raven Music Club D
17 - Freudenburg - Ducsaal Musik Club D
18 - Fürth - Kofferfabrik D
24 - Hannover - tbc D
25 - Berlin - tbc D
28 - Bremen - Meisenfrei D - TICKETS
30 - Lubeck - Riders Cafe D
April
1 - Göteborg - KoM Musik Club SE
13 - Ljubljana - Prulcek Club SL
14 - Zagreb - Booze & Blues Club HA
15 - Udine - tbc IT
16 - Strasbourg - tbc F
19 - Verviers - Spirit of B
21 - Oberhausen - Festival D
27 - Vienna - Reigen Club A
28 - Bratislava - Muzeum Obchodu SLK
29 - Budapest - Musikum H
30 - Brno Czech Republic - Jazz & Blues Club tbc CZ
May
6 - Apeldoorn - Blues Cafe NL
June
10 - Dinxperlo - Charity concert NL
September
22 - Dresden - Tante Ju D
23 - Prague - Jazzdock, tbc CZ
1c45c7_a0d4334c06f54436aa29113c1df1c175~mv2
Finnish-Estonian metal band
KILLHALL
released single/video
'Fear Shaped Man'
Finnish-Estonian metal band Killhall is set to release their debut album 'I Want War' later this year via Inverse Records.
A First single and music video 'Fear Shaped Man' has been released.
Vocalist Madis "Mad" Velström comments:
 "Fear Shaped Man talks about the nightmares I had for about 10 years when I was a kid. There was a huge werewolfish character always watching me in the shadows.
I felt it's presence the whole night and usually woke up screaming because it had just started to scream at me in the dream, me losing my voice and the ability to move. I have analysed it through my life and understood that I was battling with my fears and have now long ago accepted myself to also be that wolf. When ever I have been at the crossroads in my life, not knowing which way to go the wolf have returned in my dreams. I now welcome it as an old friend. Hey, maybe it is death itself. There was that white wolf in "Puss in Boots 3" that kind of reminded me of my nightmare character. It scared the shit out of me!
To take it all together - Fear Shaped Man is about accepting your fears, getting over them, growing stronger with them and knowing that you will always have new obstacles to overcome and you will never have anyone else than yourself to get over them. Face your fears "
LINE-UP:
Tuomas Laukkanen - guitars
Stefan Laine - bass
Juuso Laukkanen - drums
Madis "Mad" Velström - lyrics, vocals
pic by TPA Productions
Single cover art by Black Bela Art & Tattoo
Mixed & Mastered: Mikko Herranen
Vocal recording: Mikko Herranen
Instrument recording: Killhall
Composed by Killhall
Lyrics: Madis "Mad" Velström