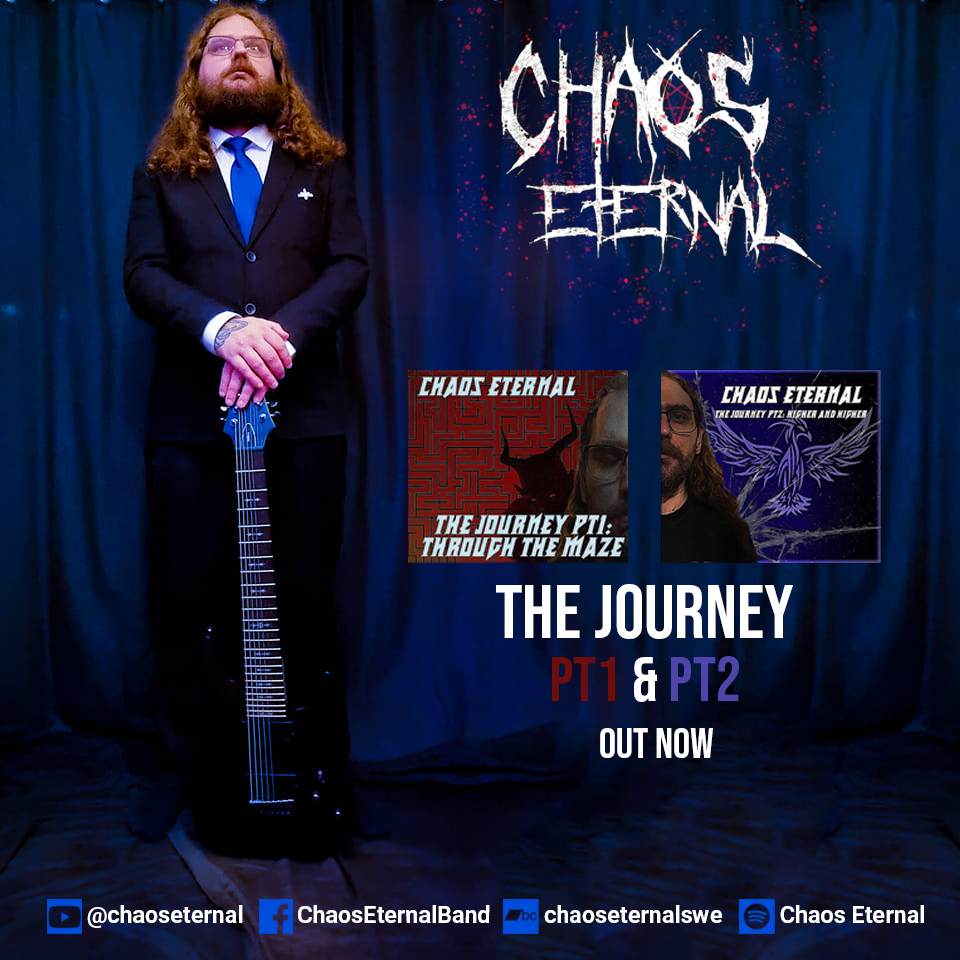 ENBOR ARNASA - Sentitu bahitu kateen hotsak (third album)
Basque metal guitarist
ENBOR ARNASA
has released his album
'Sentitu Bahitu Kateen Hotsak'
Enbor Arnasa began in November 2019 to compose
what a year later would become his self-titled first album.
Songs like 'Bihotzez', 'Berpiztu' or 'Sortzen'
are part of this first experiment.
The compositions began before the pandemic
but the album was published in full confinement.
Heavy, thrash, rock and a touch of death metal make up this album
sung entirely in Basque.
First experience for Inaki Espartza (Arrigorriaga, Basque Country, 1984)
in recording his own album,
after having worked as a sound technician on some albums by other bands.
Making metal in Basque was something pending in Inaki,
who took care of composing all the guitars, basses, drums and voices.
The result, this reddish album with personal and social themes, etc.
It was the end of 2020 and we were still in confinement
due to the pandemic, so the compositions continued,
And little by little what would be the second album was created.
'Ilunari Argia' (may of 2021) is more metal than the previous album,
with much more death metal and faster rhythms.
There are more guttural voices, but fewer guitar solos.
Songs with whispers like: 'Minez Negar', 'Ilunari Argia' and 'Burutapenak' are part of this very varied album.
Varied because there is also progressive music, calm music,
thrash and heavy again.
The 'Nora Joan Baleukate' video clip was recorded
and the album received very good reviews from specialized metal media.
2023 arrives, and with it the latest album by Enbor Arnasa,
entiteled 'Sentitu Bahitu Kateen Hotsak'.
...to continue, please go to the next side...
tracklist:
01. Emaria
02. Kateak hausten
03. Otoitza
04. Ibilbideko zuhaitzen biloben ondoan
05. Apurtuko al du itsasoak
06. Zeruratu
07. Ez gaituzte honetarako hezten
08. Kontrasteak beltz eta grisean
09. Askatasunari askatasunetik
10. Nintzena zinen
11. Bidea berregin zen
ENBOR ARNASA - Sentitu bahitu kateen hotsak (third album)
Basque metal guitarist
ENBOR ARNASA
has released his album
'Sentitu Bahitu Kateen Hotsak'
Sung entirely in Basque, like all the songs composed by Enbor Arnasa,
excepting the instrumental ones of curse.
Less guttural voices than in the second album,
it can be said
that in terms of voices it is more melodic than the previous album.
There are very powerful guitars and all kinds of drum rhythms.
Recorded after 6 months of rest
after the publication of the previous album,
it is noticeable that the confinements ended
and above all the voices transmit antother force.
The album is a huge experiment.
It has compsitions made over a year.
Rivers, mountains, trees, social and personal themes, reams, memories
and endless nuances are reflected in this album.
Composed entirely in Ungao-miraballes,
where part of the Inaki Espartza family comes from.
The evolution is noticeable
and although it is a totally different experiment from previous albums,
it is stepped on more firmly then in previous releases.
Enbor Arnasa continues...
ENBOR ARNASA - Sentitu bahitu kateen hotsak (third album)
Finnish dark acoustic prog folk rock band NOBODY
released ep
'Father of Lies'
Finnish one-man dark acoustic prog folk rock band Nobody
released the new EP 'Father of Lies'. 
This four track EP is once again released in cooperation
with Inverse Records.
The man behind Nobody, Tuomas Kauppinen comments the EP and tracks:
"The Father of Lies violates us every day of our lives, feeding us with hatred and fear, rewarding acquiescence with even more brutality. The further we give in to his reckless demands, the further he will tear our souls apart. He is a psychopathic god who will never stop, unless we say "no". And we will say "no", eventually. It will not be a revolution of guns and bloodshed that will liberate us from his grip, but a revolution of our hearts."
'The Divine Marquis'
"The marquis de Sade was a deranged bastard, without doubt. He bound up sex workers, whipped them bloody and imprisoned them in his chateau, forcing them to watch as he masturbated on religious icons. But this was not the reason why the status quo locked him up for the greater part of his life. The reason was that de Sade wrote about what the upper classes did in their free time, how they raped and tortured vulnerable people for their pleasure. Napoleon Bonaparte, that pitiful midget who thought he would grow bigger by enslaving Europe, saw de Sade as a threat because he wrote what he saw. And if you think that times have changed, that no longer truth-speakers are persecuted for speaking out, you are fatally mistaken."
'Chain of Events'
"Karma means reaction. For every action there is a reaction. Bear that in mind the next time you bitch at a clerk in the supermarket, just because your boss made you feel like shit at work. What are you doing in a workplace that makes you feel like shit anyway?"
...to continue, please go to the next side...
tracklist:
1. The Divine Marquis
2. Chain of Events
3. Alliance
4. House Uphill
Cover art by: Don Satyr Max
pic by Mikke Strandberg
ENBOR ARNASA - Sentitu bahitu kateen hotsak (third album)
Finnish dark acoustic prog folk rock band NOBODY
released ep
'Father of Lies'
'Alliance'
"Love is impossible to describe. We all want it, but it takes sacrifices beyond what most of us are willing to make. Love easily destroys you, too, if you make too many sacrifices, in the wrong ways. Then love will rot and turn to hate. Every goddamn poet writes about love, but have they taught you anything about it, in the truest sense of the word? If they have, let me know. I still can't describe love."
'House Uphill'
"My home country is filled with depressed, suicidal and even murderous souls who can't have access to help except in the form of pills that numb their minds, make them fat, deprive them of their sleep, make them impotent, psychotic, incoherent and disagreeable in infinite ways. No real help is available, unless you kill someone or almost kill yourself, at which point it's too little, too late. We are nothing but cattle to the Father of Lies, and he doesn't care about our well-being as long as we keep making him profit. This is the story of one of those animals who never had a chance, was never given a chance, and who was buried among the rest of the discarded livestock, without a flower on their grave to ease their decomposition."
Line-up:
Tuomas Kauppinen
vocals, acoustic guitar, electric bass, accordion, congas, electric guitar, contra bass, keyboard, djembe & triangle 
ENBOR ARNASA - Sentitu bahitu kateen hotsak (third album)
American heavy rock act
SEASONS OF THE WOLF
have released single
'Supernatural'
American hard rock/heavy metal band SEASONS OF THE WOLF
has released on the 31st of december 2023 their single 'Supernatural'.
SEASONS OF THE WOLF are from Tampa Bay, Florida
and have started their journey back in 1988.
ENBOR ARNASA - Sentitu bahitu kateen hotsak (third album)
FREQUENCY OVERLAOD
a heavy metal act
from New York
Founding guitarist Corey Schaefer
marched through the ranks of bands like
UNCLE JACK, NOTHING SACRED, KRYONIX, MISERY, AND MISERY KILLS.
His axe ripping assault raised hell and eyebrows
while touring as support for DEVIL DRIVER.
Pounding percussion pugilist Kevin Daily smashed skins and cymbals
in acts such as AKALAMATHESIA
and the Long Island legends EXIT VERONA.
Grinding bass assassin Steve Little honed his four string virtuosity
with bands like INTOGREEN, COBALT 60, IMAGE WITHIN, and IONIZE.
Self proclaimed chokalist Mr. Bush fronted the bands
SOCIAL DISEASE, IRONLUNG, EVILEYE, WELT, and PUMMEL.
The band came together in the spring of 2022.
The members of Frequency Overload have the combined benefit
of thousands of live performances over numerous years.
Sharpening the blade of a metal style that slices into your consciousness.
ENBOR ARNASA - Sentitu bahitu kateen hotsak (third album)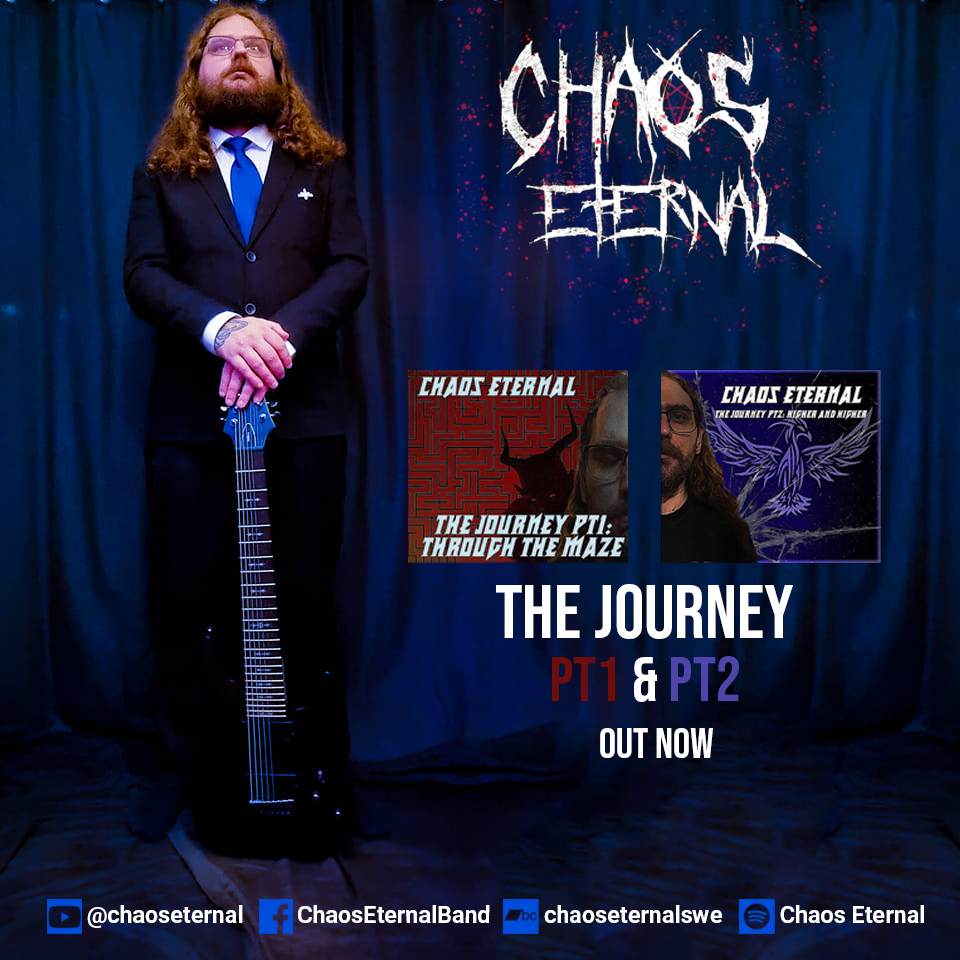 Shwedish one-man metal act
CHAOS ETERNAL
has released single
'Ready To Go'
Shwedish CHAOS ETERNAL has released single "Ready to go"
from album "The Journey. Pt2: Higher and higher".
In 2014 Johan Ahlqvist decided to start the one-man band Chaos Eternal after the drummer of his thrash band Dust
had an accident and no longer could play.
The idea was to havea project
where all kinds of genres could be explored freely.
Four EP's of different genres was released quickly in 2014
on most streaming services.
Then there was a pause up until 2020
because of health issues and some other projects.
2020 the self-titled album was released
and the move to bandcamp was made.
After that, several EP´s and releases were made on bandcamp.
Now the return to streaming services is finally here
with the upcoming quadrilogy of albums called The Journey.
'Pt1: Through the maze' and 'Pt2: Higher and higher'
released on the 25th of November 2022.
"Pt3: The path to the void" is basically finished
and writing for the closing "Pt4: The path to enlightenment" is on the way.
The journey albums each represent a different genre
and the quadrilogy is a concept and the albums tell a story.
ENBOR ARNASA - Sentitu bahitu kateen hotsak (third album)
British post-hardcore band
POLAR (UK)
will release album
'Everywhere, Everything'
At the beginning of 2020, the music world came to an abrupt stop;
which for London UK post-hardcore heads Polar,
meant a conclusive end to their unfinished tour alongside After The Burial, Spiritbox, and Make Them Suffer
within their cycle of 2019's acclaimed album »Nova«. 
Filled with a sense of uncertainty in a world turned upside down,
Polar (Adam Woodford, Fabian Lomas, Gav Thane & Noah See)
took to work on brand new material
that lyrically delves deep within the self,
while musically treading new and experimental grounds. 
Now armed with heavy new material
and releasing their already-released new singles,
the band is excited to take to the stage after years
of musical and personal growth behind the scenes.
the album will be released on the 13th of january 2023
Expect the unexpected...
ENBOR ARNASA - Sentitu bahitu kateen hotsak (third album)
Finnish modern metal band
WITHOUT WARNING
released new single/video
'R.P.B.P'
It's time to bang your fists in the air as Without Warning releases their
4th single "R.P.B.P" (short for: Red Pill, Blue Pill) via Inverse Records.
Taking a different intensive and eerie approach,
this is single really stands out from the previous releases.
"R.P.B.P" emphasizes a mind game like surrounding
where humanity is possessed by an aggressive creator.
Are you up to challenge your suppressor to get out alive?
Or is this fight to live only happening in your darkest mind?
Even if the lyrics strongly suggest that the theme is a fictional
and dangerous game setup, there is a metaphoric hidden message.
Reflecting the anger and will to control people
through various evil world leaders
and using people as puppets for their dirty deeds.
With the new single, Without Warning also presents t
heir new fifth member, or disciple as they say – Aleksi Rintala.
He is the talented composer behind "R.P.B.P"
and will be adding his talent to the guitars and music production.
Aleksi Rintala:
"When the band asked me to join as a guitarist, I was also happy to take responsibilities in the songwriting department. I started digging through my archives for a fitting demo for the new band, and I came across this unusual, "nu-metalish" demo that I decided to present to the band. The band was excited about it the minute they heard it, and in a short period of time we produced an amazing new song for Without Warning. I believe the rest of the band is excited as I am of this new release!"
The new single is accompanied by a music video
which brings the intensive story visually alive,
produced by no other than Guilty Visuals.
The video also includes an acting feature with Inka Inkinen,
the amazing vocalist for Noira.
Composer:
Aleksi Rintala
Lyrics: 
Michaela Tuomenoksa
Production/mixing/mastering:
Aleksi Rintala
Single cover:
Michaela Tuomenoksa
pics by
Michaela Tuomenoksa
ENBOR ARNASA - Sentitu bahitu kateen hotsak (third album)
Finnish melodic doom/death
metal band INFIRMUM
has released new single/video
'Sleep of Reason'
Melodic doom/death metal band Infirmum
has released new single "Sleep of Reason".
The band was formed early 2019
and they have released the full album "Walls of Sorrow" 2020
and the EP "The Great Unknown" 2022.
Melancholic, dark, gloomy, full of emotions.
These words would describe their atmospheric journey
with beauty and the beast through the darkness.
 Vocalist Anna Rose backgrounds the song:
 "This is a song that started taking its first shape a few years ago, before I even joined Infirmum. It is a song born of frustration, meant to express the despair of existing in an ever more uncertain world. While it is a salve, a way to vent all those feelings, it is also a herald of our doom. If I ever wrote an actual funeral dirge, this is it!"
Guitar player Timo Solonen continues:
 "As soon as Anna joined Infirmum in the summer 2020, she told she had lyrics ready for a song called Sleep of Reason. She also had vocal melodies ready for the chorus. I did my best to compose whole song around the chorus's vocal melodies and get the atmosphere to be right for the song based on the lyrics. I think results are quite good but wasn't easy I have to say. Teemu Mastovaara did arrangements for the cello and perfect job he did. Also Erna's keyboards, Hanska's drums, Joonas's guitars and bass are excellent. Eliel's growls works perfectly. And Anna? Well, you really have to love her voice. This is end of an era."
Infirmum's line-up is: Anna Rose as vocalist, Taka Eliel (Sanctuary of Hate) as vocalist and bassist, Erna Siikavirta (previously in Lordi, Children of Bodom as session keyboards, Sinergy as session keyboards, Arthemesia and Deathlike Silence) on keyboards, Joonas Siikavirta (Begrim) on guitar, Timo Solonen on guitar, Hanna-Leena "Hanska" (Mourning Wood) on drums, and Elya on cello.
Composer:
Infirmum & Anna Rose
Lyrics:
Anna Rose
pic by
Alex Sleäze / Cerulean Midnight